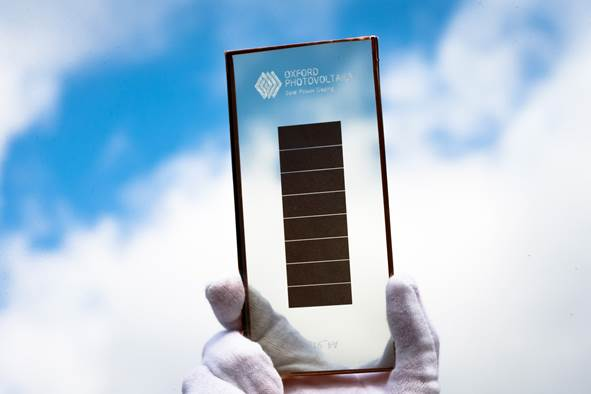 Perovskite solar cell developer Oxford Photovoltaics said it had secured another round of funding to support its IP licensing business model on the back of plans to produce working solar cells for customer evaluations after recently purchasing the former Bosch Solar CIS thin-film site in Brandenburg an der Havel, Germany.
The latest funding amounts to £8.1 million (US$10.3 million) and follows a recent series C funding of £8.7 million (US$11.0 million). The latest funding was led by Statoil ASA, Legal & General Capital and an unidentified technology-focused, family fund investor.
Although the company is not seeking to develop its own perovskite-based PV products, it has to demonstrate commercial ready cells that can be either produced as a tandem layer on top of conventional crystalline solar cells, in line with amourphous layers used in heterojunction solar cells or standalone perovskite cells for thin-film formats.
The licensing business model avoids the need to invest significant amounts of money in volume production equipment and facilities, potentially avoiding the 'valley of death' scenario for PV start-ups that tend to fail by burning through raised capital before recouping investments through a successful commercial launch.
However, the IP model does not come without risk as this still requires investment in pilot production equipment and facilities as well as capital to run extensive sampling for potential customers.
Oxford PV has also recently announced a joint development partnership with an unidentified mainstream c-Si PV manufacturer, critical at this stage ahead of pilot plant sampling operations.
Frank Averdung, CEO of Oxford PV, said: "In conjunction with our industry Joint Development partner, our perovskite technology now has a clear path and timetable to commercialisation and the formidable support of global market leaders to enable that to happen."
However, the company has not as yet publically disclosed what the 'clear path' and 'timetable to commercialisation' is.
The latest edition of the International Technology Roadmap for Photovoltaics (ITRPV), which embraces key technology consensus from leading PV manufacturers, still has yet to include perovskite technology.
However, the UNSW has recently reported record conversion efficiencies for large-area perovskite cells with funding supported by Suntech and Trina Solar. With Oxford PV also gaining a mainstream development partner, perovskite technology may soon be added to the ITRPV.
The next edition is expected to be published in March, 2017.