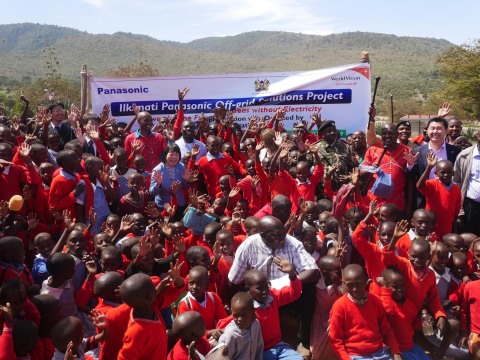 World Vision and Panasonic Corporation have launched an Off-grid Solutions Project in Narok County, Kenya, which will see Panasonic bring solar powered electricity to an area of Narok County that is not connected to the national power grid.
Panasonic also provided power supply stations, solar storage devices, solar lanterns and other lighting equipment at the launching ceremony, which was held on 31 January 2019 in the Ilkimati community in Narok.
Per the Kenya Population and Housing Census, 22.7% of households countrywide are connected to the national electricity grid. But in Narok County, only 5.6% of households are covered. Through this project, two solar stations and lighting equipment were provided for the Ilkimati Primary School and Enkutoto dispensary. These two sites have also received solar storage devices, while Panasonic also gave out lanterns to 150 households in the community.
In order to boost the sustainability of the project, individuals within Narok County were also trained on basic knowledge of electricity and the system, along with the maintenance of the equipment.
Once this PV energy has been rolled out in the area, World Vision will support the community by providing income-generating measures such as as poultry farming and school gardening that will be fully equipped with solar powered drip irrigation kits. Reading camps will also make use of the solar lighting systems provided by Panasonic.
Since 2006, World Vision has been running a long-term development programme in Narok County that looks to lift the education, health, nutrition and wellbeing standards of children in the area. The Programme targets a population of 4,443 adults and 6,919 children.