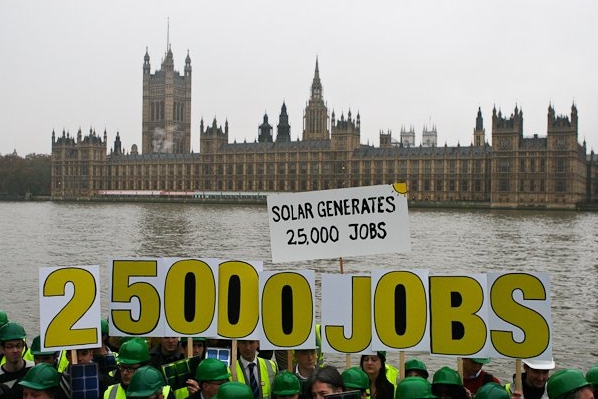 Leading UK trade union The Trade Union Congress (TUC), has claimed that the global green economy could offer vital support for a post-Brexit Britain and create thousands of additional jobs in the country.
A new report – dubbed 'Powering Ahead' and published this morning – outlines various recommendations to place the UK at the heart of a clean energy transition worth more than US$500 billion which would secure the country a "major share of the future clean energy industry".
Central to the trade union's argument is the potential for the UK's clean tech sector to create "thousands" of jobs while simultaneously decarbonising energy generation, and lists Germany and Denmark as examples the UK government must heed.
"The TUC believes that a sustainable industrial strategy is essential for the UK and for Europe, not only to meet our climate change commitments, but to support the balanced economic growth that is even more necessary post-Brexit," the report states.
The report concludes that Germany's 'Energiewende' and Denmark's widespread adoption of renewable power are perfect examples of where a clean energy consensus involving government and business has resulted in a thriving sustainable economy.
It establishes series of recommendations for the newly-founded Department for Business, Energy and Industrial Strategy to consider, principally to support low-carbon industries that could support communities impacted by losses seen in heavy industries such as steel production and other manufacturing.
Those recommendations include the formation of a consensus on sustainability across political parties, business organisations and trade unions; a sustainable industrial strategy for the UK; a more ambitious renewable energy generation target of 50% by 2030; and the reversal of various subsidy cuts enacted since last May, including the RO for solar farms up to 5MW in size.
The TUC saved particular ire for cuts to the small-scale feed-in tariff, a policy overhaul which has seen demand for solar tumble by around 75% year-on-year and cost thousands of jobs to be lost from the industry.
"This was clearly short-sighted and should be reversed. The government's rationale for these cuts was that targets for solar panels and other green energy schemes were being overshot. This is no reason; as Lord Deben told the IPPR, government should not always plan for the most optimistic outcomes when it comes to the take-up of renewable energy sources, but should plan instead for the more pessimistic. This is surely correct," the report states.
The TUC has also argued for the government's so-called 'energy trilemma' – that energy is secure, affordable and decarbonised – adds a fourth pillar; skills.
It argues that the UK's green economy should work towards a system wherein apprenticeships and upskilling of workers is central, enabling jobs to be created and kept within the UK.
Frances O'Grady, general secretary at the TUC called on BEIS secretary Greg Clark to "seize the opportunity" and use green technologies to deliver new jobs.
"Combining climate change and industrial policy in one department is an opportunity to get a share of the US$500bn renewable energy industry for the UK.
"As energy from oil and coal gets more expensive, manufacturing firms will instead invest in countries with a plentiful supply of low-carbon energy. So the government must put investment in low-carbon industry at the heart of its new industrial strategy. And it must focus that investment on towns that have lost their heavy industry, where decent jobs are still in short supply," she said.