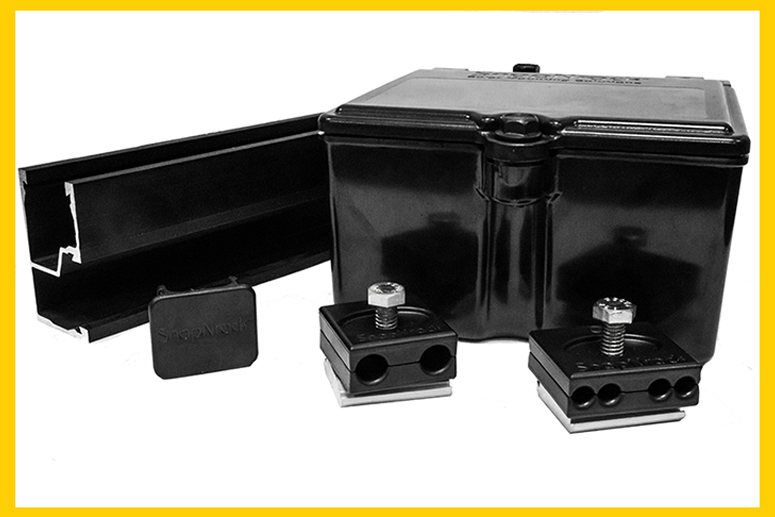 SnapNrack has launched a new Junction Box and Trunk Cable Clamp, which will further enhance the company's wire management solutions that reduce solar installation times and lower installations costs.
Problem
PV system installation times continue to be a focus of attention, significantly contributing to the overall cost of a PV system. Simplified and lower cost wire management solutions help to reduce BOS and overall system costs.
Solution
The SnapNrack UL listed junction box is claimed to save installation time and cost over current solutions while improving safety and reliability over the life of the system. Designed to be 6" x 5" x 3" and fully integrated with DIN rail mounts inside, it is large enough for wire management but small enough to be adaptable to any mounting configuration. All that is needed for a quick and easy installation is a single ½" socket along with the standard Snap-In features that SnapNrack is known for. A large temperature range of -40F to 185F in combination with a NEMA 4X rating will allow it to hold up in the most extreme environments, while an aesthetic black color will provide full UV protection to extend the life of the box and its contents. In addition to the Junction Box, the Trunk Cable Clamp offers a strong and reliable solution for securing 1-2 Micro-Inverter trunk cables along SnapNrack Rail Channels, transitioning in and out of channels, and even routing across rails. As a high quality alternative to plastic zip ties, the SnapNrack Trunk Cable Clamp works with all known microinverter AC trunk cable diameters and is made up of fiber reinforced resin developed for high UV exposure as well as to handle the extreme temperature range of a rooftop (rated for -40F to 185F).
Application
Residential and commercial rooftop solar arrays.
Platform
SnapNrack's line of wire management solutions also include the SnapNrack 4-Wire Clamp, which provide the same benefits as the trunk cable clamp but for PV cables as well as the Wire Clip that is designed to cover and hold all electrical conductors in the rail channel.
Availability
October 2015 onwards in the US.