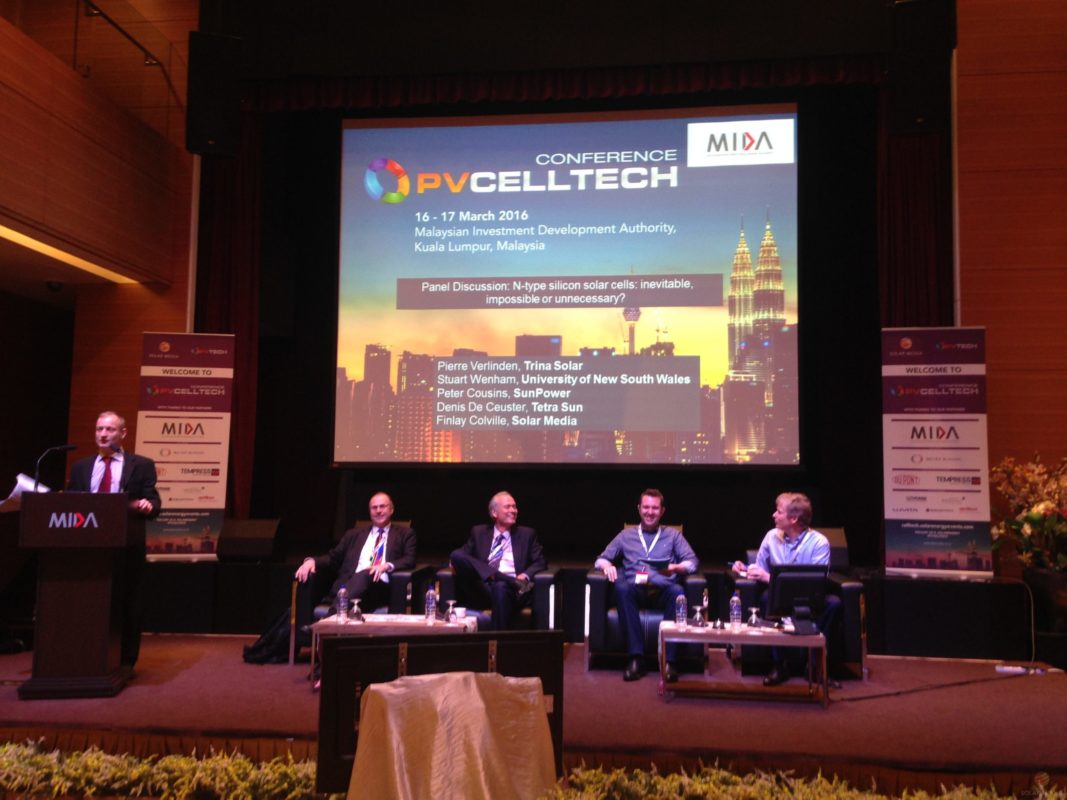 Following the success of the inaugural PV CellTech 2016 event, held back in March, PV-Tech and Solar Media Ltd. can now reveal the date and location for PV CellTech 2017.
The PV CellTech 2017 conference, focussed specifically on solar cell manufacturing, will take place in Penang, Malaysia on 14-15 March 2017.
Consistent with our original motivation – to create the industry's first dedicated conference focused purely on solar cell technologies used within manufacturing facilities – PV CellTech 2017 will again be confined to this key part of the value-chain (cell manufacturing) and will feature the CTO's and Heads of R&D from all the leading solar cell manufacturers in the industry today.
Supplementing these contributions will be technology-specific presentations from the leading equipment, materials and gas suppliers to solar cell fabs, together with the main academic research institutes that are driving technology-transfer and upgrade processes used in real-world production.
This blog provides a comprehensive overview of the issues now forming the basis of our in-house research efforts to ensure the agenda, topics, speakers and attendees of PV CellTech 2017 are matched to the pertinent issues relevant to successful strategies being employed in manufacturing.
Importance of the Technical Advisory Board
Fundamental to the success of the recent inaugural event in March 2016 in Kuala Lumper was having the pro-active engagement of the key stakeholders to solar cell manufacturing on our Technical Advisory Board, and interacting with all of them during a dedicated research phase, set aside to make sure the topics and agenda for the two-day conference were fully aligned with the challenges and opportunities for solar cell producers and suppliers serving a 50-60GW global PV market.
For the next PV CellTech event in Penang in March 2017, we have decided to expand the Technical Advisory Board during our current research phase, taking in an even greater range of inputs, and to ensure the scope of the topics for the 2017 conference is spot-on with what the industry needs.
In fact, members of the Technical Advisory Board for PV CellTech 2017 all signed up – with excitement – within 48 hours of our asking them, which ties in with the overall sentiment following the March 2016 event along the lines of "count me in for next year, can't wait!"
Much more feedback from the attendees following the March 2016 event can be found in our post-show report, downloadable by clicking here.
The figure below now reveals the confirmed Technical Advisory Board for PV CellTech 2017 in Penang, Malaysia on 14-15 March 2017.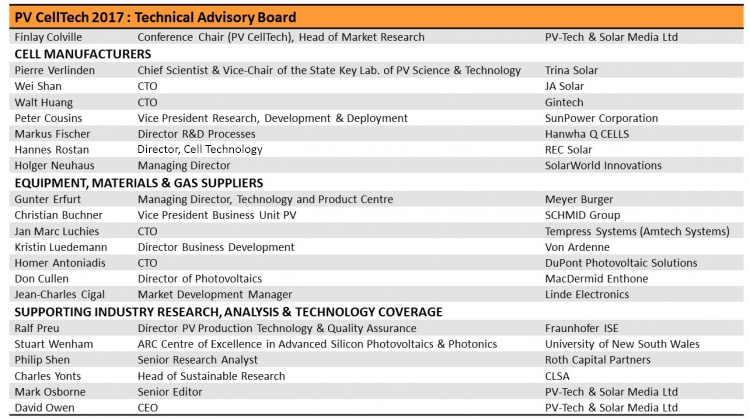 In seeking to get a broad range of inputs from the advisory board shown above, we have brought in CTOs and Heads of R&D from the leading solar cell manufacturers in China & Taiwan (JA Solar, Gintech, Trina Solar), Southeast Asia (SunPower, Hanwha Q CELLS, REC Solar), and Europe & the US (SolarWorld). Equipment supplier inputs are coming from Meyer Burger, SCHMID Group, Tempress Systems (Amtech Systems) and Von Ardenne. Materials and gas suppliers DuPont, MacDermid Enthone and Linde are also on the board.
Similar to 2016, we have focussed on contributions from research laboratories that continue to drive many of the new technologies and process flows into real-world solar cell factories, with both the University of New South Wales and Fraunhofer ISE having representation on the advisory board.
The new category we have added to the advisory board for the 2017 event comes from the financial analyst community, a group of key industry stakeholders that increasingly has to stay abreast of in-house solar cell production and technology metrics. The contributions from Roth Capital Partners and CLSA will therefore shed new light on the choice of topics and measurables for March 2017, closely linked to operational metrics such as cell costs, margins and capex.
What's new since March 2016 in solar cell manufacturing?
With some of the industry's largest end-market exhibitions (SNEC, Intersolar) and academic conferences (IEEE, PVSEC) having taken place in the past couple of months, it is perhaps good here to flag up some issues that may evolve into themes that will feature within the sessions at PV CellTech 2017 in Penang during March 2017.
Having attended most of the above events in the past couple of months, it appears that there are now interesting dynamics emerging in the solar industry that are likely to have a strong impact on solar cell manufacturing at the end of 2016 and throughout 2017. Some of these are variants of recurring themes: others are somewhat new and have various options in how they could impact on issues such as cell line upgrades or new capacity installations.
Let's look now at some of the most pressing themes in solar cell manufacturing that could play out over the next 12-18 months which have been gleaned from our team's back-to-back meetings at the above events in the past six weeks.
Southeast Asia manufacturing enters new phase
The first issue relates to cell manufacturing capacity across Southeast Asia, with 2016 perhaps seeing this region moving into a fourth phase of cell manufacturing evolution. To explain this, consider the following:
Phase 1 of cell manufacturing across Southeast Asia was all about SunPower and identifying Malaysia and the Philippines as the company's preferred locations for overseas cell production.
Phase 2 belonged to REC Solar (then part of REC Group) in Singapore, and Hanwha Q CELLS (then operating as Q CELLS) and Panasonic (then as Sanyo) in Malaysia.
Phase 3 saw the first round of cell expansions that was motivated purely by trade export barriers, with Chinese and Taiwanese companies such as Canadian Solar, Gintech, JA Solar, JinkoSolar, Neo Solar Power, Solartech, Trina Solar and Talesun seeing the region as the optimal location to produce cells (and in many cases cells and modules) to feed (mostly) the US market.
Another driver for producing in the region came from companies that had either withdrawn voluntarily from the MIP undertaking in Europe (kick-started by Trina Solar), or were seriously considering this in the future.
Today however, we seem to have a Phase 4 emerging and one that was initially prompted by identifying a convenient supply channel route to circumvent European MIP rules, often hidden from the mainstream press. This saw c-Si production shift to countries other than Malaysia, Singapore, the Philippines and Thailand: in particular, Vietnam.
However, in contrast to overseas manufacturing plans seen before, what is emerging today in Vietnam is far more stealth-like in nature. In fact, the lines between OEM-supplied, contract-produced and QA-overseen third-party operations are even more blurred for c-Si manufacturing in Vietnam than we have seen before across mainland China.
Indeed, last year when we scanned the regions across Southeast Asia – as our preferred location to host PV CellTech – it became clear that the make-up of cell producers (and their emphasis on R&D, technologies and process flows employed) was very different from one country to another.
While not entirely surprising, it became evident again just how much Malaysia had become the key country in Southeast Asia for cell production, and the reasons behind this also started to fall into place.
Factor in upstream c-Si manufacturing activity at Tokuyama, Comtec Solar, and Longi Silicon (including Lerri Solar), alongside thin-film manufacturer First Solar, and what we have is a country that is home to the most concentrated location of high-efficiency and modern production equipment globally in the solar industry.
Indeed, not simply across Southeast Asia, but from a global standpoint, Malaysia is the number 1 country today for advanced solar manufacturing in volume production. And this was a major part of our decision to hold the first PV CellTech event in Malaysia in March 2016, and to return to Malaysia again next year in March 2017.
A large part of Malaysia's elevated status in solar has been the role and strategy employed by the inward investment agency in Malaysia, MIDA (Malaysian Investment Development Authority) that carefully selects prospective candidates that can demonstrate that the return-on-investment locally is based on having a skilled workforce operating the best production equipment.
Moreover, looking at R&D dollars spend by factory, nothing comes anywhere close to Malaysia today in the PV industry with much of the R&D done by the industry's two leading R&D spenders (SunPower and First Solar) seeing their way quickly into production lines operated in the country.
Now contrast this with some of the other countries in Southeast Asia, where c-Si production is limited purely to module assembly and often employing used and dated tooling shipped abroad from other countries. Blink too long and the module line could be shut down at a whim, leaving very little in the way of retained benefits for the countries that had hoped to stimulate quality and lasting high-tech jobs.
Moving into 2017, it will be fascinating to see how the trends in cell manufacturing across Southeast Asia evolve, and whether the industry will ultimately see consolidation across one or two countries with quality high-production output, or have a more fragmented reach where some countries are hosting nothing more than cheap contract labour doing basic final module assembly with an uncertain future.
Will 2017 be the year of the heterojunction?
Perhaps the most accurate summary of all the announcements, developments and tool deliveries for heterojunction based cell architectures (from new mass production entrants to the solar industry) during the past three months could be along the lines of: things are really hotting up!
But plans are just plans: until tooling is installed, lines are ramped into volume production, and efficiency, cost and yield metrics are maintained consistently, we can only speculate about what can happen. However, regardless of the outcome by aspirational proponents such as Silevo (SolarCity) or GCL Systems Integration (GCLSI), 2017 may be characterised as the year heterojunction got its first real impetus having been the exclusive and meticulously-crafted domain of Panasonic over the last two decades.
There is little doubt that heterojunction will form a key part of PV CellTech 2017, including the range of novel and differentiated process flows and equipment suppliers that are likely to feature in mass production ramps in 2017. Having the CTOs from the companies participating in this space talking about mass production metrics at the event next March will for certain be one of the big pulls for attendance as an essential benchmarking exercise all across the upstream value-chain.
What progress will have been made by then at SolarCity in its Buffalo fab, in what could still transpire to be the most inspirational differentiated-play GW-scale ramp-up in the history of the solar industry? Or will information to the outside world by March 2017 be the same as today (i.e. next-to-nothing) as the penny starts to drop that perhaps throwing money at moving directly from 1 to 10 on the high-efficiency-mass-production-technology scale needs some of the boxes in between ticked off first?
The approach from others in the heterojunction space may not receive the same level of curiosity as SolarCity, but they do nonetheless offer some fascinating possibilities, with the potential for shaking up the cell manufacturing space equally disruptive in nature. Take, for example, GCLSI's recent plans for heterojunction cell expansions in 2017; in every aspect, this could not be more different to the approach of SolarCity, but the implications of success could have an equal, or even greater, impact. Similarly, it has the scope also to crash-and-burn, as the scale of the challenge becomes clear.
Interestingly enough, those attending PV CellTech 2016 a few months ago got the first ever airing from GCLSI on their heterojunction plans, as the company outlined clearly its activities in this space, and it could be that PV CellTech 2017 is again chosen by the company as the platform to provide clear guidance to the outside world where things stand some 12 months on and as mass production beckons.
Still it's a mono-vs-multi puzzle for industry observers
Anyone expecting clarity on the mono-vs-multi p-type cell production comparison – in the months following PV CellTech in March 2016 – is likely none the wiser today. In fact, in many ways, it seems like one-step-forward, two-steps back.
Press releases and knee-jerk summaries are in part causing this confusion. Surveys of spot-price suppliers are not at all indicative of mid-term volume supply pricing, nor are they always good signs of any prevailing logic or fundamental drivers at play causing a change in wafer substrate types winning over against one another.
Give anyone the choice of mono or multi wafers at US$/W price equivalence and few would opt for the multi route. However, ask someone to base a long term strategy on them being of similar price points for the next 3-5 years, capable of reliably supplying your multi-GW cell production lines, and this is a totally different proposition.
Today, the leading champion of p-type mono wafer supply is certainly Longi Silicon, and the company's dedication and drive in creating a multi-GW (and rapidly expanding) business model on p-type mono is something that is not just highly commendable, but also key to keeping both p-type mono and multi based producers constantly moving the bar forward in terms of supplying wafers of high-efficiency at low cost.
But however heroic the efforts of Longi Silicon (and impressive they are), it needs more than just one company to drive a significant change in the industry-wide split between p-type mono and multi.
Consider this as a parting note on p-type mono-vs-multi. If 10GW of p-type multi cell lines were flipped over to p-type mono operations, and they all wanted mono wafers tomorrow, there would be no supply. In fact, the number is well below 10GW in practice, and it may be that just a GW here or there would instantly reveal the supply limitations of p-type mono pullers with the correct price/cost balance, and lo-and-behold mono wafer supply goes tight (multi collapses on over-supply) and the ASP corrects at a 10-20% delta north of p-type multi very quickly.
Cell makers can flip production lines overnight from p-type multi to mono (and vice-versa); wafer supply cannot. And possibly unless GCL Poly moves quickly to install 3-5GW of low-cost mono pullers in China (remember they can run p-type or n-type), the scope for any quick change on the overall mono-vs-multi supply will not unfold.
Either way, p-type mono and multi issues will surely be hotly debated in Penang next year. There remains no shortage of opinions!
How to ensure your participation at PV CellTech 2017 in Penang
With the March 2016 event sold-out without a spare seat in the house in Kuala Lumper including more than 100 companies in participation, we strongly recommend booking up early for March 2017. Details on how to do this can be found by clicking here.
In order to make sure none of the leading companies is absent from the list of conference attendees participating in Penang next March, we have chosen to restrict the number of tickets allowed to any one company to five.
Enabling that the key technology decision makers from the cell producers responsible for more than 95% of the industry's output and capex in 2017 are in the same place, at the same time, discussing and debating the challenges and opportunities in solar cell manufacturing ought to be a networking dream for any company whose success is based entirely on knowing the major trends in cell production going forward.
More information on how to get involved in shaping the content of the event can also be found at the PV CellTech 2017 website. Watch out soon for details on the agenda, which will be announced at the start of August on PV-Tech, with an accompanying feature to explain the rationale and methodology involved.