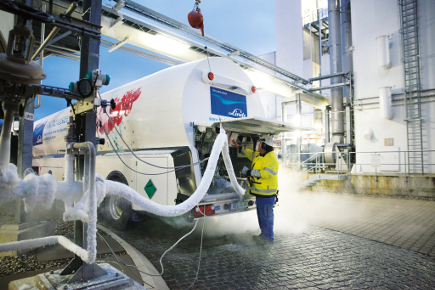 Major electronics gasses and chemicals supplier Linde Group has been awarded a number of gas and chemical supply contracts for new solar cell plants being establish in Southeast Asia by leading PV manufacturers.
Linde noted that many PV manufacturers are building greenfield cell factories for the first time in key countries in the region such as Malaysia, Thailand and India, and need to navigate permitting and licensing in a new country, enabling the company to offer its turnkey compliant services.
Andreas Weisheit, head of Linde Electronics said: "Linde is the leading gas and chemical provider in the Southeast Asia region, with a long history in each of the individual countries in which we operate. Project windows are very short and customers need a materials supplier who can successfully execute sourcing, logistics and engineering solutions on aggressive timelines."
The company said it was providing bulk gases such as nitrogen, hydrogen, oxygen, argon and, in some cases, helium for solar cell production.
Specialty gases used in PV manufacture are silane, ammonia, nitrous oxide, carbon dioxide, methane, hydrogen fluoride, phosphine and diborane were also being supplied through its subsidiary Asia Union Electronic Chemical Corporation (AUECC), which has manufacturing sites in mainland China and Taiwan.
According to PV Tech's industry capacity expansion announcements analysis, Malaysia has secured over 2.6GW of new PV manufacturing capacity in the last two years and leads as the key destination for PV cell capacity expansions in the region. A further 1GW of expansions from existing facilities has already been made in the first three months of 2016. Total solar cell capacity announcements since the beginning of 2014 have to date topped 3.2GW.
PV Tech and parent company, Solar Media, are hosting the inaugural PV CellTech conference in Kuala Lumpur, Malaysia this week.