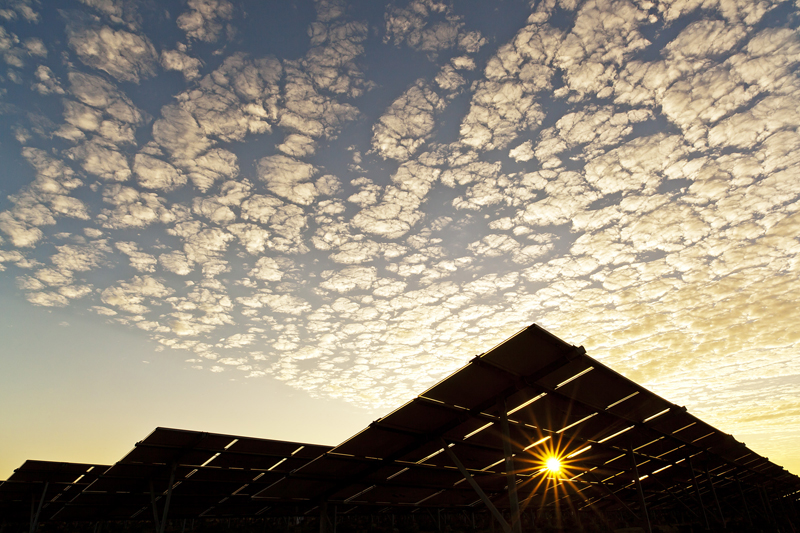 Although PV manufacturing in India has a long history, few companies have reached the scale required to be competitive in global markets. However, solar installations in India reached over 4GW in 2016, compared to around 2.3GW in 2015 as new government policies build momentum.
Adani Group is one of the largest Indian multinational conglomerates and has committed to becoming a major PV manufacturer and downstream project developer that has acted quickly to build its first major solar cell and module assembly facilities in the country.
First phase plans included 1.2GW of multicrystalline and monocrystalline solar cell and module assembly, including 900MW of multi-c-Si cell, 200MW of Mono-c-Si PERC production and 100MW of bifacial production. Future plans also include a further 1.8GW of cell and module production at facilities being built in Mundra, Gujarat, India.
Senior members of Adani Group responsible for PV manufacturing attended the inaugural PV CellTech in Malaysia in 2016 and represent the momentum in large-scale PV manufacturing in the country that others are striving to emulate, making India an exciting market both upstream and downstream.
Finlay Colville, Solar Media's head of solar intelligence and chair of PV CellTech recently grabbed some sound bites from Srinvasamohan Narayanan, Technology Advisor, to the Adani Group and a presenter at this years PV CellTech conference in Penang, Malaysia.
Welcome Srinvasamohan Narayanan, Technology Advisor, to the Adani Group, and thank-you for agreeing to be one of our invited speakers at the forthcoming PV CellTech 2017 conference in Penang, Malaysia on 14-15 March 2017. What are the general topics that you will be covering during your invited talk at PV CellTech 2017?
Historical perspective on cell technology commercialization and key enablers; convergence of regional specifications on module to application/climate driven requirement; Adani GW cell and module factory; technology mix; Adani advantage.
Adani has been receiving significant press coverage regarding your GW fab in Mundra. What drove Adani to move with such an ambitious project in India for cell and module manufacturing?
• We believe that as part of our contribution to Nation building – providing energy security and giving electricity access to the millions, we need a more balanced energy mix including all sources.
• We analyzed the market and found that India would need more than US$100 billon over next seven years in meeting the renewable energy target with a significant impact on forex reserves.
• Hence we decided to develop in India large-scale and integrated manufacturing with technology and market focus
Have there been any challenges in the fab design so far? And how has Adani been engaging with equipment and material suppliers ahead of the full ramp-up?
• The project of this size cannot happen with its own share of challenges, that too under an aggressive schedule
• It should be noted that unlike China, India lacks the PV ecosystem
• But Adani group is known for its project management capability, we have created many teams focusing on key packages and ensured strict co-ordination among them. There was a close monitoring by top management on weekly basis
• We have finished the project in around 15 months (which is an achievement as per the Indian conditions)
In terms of technology, how did you make the decision on mono or multi, without any previous cell manufacturing experience?
• Our strategy is simple – we will do Development and delivery in parallel
• We have invested in leading technologies based on rigorous market analysis
• We have acquired top talent both from India and abroad for manufacturing, quality, customer service, technology etc.
• At same time we have optimized the portfolio with mass demand products to generate cash flow in short run
• We will keep innovating based on the road map and market demand.
And what about getting the skilled workforce in place – has this been difficult?
• Yes. Indeed as we started in an area where there were not many solar manufacturing plants in vicinity. But there are many technical colleges and institutes near by towns.
• We have meticulously planned for the training of fresh graduates and re-skilling of operators etc.
• It is very gratifying to see fresh graduates acquiring expertise in operating a sophisticated solar manufacturing facility.
Like many of the global markets, India is seeing increased imports from low-cost Chinese modules. What will Adani's differentiation be?
• Our module quality and performance is comparable to top global module manufacturers and we will be price competitive.
• We have much better financial position as a group and customers see that as a big comfort for the product warranty.
• We are setting up cell/module research facility and will be using group resources – Adani Institute of Infrastructure, etc… to develop modules for future applications.
Will most of the module shipments be to the domestic market? Are established markets like Europe, the US and Australia also likely to see much penetration from Adani product?
• It will be a mix of domestic sales and exports. We already have presence in most of the developed markets
And finally, what are you hoping to learn at PV CellTech? Are there certain technology areas you are looking forward to getting more information on?
• We are eager to also understand POV on the technology roadmap from the industry and on critical issues faced in market demand and high volume manufacturing.
To view the final PV CellTech agenda updates, please follow this link. To register for the event, click here.