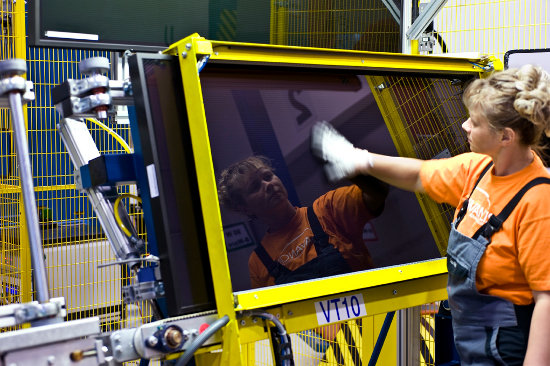 PV Tech's preliminary analysis of global PV manufacturing capacity expansion announcements in May 2016 fell significantly for the first time this year.
May revealed just over 4GW of planned future expansions of thin-film module, solar cell and module assembly production, as well as fully integrated (wafer/cell/module) new capacity, compared to nearly 9GW of planned future expansions in the previous month.
The decline ends a strong consecutive monthly increase since February, 2016, which was around 50% higher than in the same period in 2015.
A total of seven companies announced expansion plans in May, compared to 13 in April.
Once again, the absence of major expansions from the 'Silicon Module Super League' members and some China-based manufacturers cautiously extending their footprints outside China, kept overall planned capacity expansions low, relative to the previous months of 2016.
This also resulted in the absence of any silicon-based capacity expansions being announced in China, although Canadian Solar and Hareon Solar were responsible for small capacity expansion plans in South East Asia and Morocco, respectively.
Several speculative announcements were also made in May, including big ambitions in Iran and India, though initial expansion phases were small and did not carry timelines to execution. Discounting these plans, announcements slumped by around a further 2GW in May.
Dedicated solar cell capacity expansions totalled 1,340MW in May, compared to 3,750MW in the previous month, which included a 160MW expansion of monocrystalline capacity in South Korea by Shinsung Solar Energy.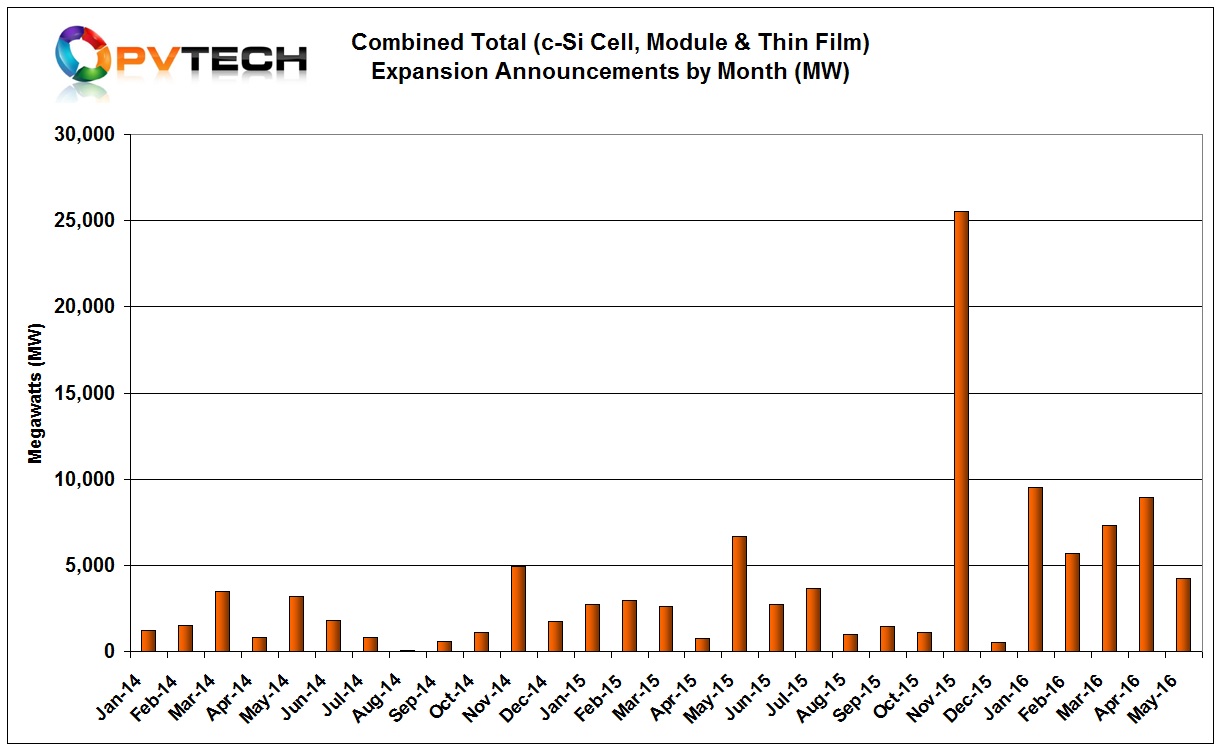 Dedicated PV module capacity expansion announcements reached 1,800MW in May, down from 4,385MW in the previous month. Dedicated cell and module expansions have basically tracked each other through the year. Only in January 2016 did module expansions far exceed cell expansions so far this year.
The most meaningful capacity expansion made in May was that of Taiwan-based PV manufacturer Neo Solar Power (NSP), which announced the closure of an existing 60MW assembly plant in Taiwan but a 500MW to 600MW new expansion in Vietnam.
Vietnam has rapidly emerged to become an alternative destination for module assembly by China and Taiwan-based PV manufacturers with meaningful solar cell production expected to follow in due course.
The fully integrated (200MW to 1GW) planned new build in Iran was announced by the Industrial Development & Renovation Organization of Iran (IDRO) and turnkey equipment supplier, SCHMID Group.
An announcement made at SNEC 2016 led to the second consecutive month of CdTe thin-film expansions (100MW), led by a consortium of China-based firms and Western equipment suppliers. This was the only announcement of capacity expansions in China in May and reflected a c-Si slowdown, compared to 600MW announced in the previous month.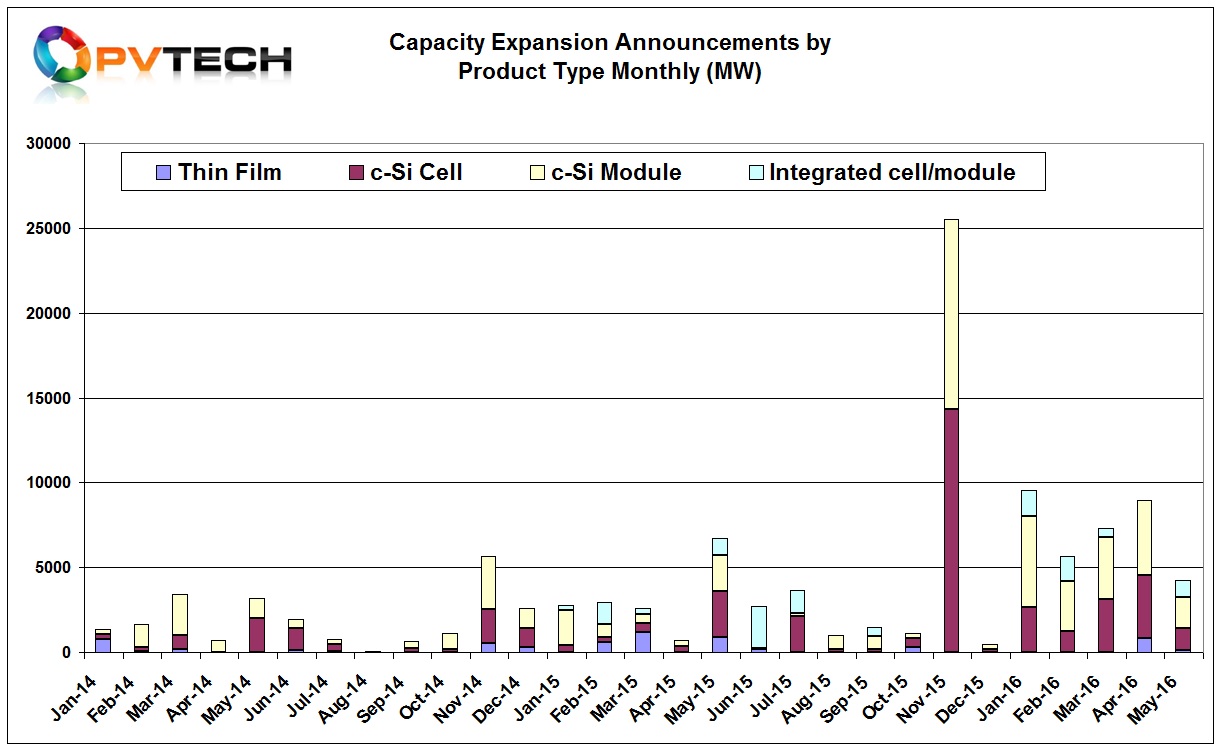 Geographical split
With China only contributing one (100MW) of expansion plans in May, the majority of announcements were centred on South East Asia. Three companies planned expansions in the region totalling almost 1,200MW.
This was followed by India and one company planning an initial 120MW of module capacity nut plans over the next five years to add 500MW of wafer production, 600MW of solar cell and reach 840MW of module assembly by 2021.
However, the MENA region emerged from a long lull in planned expansions and two countries (Morocco and Iran) contributed a total of nearly 1,200MW.
Europe, North America and Latin America were not represented with new expansions planned in May.