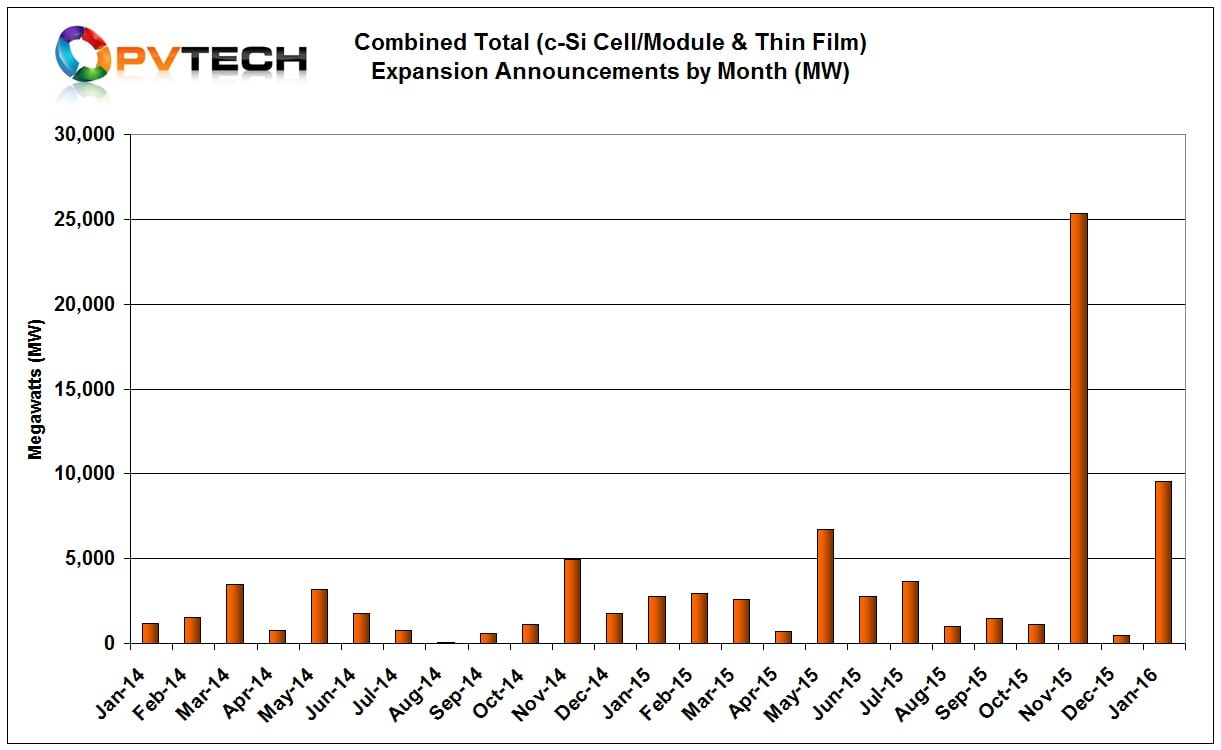 PV Tech's preliminary analysis of PV manufacturing capacity expansion announcements for January, 2016 have revealed over 9.5GW of planned future expansions.
At 9.5GW of total expansions that include dedicated crystalline silicon solar cell, integrated solar cell and module assembly and dedicated module assembly but no thin-film expansions, the monthly figure is the second highest reported since the beginning of 2014.
The record was set in November, 2015 when over 25GW of new announcements were made after PV Tech's recent reappraisal raised the figure from initially over 19GW.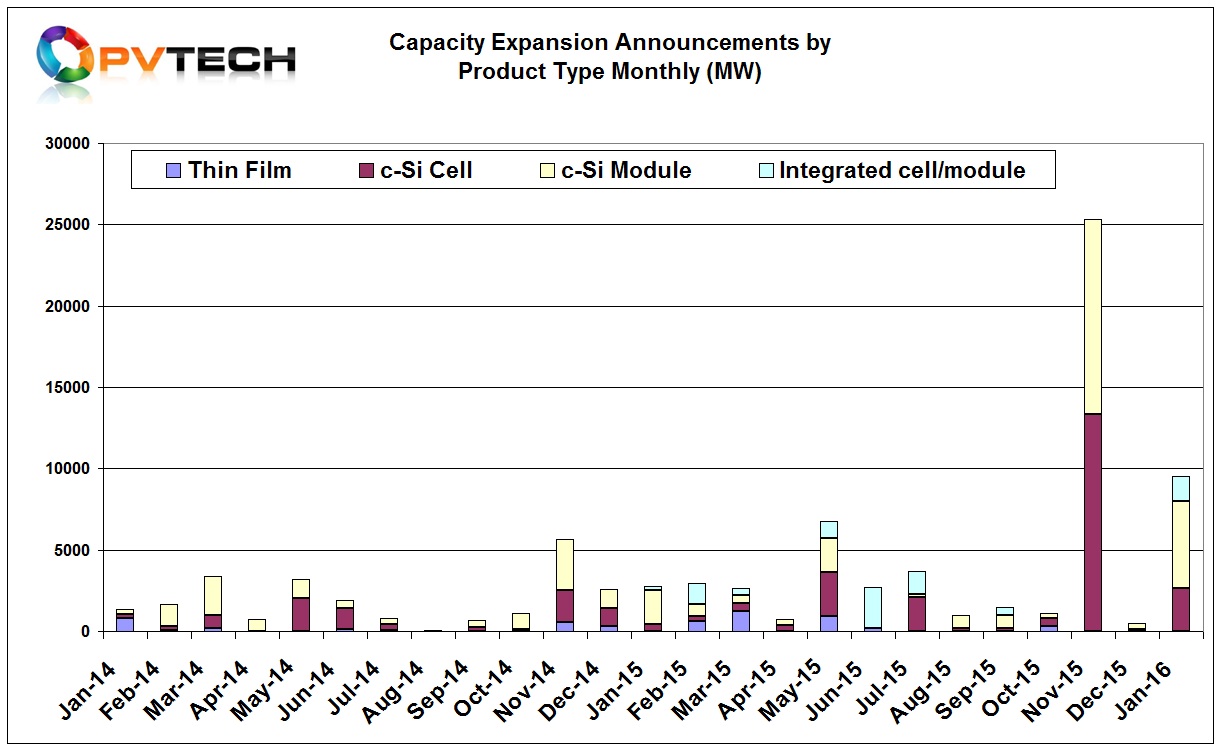 Around 2.76GW of dedicated c-Si solar cell announcements were made in January, notable with LG Electronics announcing it would expand N-type monocrystalline cell production from 1GW to 3GW by 2020 with capital expenditure of US$435 million.
LG also noted that it would add six cell production lines to its existing eight lines in a phased expansion, taking capacity to 1.8GW by 2018 and reaching 3GW by 2020.
January also delivered 5.35GW of planned module assembly capacity expansions and 1.5GW of integrated cell and module expansions.
The key announcement on c-Si module assembly was made by India-based integrated utility and solar developer Essel Infra and China-based Golden Concord Holdings (GCL), which owns GCL-Poly and GCL Integrated Technology Co.
The companies announced a MoU with the Andhra Pradesh government to invest US$2 billion in developing 5GW of module assembly capacity by 2020 in the Indian state.
Also was the plans announced by Al-Afandi Group to build an integrated c-Si Solar cell and module plant in Saudi Arabia with an initial 120MW capacity and ambitions to expand in phases to 1GW over an undetermined time.
On a geographical basis, January continued the trend set in 2015 for capacity expansions outside China and the broadening of the PV manufacturing footprint around the world.
Out of the nine main announcements of new capacity in January, only one was located in China, while plans included India, Malaysia, South Korea, Taiwan, Saudi Arabia and Italy.
Based on a preliminary analysis, conversion to effective capacity from announcements in January could be around 1GW by the end of 2016.
Covering the latest technology and manufacturing developments, attend the inaugural PV CellTech technical conference being held in Kuala Lumpur, Malaysia between 16 – 17 March, 2016. More details here.