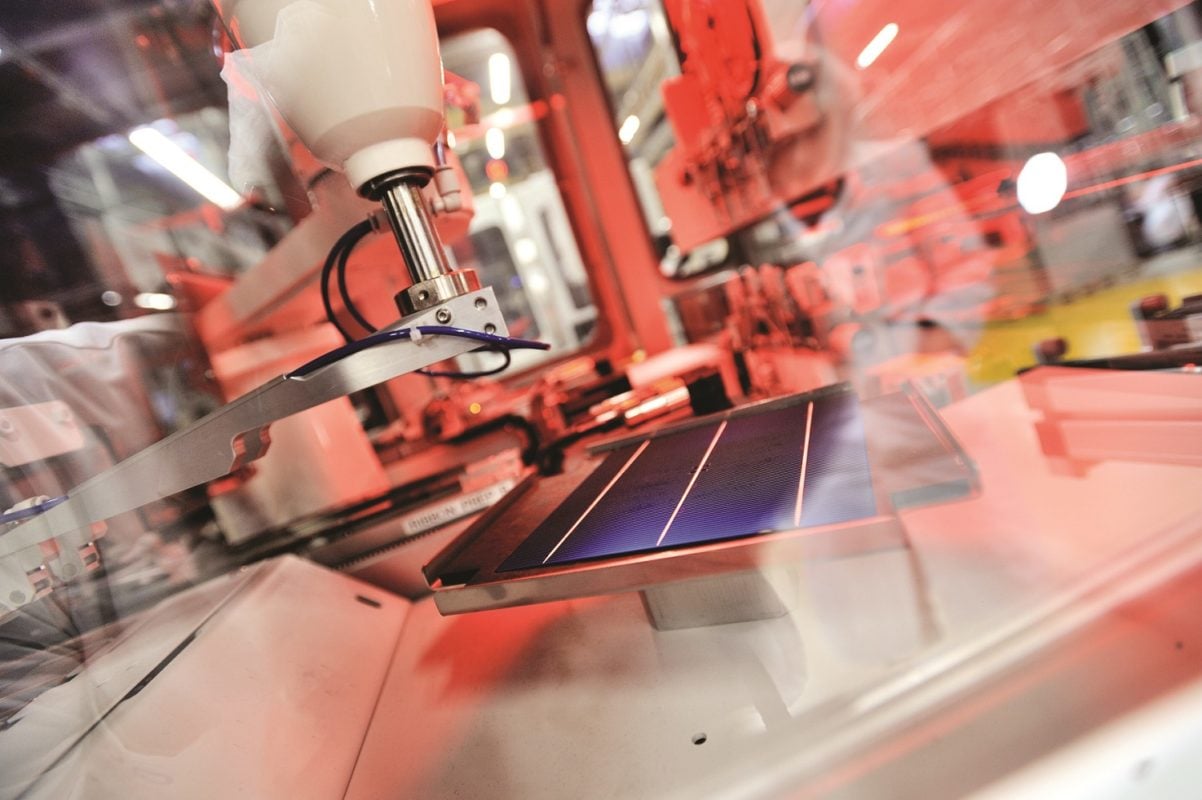 According to the first PV Manufacturing & Technology Quarterly report from Solar Intelligence,the market research division of Solar Media, parent company of PV Tech and headed by analyst, Finlay Colville, the dark days of 2012 for PV equipment and materials firms are clearly over.
Since Finlay joined Solar Media in mid-2015, after many years at Solarbuzz, one of the key projects I was personally looking forward to seeing come to fruition was the in-depth, bottom-up analysis of the upstream PV manufacturing value chain, a critical industry sector that has been lacking in in-depth third-party analysis for some time.
The new quarterly report officially launched today has some good news for the PV equipment and materials sector as overall manufacturing-related investments from the solar PV manufacturing sector are forecast to reach a five-year high of US$5.3 billion in 2016, an increase of 60% on the dark days of 2012 that represented the low point of the recent cyclic downturn in PV capex, due to the chronic overcapacity.
Importantly, according to the first quarterly report, 2016 is bringing in fresh technology upgrades at the c-Si cell stage, forming an integral part of the US$2.1 billion forecast to be invested specifically in cell production in 2016.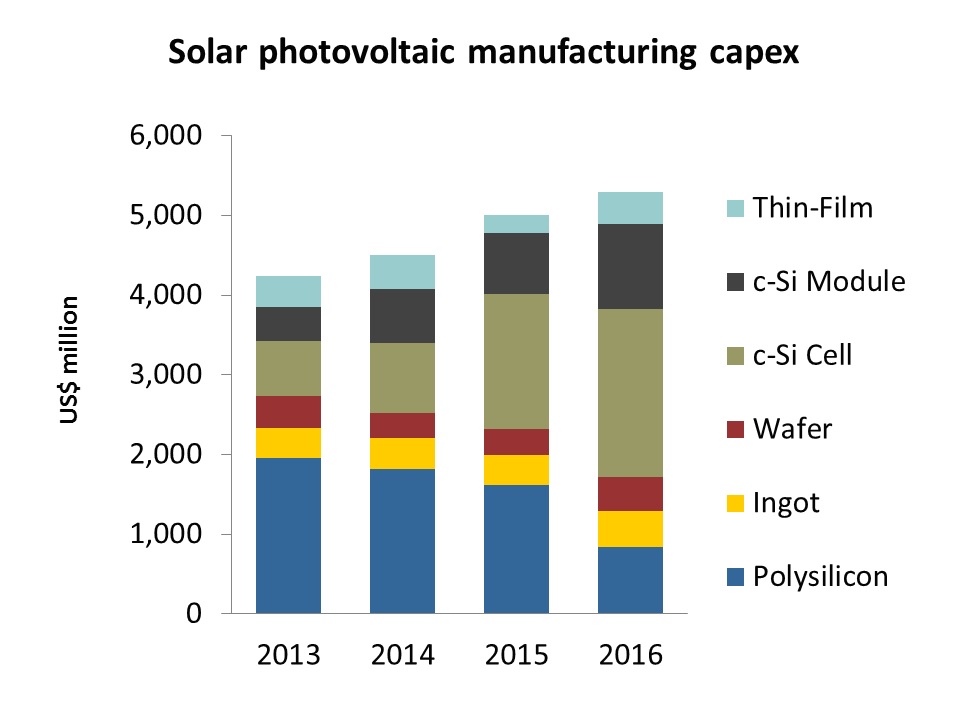 However, Colville notes that capital expenditure trends are much different than in the past up-cycle (2009-2011), when much of the capex was coming from China-based new entrants to PV manufacturing, and was focused on standard c-Si technologies that were already proven in mass production.
Colville notes that in that up-cycle it was very much a sellers' market for PV equipment suppliers, with the challenge being to internally ramp tool production schedules to keep up with demand.
However, there are some key drivers for c-Si cell capex that are coming from several areas:
• Cell and module expansions by Chinese and Taiwanese c-Si manufacturers across Southeast Asia, promoted by the need to retain global end-market reach without being subject to import related tariffs
• Upgrading c-Si cell lines for high-efficiency operation, dominated by the push from a wide range of companies to implement PERC technology within mass production
• Adding (mostly p-type multi standard) cell and module capacity in China by the leading c-Si module suppliers that are seeking to increase module shipment levels in 2016 up to 6GW or higher
• Continuous improvements to production line throughput, cost reduction and average efficiency levels in mass production, coming from established c-Si and thin-film suppliers, and characterised in particular in 2016 by SunPower and First Solar
• Technology differentiation from mainstream China c-Si manufacturing, including new production capacity for n-type cell architectures by the likes of LG Electronics and SolarCity (Silevo)
• Mono-based wafer and cell producers, such as LONGi Silicon Materials, seeking to increase the percentage of mono-based p-type modules within the industry, largely through aggressive capacity expansion plans
Consequently, there is now much more requirement for equipment, materials and gas suppliers to understand the strategies of the companies playing within their addressable markets, as regards their near-term plans for technology, new capacity and geographic footprint.
To illustrate this, the new report highlights that about 25% of solar PV capex in 2016 is forecast to come from a select group of Asian manufacturers, comprised of Canadian Solar, Hanwha Q CELLS, JA Solar, JinkoSolar, and Trina Solar – the key members of PV Tech's branded 'Silicon Module Super League' (SMSL) group.
Technology-driven capex contributions in 2016 are expected to see additions from SunPower, First Solar, LG Electronics and Chinese-based LONGi Silicon Materials, with more than US$1 billion in total.
The PV Manufacturing & Technology Quarterly report
The new report has been devised bottom-up, with a new methodology that accesses the wealth of market data accumulated by PV Tech over the past decade, and focused specifically on production metrics across the industry's leading manufacturers from polysilicon, through to modules. Focusing on production removes spurious module shipment figures, rebadging of components and OEM and tolling activities that do not provide the correct data for production or technologies being used.
Furthermore, ingot and wafer segments are split out, something rarely done in the past in solar market research, but critical in terms of understanding the supply of ingots/blocks and especially the split in n-type and p-type, and mono and multi. Indeed, the findings of the report cast light on the ingot stage being the bottleneck for mono adoption across p-type cells, not further down the value chain.
With much of the capacity additions in the past few years being done by upgrading production lines, restating effective capacity levels, or acquiring distressed capacity in China at minimal cost, the report builds up the manufacturing (or upstream) capital expenditure profile by extracting upstream capex from manufacturers and then breaking out by company across each of the polysilicon, ingot, wafer, cell and module segments.
With very few PV equipment suppliers reporting revenues for PV-specific tools, compared to 2008-2012 when PV/solar business units were established as separate reporting segments for most tool suppliers, the only way to get to PV equipment spending now is to start top-down from the capex being spent by the manufacturers themselves.
For more details on the first release of the new PV Manufacturing & Technology Quarterly report, please click here.