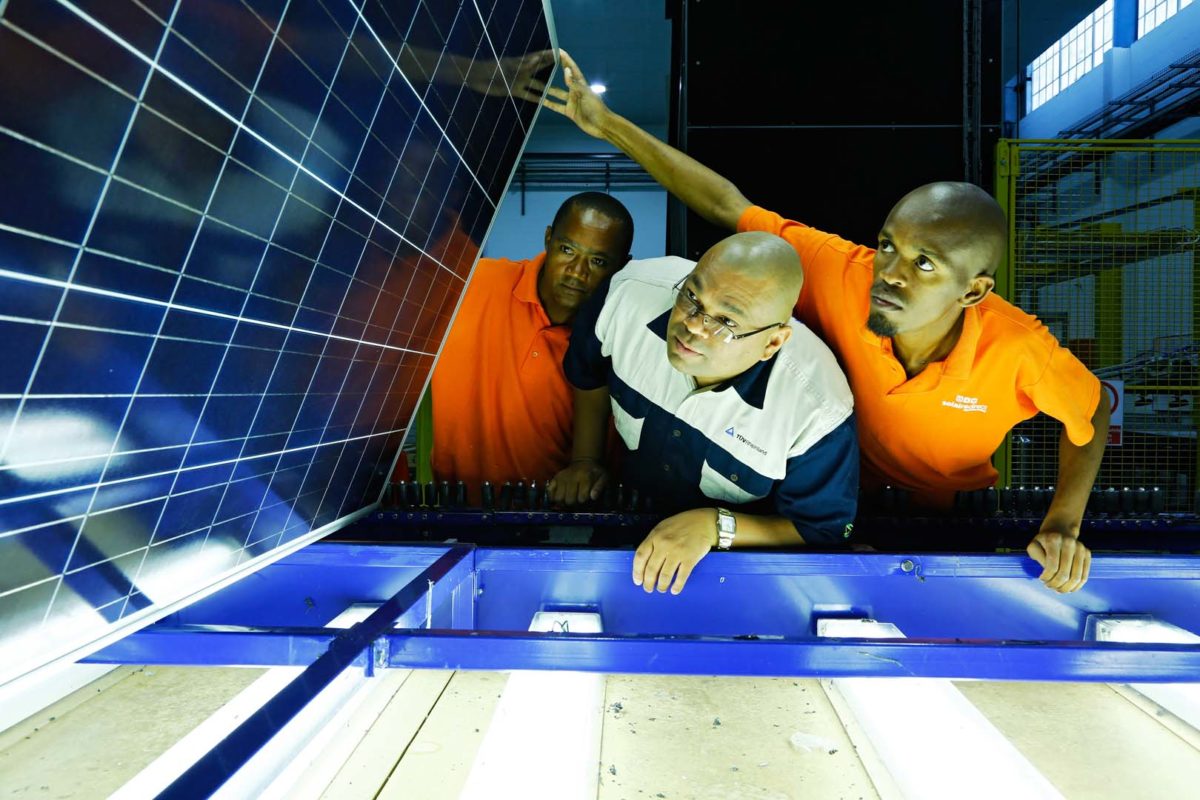 The solar industry, in terms of deployment, will sadly not be growing by 30% in 2018. However, the good news is that the PV ModuleTech 2018 event – taking place in Penang, Malaysia on 23-24 October 2018 – will see more than 30% growth in the number of companies taking part and the number of attendees on site.
The huge uptick of interest in PV ModuleTech 2018 reflects the importance today of module supply and quality, with higher performing modules widely available on the market today, at ever-declining prices.
What's the catch? The answer is reliability and long-term operation in the field, and how to understand where the risks are in choosing the correct module supplier and respective technologies. This has seemed to be a constantly-moving target in 2018, and has left many developers and EPCs with more problems than solutions, and a wider range of options to choose from.
This article reviews some of the key issues expected to be discussed, evaluated and debated during the PV ModuleTech 2018 event. Having started the PV ModuleTech annual event just last year in 2017, it has in just 12 months now become the must-attend conference in the PV industry to keep abreast of module availability and trends on the global stage.
Under one roof – the global supply-chain and knowledge base for PV modules
The goal of PV ModuleTech is simple. Assemble the leading global module suppliers in a neutral venue (Malaysia), and bring in the leading global test/inspection, auditing/certification and related independent engineering firms and related third-party agencies. And then have as many of these companies on the stage talking real issues for utility module supply to the industry.
Thereafter, the full networking potential of the event is supplemented by having as many of the leading global developers, EPC's, O&M's, and asset owners/managers at the event – learning supply options, risks, opportunities, and hopefully pencilling in chosen module suppliers/technologies for large-scale PV project deployment in 2019/2020.
Completing the line-up are the leading equipment/materials suppliers to module assembly factories and research labs and institutes active in module production, testing and market analysis.
The first PV ModuleTech event last year kick-started this dedicated annual forum. The 2018 event in Penang next week (23-24 October 2018) looks set to move things to the next level, with demand for the event outstripping our supply! That is – we have been frantically adding more rows of seats at the back of the hall to make sure everyone can be accommodated.
Now let's have a quick look at some of the companies confirmed to be at PV ModuleTech 2018. The first listing is for global module suppliers, where you can see quickly that was basically have the 'full-set' when it comes to bankable GW-scale global module supply options: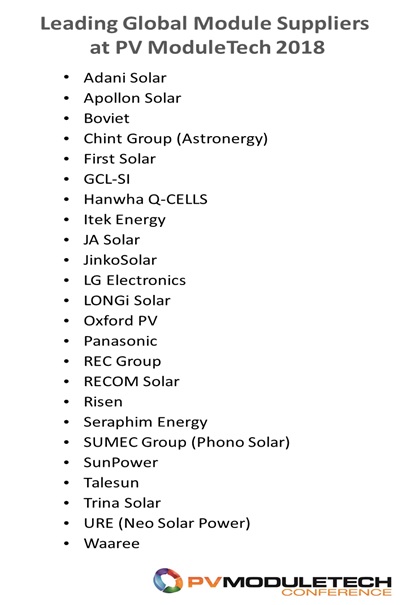 The next category shows some of the test/inspection, auditing/certification and IE companies that are crucial to risk-assessment and bankability studies undertaken for company and technology selection of modules for commercial solar projects.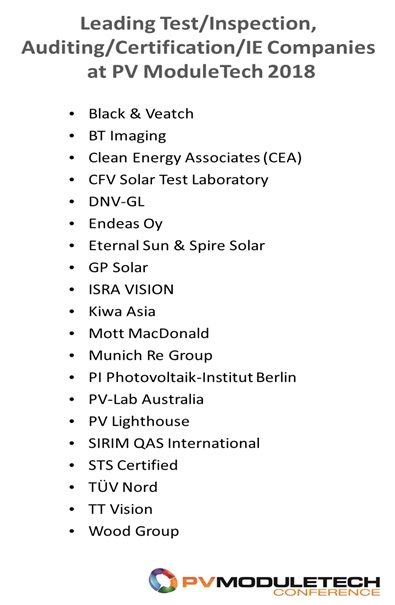 The other category I have pulled out in this article are the downstream stakeholders (developers, EPC's, etc.) that represent the buy-side of PV ModuleTech, and the ones that need to understand what modules are available and which ones they should select for site deployment going forward. Some of the companies within this grouping are shown now: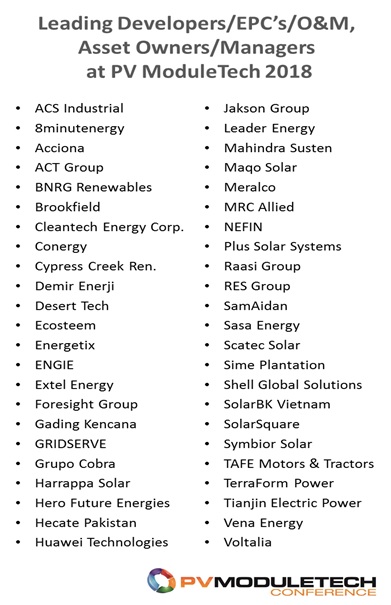 Therefore, looking at the numbers above, while there are well over 200 companies attending PV ModuleTech, by far the largest-represented grouping will come from the downstream (module buying) category.
What will be the key issues debated this year at PV ModuleTech?
If last year is anything to go by, then module supply, quality and reliability will dominate the proceedings. But this year has an added twist, in that we have now moved beyond the multi (poly) domination of modules and what had been predicted for years (more mono, more glass/glass, bifacial, more variety of modules) is firmly in evidence.
In the past 12 months, there is probably not a single large-scale module buyer (from local installer to global developer/EPC) that has not been pitched about 5 or 6 different module technology types. The only thing they all have in common is declining market pricing!
Having each of the options (72-cell multi, mono, PERC, bifacial, n-type, half-cut, multi-wire interconnected, thin-film Series 6 panels) discussed and presented without bias is perhaps one of the most valuable aspects of how we set up PV ModuleTech. If anyone wants one-sided pitches, there are plenty of exhibitions on the PV calendar to choose from!
So, in this respect, I for one want to really understand the performance of each of these options as it related to high-volume bankable MW-level project supply in 2019. There are going to be many large-scale projects deployed in 2019 using each of these options, and this will extend across testing, auditing and inspecting. Therefore, while it is important to know overall market-share trends, the industry is still relying on different module types from a wide range of suppliers that have been shown to be bankable in different countries, regions and climates.
Supporting this is my next key goal: to piece together the different third-party agencies that have developed the skills, know-how and capability to qualify these module technologies. This part of the industry has had to develop new tools, new measuring techniques and advanced processes in order to capture the risk elements across the evolving module technologies and performance attributes. If I was a developer or EPC today, I would want to know exactly who to turn to when any decision on module supplier or technology was being evaluated.
Finally, the role of new module assembly production equipment and materials has also been moving at a frantic pace in the past few years. Increasingly, factory audits and BoM examinations are being done to ensure than 20-30 year IRRs are maximized, and in setting of fair but challenging performance ratios to O&M's. Many of the leading equipment and materials suppliers will be at PV ModuleTech again this year, and each has a host of in-field data that can be traced back to module assembly stages also.
How to get involved at PV ModuleTech 2018
As one of PV-Tech's flagship PV technology events, PV ModuleTech 2018 will feature coverage of PV ModuleTech 2018, but this is no substitute for being at the event at all. During the 23-24 October of the two-day event, we have loaded the time with networking activities, through to late evening on each of the days at the location venue (outside ideally, indoors if monsoon rain and thunder prevails!).
When I last checked earlier today, we have about 15 available seats still left in the extra capacity we added in the hall at the start of this week, so still time to be in Penang if you are quick off the mark! Visit the event website here for details on how to attend. Looking forward to the event – expect to hear more from me once the event is over with my perspectives and conclusions!