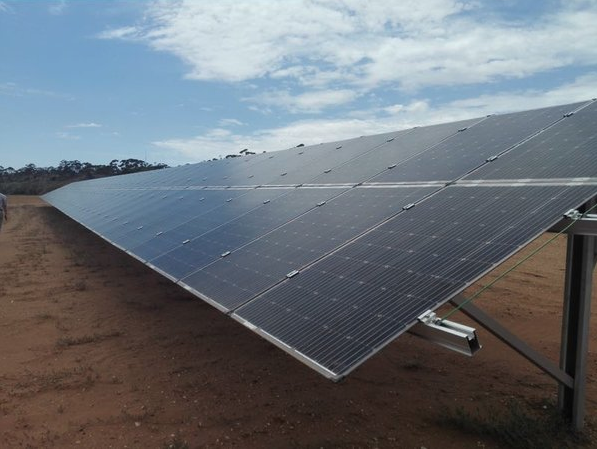 So far in 2018, the solar industry has been through a succession of changes that will reshape the module suppliers and technologies used for utility-scale solar deployment globally in 2019.
The segments of the value-chain this will affect most are companies and third-party agencies that specify, qualify, purchase, design, finance and build large-scale ground-mounted solar farms.
Having been through 5-10 years of minimal disruption, developers and EPCs are soon going to have to make critical decisions related to site design, yield calculations and asset valuations, in order to avoid ending up with stranded assets that will ultimately command increasingly lower secondary revenues when sold on.
Equally under the spotlight will be the banks and lenders for utility-scale solar, with IRR projections now subject to a far greater range of input variables, than seen in the past.
These topics are set to be central to PV-Tech's forthcoming PV ModuleTech 2018 conference, in Penang, Malaysia, on 23-24 October 2018.
This event will provide clear guidance to downstream stakeholders, with visibility on what module types will be available from the 10-20 global/bankable module suppliers in the industry today.
In this article, I outline the background to these changes, and introduce the agenda and speakers for the PV ModuleTech 2018 event in October.
Mono, PERC and bifacial move to mainstream utility offering
As we have been discussing for the past few years on PV-Tech, utility-solar sites were historically biased to 60 and 72-cell p-type multi-cell based modules, with an increasing share of the supply coming from outsourced module assembly across Southeast Asia, in particular Vietnam.
Reverse-auction based tenders across various emerging global markets (especially India) kept the demand for multi modules high, with site capex being the main driver when choosing module supplier/technology.
This is now changing at a rapid pace, stimulated by mono wafer supply becoming high-volume and commoditized, the China-531 effect destroying the sales pipeline for multi in China, and the natural progression from PERC-based mono modules that is gripping the market today, namely bifacial modules.
Many parts of the world are still characterized by EPCs and developers proclaiming their preference for 72-cell multi panels, but ultimately this will be short-lived with a rapid technology change occurring in 2019 that will lead to p-type mono PERC bifacial modules becoming the mainstream industry-offering for utility solar in 2020.
Anyone currently citing the price delta that has generally been constant over the years between a multi and a mono panel, a non-PERC (standard, or Al-BSF based) and PERC-variant, and (shortly) a mono-facial and bifacial module – fear not! Within 12-18 months, the pricing for p-mono PERC bifacial modules will be as competitive with any relatively cautious ASP-erosion trajectory that could be applied to leading multi-based products on the market today.
Margins for niche high-performing technologies only exist, so long as they have supply tightness. Move this technology to mainstream and market-factors kick in and competition ultimately removes any delta that existed in the past with lower-performing alternatives.
So, why does it matter? If the question was simply being able to use higher-efficiency modules, then we have the obvious benefits for site footprint and lower BoS costs. But the use of bifaciality changes everything now. As I noted in a feature on PV-Tech last week, EPCs and developers are now going to have to spend more time on module mounting (height), what the ground/space looks like below the modules, and what type of multi-axis tracking system to use.
The reason for this is simple. Bifacial modules have the potential for site yield gain that ultimately feed directly into higher IRRs for investors. And there is simply no greater driver on the planet. Indeed, one needs to remember that IRR is everything, and way more than the upfront investment level. If double-digit enhancements to IRRs are on the cards, expect no arguments at all when seeking to up investment levels to accommodate higher component capex (mainly from the addition of trackers).
Again, there is nothing new here. It is just that bifaciality unlocks yield capability that was not on offer before.
While virtually all p-type silicon-based module suppliers will move en-masse to bifaciality (aside from a few small players serving local residential segments of the market), 2019 will also see high-volume supply of the utility-optimized Series 6 panel from First Solar, in addition to far more n-type availability that includes new commercial offerings from the likes of SunPower and others.
Back-to-basics: what do developers and EPCs need to know right now!
Having attended, moderated and presented at countless industry events over the past few years where bifaciality was promoted, championed and presented as a fait-accompli, there remains a gap between what the mainstream developers/EPCs know and what the module suppliers and testing houses would like them to know.
There are bifacial workshops appearing now as though there is a world road-trip tour in progress. However, as immensely valuable as these are, bifacial availability and expectations need to have a pragmatic approach that is founded on risk-mitigation and mainstream product availability.
It is largely on this basis that bifaciality will be addressed at PV ModuleTech 2018 in October, with the technology evaluated directly with all other module technologies (c-Si and thin-film, n-type and p-type, mono and multi) that will form the overall utility-solar mix over the next 12 months.
In setting up the agenda, topics, speakers and discussion forums for the event, the following questions came up as being critical to explain to the EPCs, installers and developers that are the main beneficiaries of the PV ModuleTech conferences:
Simple explanation of what the main differences are between standard (mono/single-sided solar panels) and bifacial
What changes are done in assembly lines to move from today's offering to bifacial design? Do the fabs need new equipment? What are the new process steps? What are the differences in materials used? Are these materials reliable and tested in harsh environments?
Which companies are offering bifacial modules in volume supply today? Are these companies bankable from a financial standpoint? What track-record do they have in supplying bifacial modules? Which test houses have developed bankability tests for lenders?
Are there standard testing/auditing/certification channels available? Who are the different third-party agencies offering these today, and which end-markets are they applicable to?
How important is mounting, panel height, and tracking design? Are the module suppliers aligned with tracking providers when offering complete solutions? Should this be the industry norm going forward for bifaciality?
Actually, the list is much longer than this, as may be expected from a technology that is new to the vast proportion of developers and EPCs in the market today.
Moving on from bifacial modules, developers and EPCs also need to learn exactly what is coming through from new n-type modules and if the strong Chinese investments of the past year will be worth considering during 2019.
Again, most developers and EPCs do not have experience with n-type modules yet, aside from those that have been loyal supporters of SunPower's E-Series panels in the past. Putting aside the efficiency gains (at STC) from n-type panels (compared to p-type), n-type (alongside all thin-film offerings such as Series 4 and 6 panels from First Solar) has one massive benefit to utility-solar through a significantly better elevated temperature coefficient. As greater products flow to the utility segment next year, this is clearly something for developers and EPCs to be aware of, especially if they have evolved using only 72-cell multi on fixed mounting schemes.
Introducing the agenda for PV ModuleTech 2018
The sessions at PV ModuleTech this year once again address module supply, technology and quality, through having all key stakeholders speaking and discussing the key themes for the market over the next 12-18 months.
To attend the PV ModuleTech 2018 event in Penang, Malaysia on 23-24 October 2018, please follow the link here. Now for a talk through the event agenda!
Opening Presentation from the Conference Chair
The opening talk will provide a detailed understanding of how module supply is changing in the PV industry today, with utility markets outside China set to drive the global PV market from 2019 onwards. The talk will outline the forecasted market-share allocations of the leading global suppliers in 2019, and the expected module technologies being shipped outside China. The topics covered will outline the key topics to be presented and discussed over the two days at PV ModuleTech 2018.
Non-China Global Module Supply for Utility Solar: Understanding the US, India, Japan & Australia Markets
The opening session will feature presentations on the four main utility-scale countries for PV demand today (excluding the Chinese market) namely the US, India, Japan and Australia. These four countries have emerged as multi-GW demand regions, with stable policy environments and long-term drivers that ensure they retain priority status for module suppliers.
Perspectives from Market Leaders: Quality in Module Supply, Materials & Panel Assembly
This session will hear from three of the leading companies today, impacting module technologies, materials and production equipment used in the supply of quality and reliable products for large-scale utility solar deployment. The companies and speakers will address the key metrics underpinning today's state-of-the-art module assembly and supply, while addressing the next-generation product improvements that will offer improved reliability and higher output yield for EPCs and developers.
New Markets for Utility Solar: Module Demands & Requirements from Emerging Global Regions & India
Various panel discussions will be chaired on-stage during this session, with speakers and panellists chosen from a range of experience local developers, EPCs, O&Ms and Asset Owners active today in Southeast Asia, Middle-East & Africa, and Latin America. These regions comprise a wide range of countries where utility solar is being deployed today, often accompanied by government tenders and auctions. Coupled with the Indian market, there is expected to be a transition during 2019 as these regions see more higher-performing panels deployed, but how well prepared are the module suppliers to guarantee reliable operation over the lifetime of the plants?
Meeting the Demands of Leading Developers, EPCs & O&Ms
This session explores some of the key issues for module selection, operation and optimization at utility solar sites, from initial company/technology selection to maximizing plant asset value at the secondary site sales process – both when undertaking due diligence to acquire build sites or packaging owned sites for selling. Speakers will address the major factors that impact on module quality and reliability, from project development, site construction, site valuation and O&M.
Bifacial Module Questions: What the Industry Needs to Know Today
With module supply for utility solar transitioning from 72-cell p-multi to p-mono PERC, the next phase of module technology upgrading will see widespread deployment of bifaciality, with rear-side efficiency gains creating strong upside to site yields. However, despite the obvious advantages in the field, many questions remain to be answered in order to fully understand what can be expected in the field over 20-30 years of operation. This session will hear from both module suppliers and the third-party organizations now offering benchmarking and yield tools to assist developers, EPCs and lenders to accurately predict bifacial site yields and return-on-investment.
New Module Technologies for Enhanced Site Performance: Why 2019 Represents a Breakthrough Year for Global Utility Solar Deployment
Closing out the first day of PV ModuleTech 2018, this session will feature talks explaining some of the new products that are set to impact the global utility solar segment in 2019. First, an overview will be provided revealing the full range of PV module technologies that are available today, including n-type and thin-film offerings that have a strong track-record in the industry going back more than ten years. This will be followed by First Solar, outlining some of the key features that make its Series 6 introduction one of the most significant and successful new product roll-outs yet seen within the PV industry.
Enhancing Module Site Performance through Material Optimization & Light Capturing
The use of new and advanced materials and films during the module assembly process is known to be critical to increase power levels and site yields over the lifetime of products. In addition to outlining the latest material innovations, this session will see strong focus on the use of light capturing films and related module performance, including how to model enhancement levels and supporting data from test and validation, and third-party agencies.
Defining Reliability Metrics for Utility-Scale Module Deployment
This session will focus on module reliability in the field, starting with an invited keynote presentation from SunPower, as one of the leading suppliers of modules to utility-scale solar over the past 20 years. The following panel discussion will then hear perspectives from various module stakeholders through the value-chain, supporting the need to make purchasing decisions based on maximising LCOE with minimal risk.
Learning from Established Multi-GW Global Module Suppliers
With only a small group of PV module suppliers having been serving the global utility market consistently over the past 10 years, these companies have accumulated significant knowledge on how to specify modules and design solar sites to maximize yield and returns. Two of these companies – Trina Solar and Talesun – have also been heavily involved in project development and as lead-contractor during EPC activities, often packaging portfolios of sites for to sell on to institutional investors. This session will hear from Trina Solar, Talesun and others on how these learnings will be impacting module availability and project development during 2019 and beyond.
Testing, Auditing, Insurance, Warranty & Bankability of PV Modules: What Developers & EPCs Need to Know Today
Selecting module suppliers, their technologies, and point-of-manufacture remains one of the biggest challenges to global developers, EPCs and lenders, with a wide range of third-party agencies operating both globally, regionally and at the country-specific level. This session will hear from some of the leading companies filling this need in the industry, providing key data-points for those specifying, using and owning utility-scale sites in the future.
Leading Global Chinese Module Suppliers Talk 2019 Module Supply How Prepared are Third-Party Agencies, Developers & EPCs for 2019 Module Offerings
The final sessions of PV ModuleTech 2018 will provide an ideal platform for conference attendees to piece together all the information and learnings from the two days. Configured as an ideal 'tool' for attendees mandated to feedback takeaways to company teams members or to report to corporate internally, the two sessions below will seek to provide conclusions, answers, and outstanding questions fundamental to module selection, performance and quality going into 2019.