If the PV technology roadmaps of yesterday were to be believed, the whole world would be processing sub-100 micron n-type silicon wafers today, and the Betamax/VHS question for c-Si PV would be: hetero-junction or back-junction?
Not to mention of course the 40% market share from thin-film PV and the increasing adoption of dye-sensitised and organic PV cells, stimulating a revival in European and US based domestic manufacturing.
Back in the land of the living however, a very different technology landscape can be found, and one that continues to disappoint those who cling to the romance of technology innovation overcoming good-old cost-reduction and incremental efficiency gains. To many, the solar PV industry is perpetually on the cusp of a technology roadmap inflection point that never seems to start.
This article discusses what is really happening in manufacturing today, and shows that if the trends of the big-six 'Silicon Module Super League' (SMSL) are anything to go by, it is p-type multi – and not n-type mono – that is seeing the market share gains in 2015.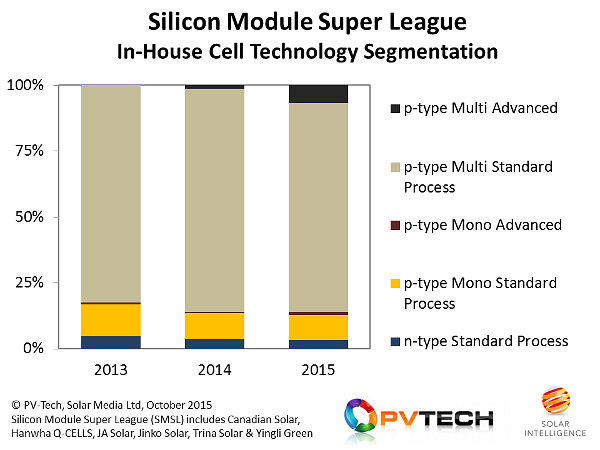 Further reset to PV technology roadmap
Regardless of your motive for generating a PV technology roadmap, few would disagree that the industry needs something that is grounded in reality, and not a reflection of what the research community would like to see.
As the background research and methodology is taking shape for our new PV Manufacturing & Technology Quarterly report, we decided to group manufacturers into different categories, depending on market share, capital expenditure and technology.
To round out a series of features on PV Tech over the past couple of weeks on the combined activities of the big-six SMSL players, let's look at what role these leading manufacturers are having on PV technology in 2015.
As a reminder, the big-six of the SMSL consists of Canadian Solar, Hanwha Q CELLS, JA Solar, JinkoSolar, Trina Solar and Yingli Green. During 2015, these companies are forecast to produce almost 16GW of c-Si cells, and outsource a further 5.5GW for in-house module production. Overall in-house cell production accounts of 70% of the final module shipments of the SMSL this year.
Therefore, while not the whole picture by any means, the SMSL is nonetheless forecast to manufacture just short of one-in-three of all c-Si cells produced in 2015. But given the impact of this group on c-Si module shipment trends and the market-share gains of the big-six, looking purely at their c-Si cell technologies is undeniably one crucial part of the overall c-Si technology roadmap today.
The graph to the left shows the split in c-Si cell capacity for the in-house cell lines of the big-six SMSL players, over the period 2013 to 2015. Ongoing expansions and c-Si technologies currently being ramped, upgraded or modified are factored into the 2015 calendar year capacities using effective annualised line ratings.
The share of p-type multi capacity (including standard and advanced process flows) for the SMSL grouping has increased from 82% in 2013 to 86% in 2015, with the share from advanced (almost all rear passivation) being the key change across all the c-Si cell lines considered here.
PERC is an additive, not a game-changer
Much is certainly being made about the whole PERC thing today, with the apparent need for marketing departments to be issuing press releases confirming plans to implement PERC into production, or simply to have PERC-ready modules for shipment. Either way, it's maybe a bit of a red herring, and perhaps the sensible approach is to consider the changes in manufacturing to be more akin to the upgrades that went on during 2010 to 2013 for front line printing.
While we have assigned PERC above in the advanced categories of mono and multi, the key issue for many cell makers is still whether n-type or p-type, mono or multi, and how this impacts on wafer supply chains. If p-type multi is the chosen technology type, then having the wafers go through cell lines that are – or are not – PERC capable is a secondary issue to materials supply.
Another way of looking at PERC is simply as one of many process flow improvements that can still be done to mainstream p-type mono or muti cell lines, not to mention what's still available for optimising at the module side too at the busbar level.
And in many ways, this gets us to the roadblock in PV roadmaps, and whether in fact the lack of major technology inflection points is in fact a block. Let's explain this now.
Many companies – or industry observers and researchers – hold true to PV manufacturing being in dire need of major technology changes, and regard the market-leading position of p-type multi as being nothing more than a transitory phase the industry is going through.
It fuels the R&D community, provides ample marketing fodder for company roadmaps and leads some to suggest that having p-type multi-only capacity is not forward-looking. It also forms the perfect backdrop to the plans of First Solar (with TetraSun) and SolarCity (with Silevo) in seeking to replicate the 20-year manufacturing knowhow of SunPower together with the gigawatt-scale cost model of, say, a Hanwha Q CELLS, with little c-Si manufacturing heritage on offer.
One could however flip the whole question around, and ask whether p-type multi is in fact on a predestined path to gain 95% or more of overall shipment market share within five years – with the other 5% being a combination of by-then niche technologies that will contribute to about 5GW of shipments from First Solar, SunPower, Panasonic and any other c-Si mono proponents (n-type or p-type) that are in the mix at this time.
If so, then the work by the likes of Green Energy Technology on p-type multi wafers and Hanwha Q CELLS on rear passivation of cells will form just two of the many additive steps that contributed to the efficiency gains and cost reductions that ultimately created an insurmountable barrier to entry for current or future competitive manufacturing approaches.
It is not an easy one to call! But, if one data point only was to be used, and that looked purely at the c-Si cell trends of the big-six SMSL players, then the safe money would be on the second approach above, however unpopular and contrary to the roadmaps proposed so far in the PV industry.
Ultimately, regardless of how technology does finally evolve, having a methodology and research structure to track the key trend factors is absolutely essential. As we get closer to the release date of our new PV Manufacturing & Technology Quarterly report, expect to see more blogs on PV Tech on how we are proposing to provide one such option for the industry as it moves into 2016.