Talking about a PERC (Passivated Emitter Rear Cell) revolution today is probably a bit premature; the term PERC is still being somewhat hijacked as a soundbite by marketing departments across Asia, including module suppliers whose involvement at the cell production stage is limited to ordering crates of cells.
The key thing right now is to put aside this noise, and see exactly how far PERC has been implemented within the GW-level cell production lines of the leading cell producers to the PV industry. And for now, this question remains unanswered.
The announcements of R&D achievements are highly visible; the purchase orders to PECVD and laser equipment suppliers are also clear to see; and the announcements of upgrades and new production line additions using rear-side cell passivation layers appear every month.
But just what is happening with PERC in volume mass production?
By the end of 2016, we are hopefully going to know just how many gigawatts of PERC has been produced this year and across the PV value-chain, is truly a massive deal.
To address this question, we have allocated a whole afternoon to PERC at the forthcoming PV CellTech conference in Kuala Lumpur, Malaysia on 16-17 March 2016. And to understand what is being done in mass production today, we have got all the major players in PERC to talk about their PERC activities.
Here is the list of speakers at the PERC afternoon of 16 March 2016 at PV CellTech: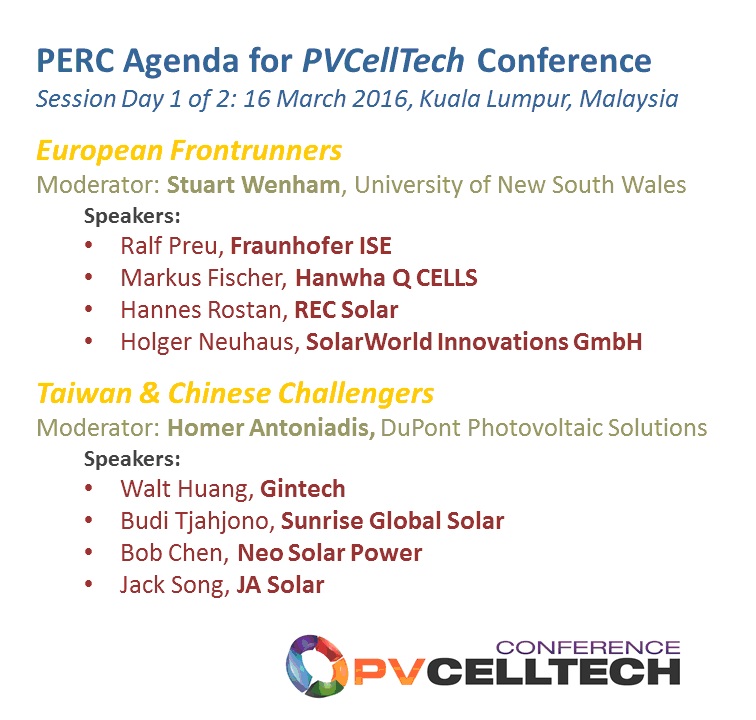 PV CellTech has become the key event to attend, to understand PERC production in the PV industry today, with presentations from all of the leading producers.
As we put together the two-day schedule for PV CellTech, it became quickly evident that we could have filled the entire agenda with requests from companies to talk about PERC! But we decided to select only those companies that were known to be serious PERC cell producers, and would ultimately provide the true metrics to guide the near-term PERC roadmap.
It would seem that PERC is still mainly a Europe versus Asia issue when looking at the production data from the different c-Si cell producers having PERC production lines. Indeed, we could go one step further and suggest that PERC is really being driven today by three somewhat disperse influences: European legacy research-driven cell makers; Taiwanese in-house first-adopters; and mainland China onlookers.
Getting PERC into China does seem to be the challenge that could finally determine whether PERC simply becomes a niche-play from the non-Chinese Asian PV contingent. And within this question is a myriad of interrelated issues, largely shaped by the PV industry of 2016 that is shifting to a split between China versus non-China PV market-drivers.
Does the domestic Chinese end-market need high-efficiency module supply? Which markets – outside of China – are really pushing for module power ratings of >265W for 60-cell multi?
Is there a better option to increasing module power ratings? Is shifting to p-type mono or n-type ultimately the better play going forward? And finally, is the cost/efficiency equation really tipping towards changing existing p-type cell lines?
Ultimately, PERC may just be one of the options on the table for cell technology upgrade activity in the next few years. Indeed, we continue to view PERC as a process flow change, rather than a specific cell type, making rear-passivation one of the main cell technology processing changes that has been pending adoption for many years.
Either way, the content of PV CellTech is almost certain to be a key influence on where equipment and materials suppliers need to concentrate their efforts in the near-term, and what long-term factors they need to be factoring into in-house strategic plans.
For details on how to attend the PV CellTech conference next week in Kuala Lumpur, please click here for more details.