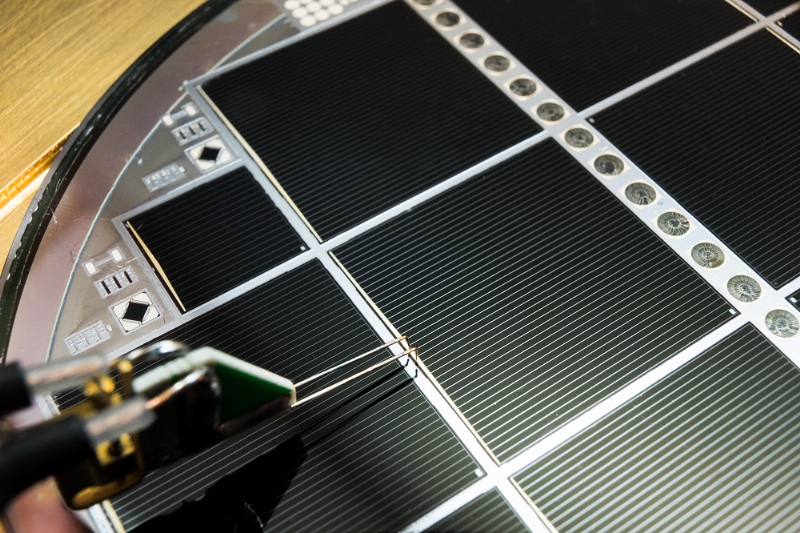 During the past couple of weeks, we have been doing a comprehensive set of blogs and articles discussing the key trends in solar manufacturing and technology.
Within each of these, we have constantly been reviewing the impact of technologies that fall outside the mainstream p-type mono and multi offerings that collectively have been gaining market share in the past few years, edging gradually into the low 90% territory of market supply.
Today, we look at the latest updates done to industry R&D spending. This became a key part of our in-house research during 2016, as we formed a bottom-up methodology that allowed us to view the industry's R&D spend by manufacturer-type and technology-focus.
Because we restrict our R&D analysis to commercial manufacturers only (not counting any R&D spend associated with academia or government funded research institutes), any key changes in R&D spending should be a leading indicator of technology changes set to come into the industry 2-3 years out.
The analysis shown below is adapted from the January 2017 release of our PV Manufacturing & Technology Quarterly report. The themes are set to be discussed at the forthcoming PV CellTech 2017 event in Penang, Malaysia, 14-15 March 2017, and during our forthcoming webinars next week (see end of article for details on how to register).
Spending by manufacturer profile
Typically, R&D spending for PV has been trending in the US$1-1.3 billion range over the past few years, with a wide range of company-specific allocations, as a percentage of company revenues. R&D spending within the PV industry remains very different from the profiles seen in adjacent technology segments such as semiconductor or flat panel display.
The first graphic below shows the split by company 'type'. The analysis is not exact, because many companies fall outside of simple categorization, but we applied the dominant business for each company to one of the types shown in the graph legend below.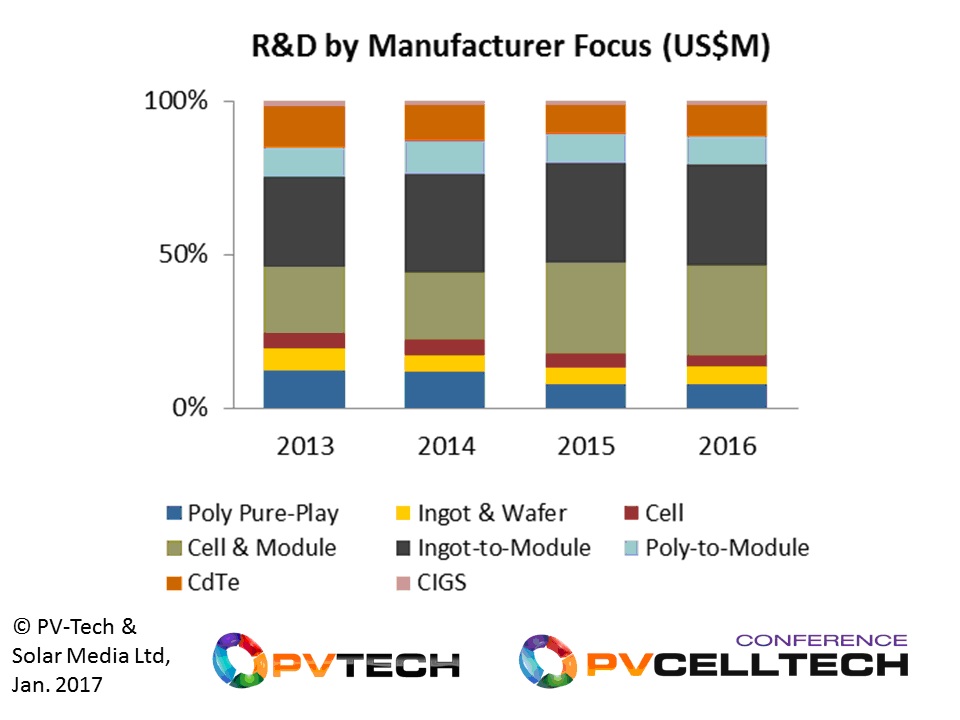 The above graph shows the dominance of the plans of the midstream segment for c-Si, with decreasing contributions from poly-to-wafer specialists. This would seem to make sense, given the push-back from FBR plans being sidelined, and the fact that integrated ingot-to-module producers have been focusing on cell upgrades or changes to module designs.
With there being just two thin-film options in the mix these days (CdTe and CIGS), it is interesting to see such low levels coming from CIGS. This would appear to contradict some of the recent CIGS tool orders in the past 12 months, but probably suggests these plans are being driven from outside research-based institutes or funding mechanisms.
What are the indicators for technology changes?
More relevant perhaps to the above is to segment out R&D spending by technology. This is shown in the graphic below. Again, this is not an exact science, but we have assigned R&D spending by each company based on what we believe is their real roadmap for production.
The main change here is actually coming from the increase in allocations for n-type research by the cell manufacturers. With overall n-type losing market share in the past few years, it still shows the fundamental assumption that, at some point, the only way to hitting average cell efficiencies in production at the 25% level will be n-type technologies.
The only question is whether today, that is enough. Or does it even matter today. It may be that any real market-share gains from n-type do not come to fruition in the next five years, but are only seen to make meaningful contributions closer to 2025 than 2020.
When we were in an industry in the past few years or runaway dominance of p-type multi, thinking of widespread market-share gains from n-type seemed like a million miles away.
But, this all changes when p-type mono gains share, and the ingot stage moves from casting to pulling. At this point, there is an upgrade route to n-type, rather than having to perform unacceptable levels of fab retrofit.