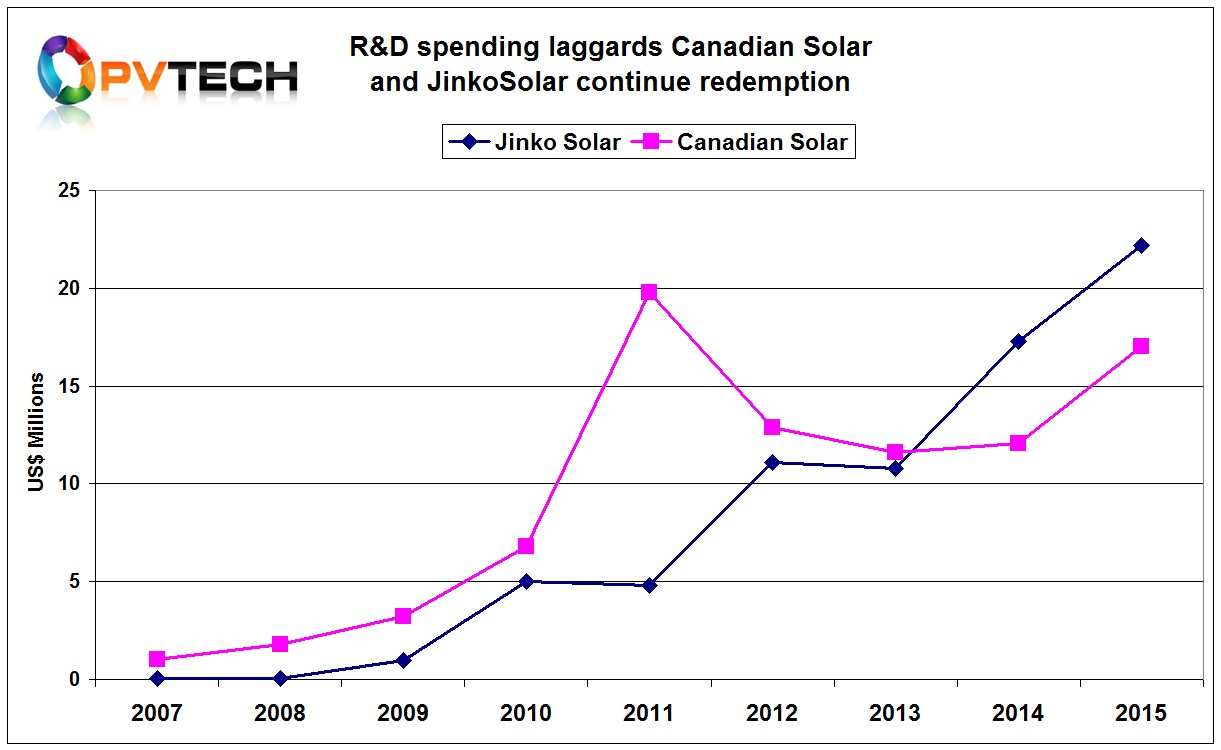 PV Tech's annual analysis of 12 major PV manufacturers' R&D spending behaviour again highlights that two 'Silicon Module Super League' (SMSL) members, Canadian Solar and JinkoSolar continue to lag behind rivals, despite climbing the SMSL ranks and top 10 manufacturers' rankings, based on PV module shipments.
JinkoSolar had long been the perennial R&D spending laggard but in 2014 the company increased spending by 60% to US$17.3 million, climbing two ranking positions and also new record for the company.
In 2015, JinkoSolar increased R&D spending a further 28% to around US$22.2 million, another record and crossed the US$20 million barrier that previously (2014) had been occupied by 5 of the 12 companies covered in the analysis since 2007.
However, despite the upward R&D expenditure trend, which had accompanied an increase in the number of employees within its R&D team from 125 in 2013 to 160 in 2014, JinkoSolar reported in its 2015 annual report that its R&D team consisted of 123 employees at year-end.
The other R&D spending laggard, Canadian Solar also increased expenditure in 2015 by around 41% to 17.05 million, compared to US$12.05 million in the previous year, but remained within the US$20 million barrier and spending remains below the peak of US$19.8 million set in 2011.
R&D spending by Canadian Solar as a percentage of revenue in 2015 stood at 0.5%.
In contrast to JinkoSolar, R&D personnel levels actually increased slightly from 190 in 2014 to 202 by the end of 2015.