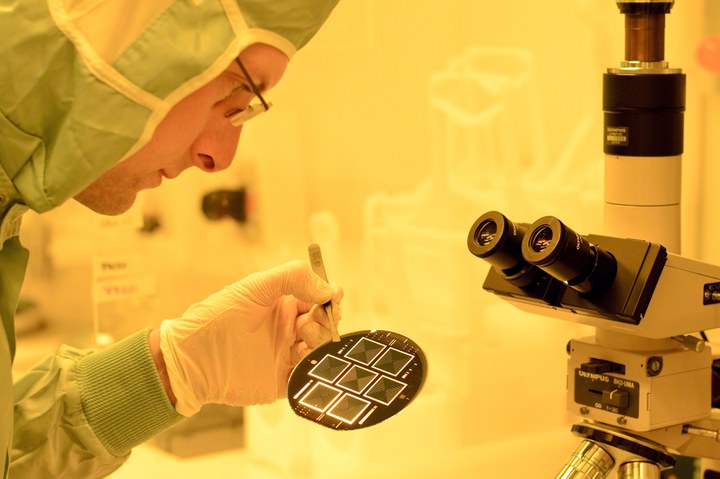 Within the next few weeks, we will be previewing the agenda for the PV CellTech 2017 event in Penang, Malaysia, 14-15 March 2017, summarising our research phase conducted with inputs from the Technical Advisory Board.
With the event focused on real-world solar cell manufacturing trends, the topics typically fall under the generic categories of: (1) upgrading existing mainstream p-type multi through a combination of wafer and cell improvements; (2) efforts to move advanced cell types (including p-type mono) to the GW-scale.
Within the latter category above, a key benchmark is the level of funds being allocated to R&D across the PV manufacturers themselves, noting that industry-wide R&D activity across research institutes and universities has a large portion of 'blue-sky' research.
Following the most recent release of our PV Manufacturing & Technology Quarterly report last month, we have just completed one of the mid-release Report upgrade features that will be incorporated in the October release: R&D Spending.
Methodology
There are very few good reference points, if any, for industry-wide R&D spending at the manufacturing level, and the industry has historically been divided into technology leaders and laggards, with many waiting until new process flows are fully understood in production before copying industry peers to catch up with efficiency gains and cost-reduction steps.
The situation becomes even more individual in nature when we consider that some of the largest companies in the PV manufacturing space are single-handedly driving their technology-specific roadmaps (First Solar, SunPower, Solar Frontier, LG Electronics, SolarCity/Silevo, to name just a few).
Adding to this confusion is the fact that only public-listed companies generally release R&D expenditure, and for some that have non-solar operations, there is no breakdown of what is solar-specific.
Therefore, to do this bottom-up from the manufacturing side, we have ring-fenced the top-60 manufacturers across the PV value-chain (from polysilicon to module, and thin-film), by ranking status. (We have recently featured the methodology for this within PV-Tech as a way of comparing the impact of upstream producers that are active at different parts of the value-chain.)
Where R&D spending can be extracted readily for PV manufacturing purposes, these figures are used. Otherwise (as is the case for the vast majority of the companies in question), solar specific R&D for manufacturing is either backed out of financials or modelled. The modelling considers the turnover from solar operations (with many allocating R&D based on a percentage of turnover), changes in technology (or specifically process flow upgrades/changes), and capital expenditure (capex).
A key point to consider is that there is often a strong correlation between capex and R&D spend.
Finally, for each company, the R&D spending is further broken down into the company HQ location (noting that R&D allocations do have regional differences in terms of priority), value-chain participation, and technology-type.
Viewing R&D spending across different categories
Before we discuss what the data means, let's look at the graphics for the categories that are highlighted above. The first graphic below shows the split in R&D spending taking the company's headquartered location as the regional reference point. For example, a company such as First Solar, that has almost all its manufacturing in Southeast Asia, has its R&D spend assigned to the US.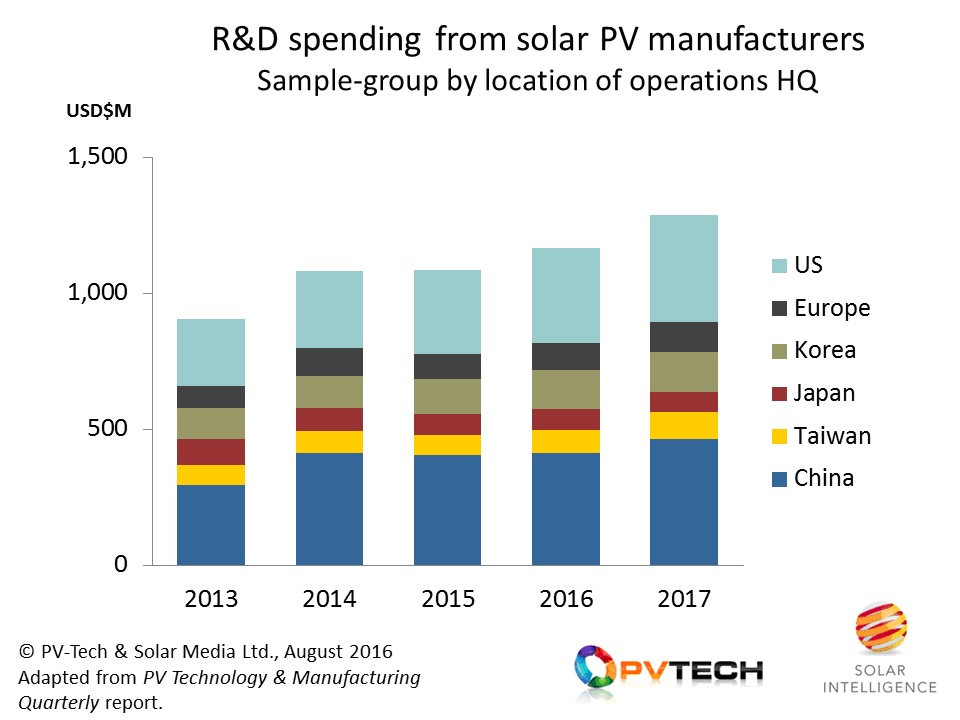 R&D spending totals are dominated by companies with headquarters in the US and China, with contributions from previous industry-leading manufacturing hubs of Japan and Europe well below these countries.
There are several factors contributing to the shift in R&D spending to companies headquartered out of China and the US. The sheer volume of companies headquartered in China today that are dominating PV manufacturing is in part driving the China-based contribution.
However, the contribution of annual turnover by Chinese PV manufacturers has been increasing in recent years, as highlighted by PV-Tech in the past.
The US contribution is coming largely from the technology-differentiation factor that we alluded to above, with the requirement for differentiated technologies to invest heavily to stay ahead of the China-oriented GW-juggernaut that for example, benefits from cross-pollination of technology advances.
Another interesting visual is obtained through segmenting R&D spending by the specific part of the value-chain that the companies operate within. To understand the rationale for this, you only need to consider the impact that a pure-play wafer producer, for example, can make from R&D spending, unless the R&D is perfectly aligned with what the ingot supplier and cell end-user is also doing. Contrast this with companies having a broader value-chain play, say from ingots to modules, where in-house R&D ought to be in-synch.
The categories below can be split in different ways, as there is no 100% clear way of doing this. However, just to get the idea, we have broken this out into eight useful sub-segments. Some of these are largely one-company efforts, since we are confining the analysis to the top-60 only; since the top-60 are making up well over 90% of spending, a fuller bottom-up analysis over the 300-400 companies doing 'something' today in PV manufacturing would be a very close match with the graphic below.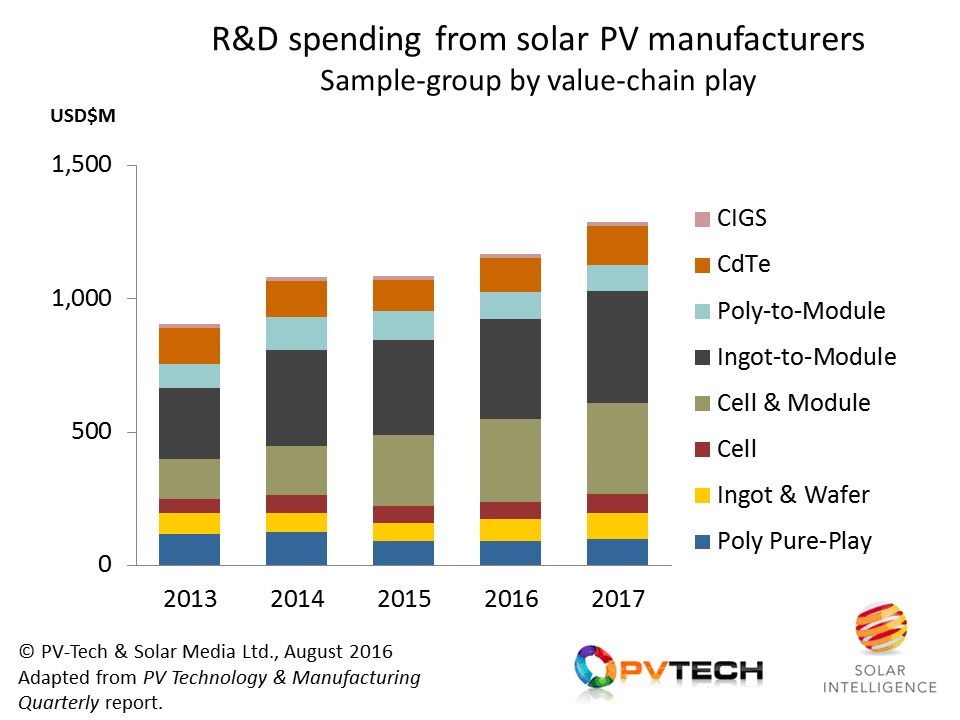 R&D spending is dominated by companies active in both cell and module manufacturing and those covering the ingot/wafer/cell/module part of the c-Si value-chain.
While the above graphic highlights the impact of midstream vertically-integrated c-Si manufacturers, in particular those from ingot-to-module production, the limited spending from pure-play polysilicon and cell makers is pronounced. In part, this is driven by the location of many of these companies (polysilicon in China and pure-play-dominant cell makers in Taiwan).
The final graphic dives into technology-focus. Again, while not an exact science, the breakdown here is probably the most interesting, as it highlights the efforts being made to disrupt the stranglehold that p-type multi cells have had on the industry during the past 5-6 years.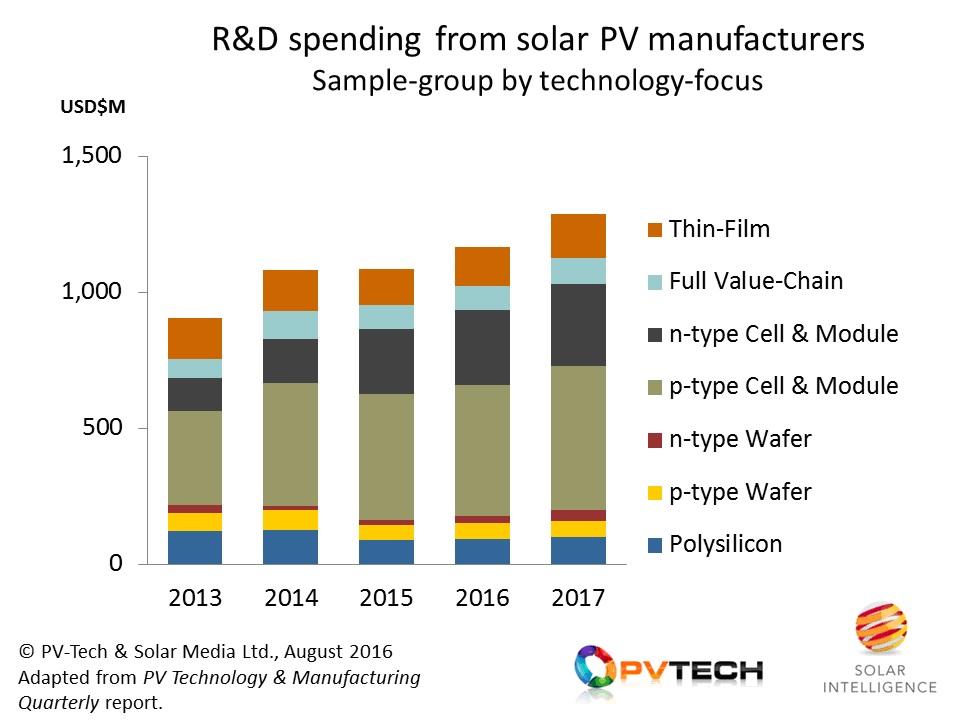 Here, we allocate R&D spending to the dominant technologies that companies are focused on, although there are many ways to do this part of the analysis.
While R&D spending has been dominated by allocations from companies active in p-type midstream activities, contributions from n-type companies (both established and challenging) have seen the largest growth over the past few years.
If the R&D spending on n-type cell/module activities was removed from the above graphic, the resulting graphic would show a fairly flat annual R&D allocation at the US$1billion level. Therefore, it is perhaps most interesting to focus on the n-type bars, and just what this means for solar cell manufacturing going forward.
Understanding the implications of R&D spending trends
The fact that so much of the R&D is being allocated to c-Si ingot-to-module activities should not be surprising. Indeed, going one step further brings into play the key issues at the heart of PV technology today.
Within the dominant p-type technology to the industry, R&D efforts are now in a competitive situation, and this is definitely going to be explored carefully at PV CellTech 2017.
For some years, barriers were in place concerning p-type mono wafer supply to the industry, with many of the legacy mono pullers having capacity that was more rooted in its semiconductor growth heritage. For years, the status-quo between mono and multi wafer supply was grounded in this model, leaving p-type multi to become the industry standard by virtue of China economy-of-scale and cost-reduction measures.
However, combine a low-cost approach to mono wafer supply (exemplified by Longi Silicon) with a concurrent drive from mono cell manufacturers to shift to PERC performance, and R&D money then has to flow into p-type multi in order to combat this threat.
As such, R&D spending at the p-type level is currently not just topical, but may ultimately define the mono-to-multi split within the industry in the next few years.
Getting PERC to work on multi – while adapting multi cell lines to accommodate diamond wire saws – could be one of the most significant issues to unfold in 2017. There are many arguments being advocated today on this, but most tend to have a corporate bias that clouds the issue; and it may ultimately come down to which p-type option the pure-play cell makers opt for, and the level of R&D resource they are prepared to invest to make this happen.
R&D spending on n-type manufacturing is less complex, as it is basically the sum of many parts (companies) and not arising from any collective drive to bring forth a viable alternative to p-type module supply.
Indeed, the fact that n-type R&D spending is such a large proportion of the graphics shown above is in part related to this: 3-4 companies operating in isolation trying to reach the GW (or multi-GW) level of n-type cell manufacturing can only result in massive R&D spending contributions.
Finally, as we look at the entire make-up of the R&D spending bill from PV manufacturers, it is equally important to factor in First Solar. In many ways, the R&D focus, capex allocations and module-related marketing rhetoric of First Solar is a mirror image of what we see from n-type cell/module producers today.
None of this should come as a surprise however. The efficiency/cost structure of p-type multi has set a benchmark for all others in recent years, and the R&D trends reflect this completely. And as a result, this has reinvigorated p-type multi producers to prioritise R&D at the ingot (potentially through a variant of the legacy cast-mono approach), wafer (introducing diamond wire saws) and cell (black silicon and PERC) stages, in order to react to the threat from n-type, p-type mono and CdTe thin-film from First Solar.
As such, the backdrop for PV CellTech 2017 is unfolding in a fascinating and highly-dynamic manner. Watch out for the conference agenda being previewed this month on PV-Tech, and remember to sign up early to ensure on-site participation.