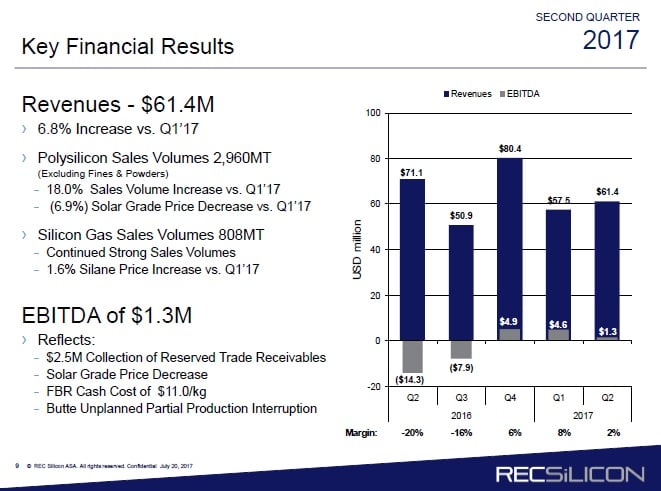 Polysilicon producer REC Silicon ASA continues to significantly curtail production but was able to squeeze higher revenues over the previous quarter.
REC Silicon reported second quarter 2017 revenue of US$61.4 million, up from US$57.5 million in the previous quarter.
However, EBITDA was US$1.3 million, compared to US$4.6 million in the previous quarter and its cash balance declined US$9.5 million to US$71.4 million at the end of the second quarter.
REC Silicon noted that its FBR polysilicon production remained at 50% utilisation rates but its FBR cash costs stood at US$11/kg. Total polysilicon sales in second quarter were 2,960MT, while production was 3,057MT.
The company noted a 6.9% ASP decline for solar grade polysilicon in the quarter.
The China-based high-purity FBR plant joint venture is expected to start up the first silane unit and FBR reactors in Q4 2017. REC Silicon has been unable to supply customers in mainland China since anti-dumping duties were imposed.