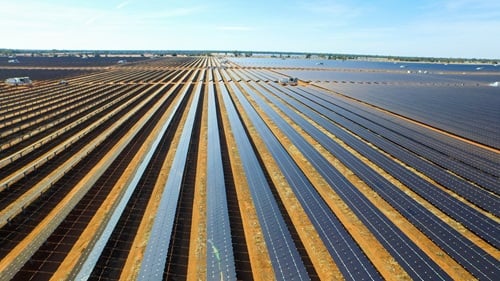 Australia's renewable energy sector experienced an all-time high for investment in 2016, according to the Clean Energy Regulator (CER).
Last year saw investment in large-scale renewables five times greater than 2015 investment; with more than AU$4 billion (US$2.99 billion) committed that will add more than 2GW to the grid.
The investment was well used in the solar sector, considering the rapid declining cost of PV equipment. Out of the 98 new plants commissioned in 2016, 86 were solar. Small-scale renewable investment was also strong with 182,000 new installations in 2016.
Collective rooftop solar panels and hot water systems installed in the country generate more than 5GW of power – which is nearly twice the size of the nation's largest power station. Rooftop solar has now reached 5.6GW of installed capacity.
Australia's renewable energy target of 23.5% by 2020 is now within sight, with the CER stating that "if this investment momentum continues in 2017… the 2020 RET can be achieved."
Furthermore, more than US$2 billion of renewable energy investment was committed in the last three months, according to the Clean Energy Council (CEC) – adding up to an unprecedented US$7.4 billion in investment and more than 330MW of new clean energy capacity, which should start construction this year.
The majority of the new capacity takes shape in large-scale solar projects. Announcements of projects of this kind should create more than 4,100 direct jobs, according to the CEC.
"Bringing on new forms of energy generation is necessary to ensure continued energy security as ageing coal-fired power continues to close," said CEC chief executive Kane Thornton. "Thankfully, 35 large-scale renewable energy projects are now under construction in Australia. Large-scale renewable energy, combined with the continued strong uptake of rooftop solar and emergence of energy storage, provides a clear pathway for Australia's future energy needs."
Large-scale renewables
Large-scale solar capacity has grown from just 18MW of installed capacity in 2012 to a forecasted 1GW by the end of 2018, according to the Clean Energy Finance Corporation's (CEFC) chief executive Ludovic Theau.
The country will require between 5-6GW of new capacity to meet the country's 2020 large-scale renewable capacity target of 33,000GWh. The industry is confident this will be met as more than 3,400MW of new renewable energy capacity is currently under construction, according to CEC.
"Large-scale solar technology has approximately halved in price over just the last few years, making it competitive not only with wind power but with fossil fuels such as gas," said CEFC's Theau. "Renewable energy is now the cheapest kind of power generation it is possible to build today, and solar power plants have a relatively short project lead time compared to other technologies."
"Our major focus has been on commitments to large-scale projects and this has unlocked AU$1.5 billion of large-scale project development, with more than 600MW generating capacity."
"Our Large-Scale Solar Programme, which is about to reach financial close on its 10th project, has played a significant role in the transformation of the solar sector. Through it, we've made the largest single debt financing commitment to the sector to date, with more than AU$370 million of finance accelerating a total generating capacity of 400MW and estimated total project value of more than AU$900 million.
CEFC commits more than A$780 million for solar sector
The CEC credited funding from the federal government through the Australian Renewable Energy Agency (ARENA), alongside the innovative finance packages of the CEFC.
The CEFC made a recent investment amounting to AU$780 million to the large and small-scale solar sector which is forecast to unlock projects and programmes valued at over AU$2 billion.
"Earlier this year we made our first equity investment in a solar project – A$20 million for Ross River Solar Farm in Queensland, which has reached financial close and is just about to start construction," said Theau. "In recent years we've witnessed solar's rapid improvement in cost competitiveness with other energy generating technologies. The benchmark Levelised Cost of Energy (LCOE) for solar in Australia is now around AU$95/MWh, which, according to Bloomberg New Energy Finance, is well below the AU$107/MWh benchmark for gas and AU$182/MWh for new coal.
"It is now possible to develop a commercially viable large-scale solar project without grant funding."
Importantly, the CEFC noted that confidence among investors was growing, with the private sector engaging more in partially contracted projects.