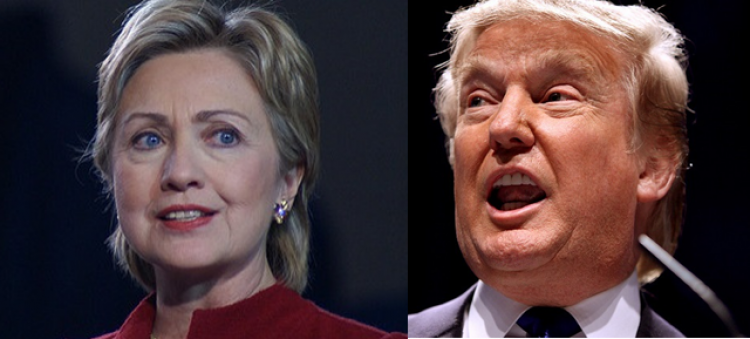 Contrary to popular opinion, the next president of the United States will not radically affect the energy landscape, according to industry experts.
Despite Donald Trump being branded anti-renewables and vowing to resurrect a latent coal industry, and Hillary Clinton envisioning the US becoming a "clean energy superpower", the reality is that very little will change regardless of the two.
"I think that will take more time than people expect and it's definitely not going to happen overnight. In our forecast we assume that it does happen overnight, and draws a very stark contrast between the two," Yuan-Sheng Yu, analyst at Lux Research told PV Tech.
"In reality, regardless of who is elected, emissions will probably move in a direction that is right between the two [candidates]; maybe stay flat, and continue to decrease a little bit.
"I don't think there is any need for a knee-jerk reaction to who wins the presidency; especially not for the next four years. But in terms of long-term policies or the potential for Trump having a back-to-back presidency, that is where the impact will likely be felt. I think it will take a few years before people realise exactly what is going to be happening for the energy sector."
This might be surprising, given Clinton stands at one end of the spectrum with plans to deploy half a billion more solar panels, and Trump stands at the other with designs to dismantle both the Clean Power Plan and the Paris climate agreement. But as Yu pointed out, proposed policies and initiatives are very different from implementation and legislation.
"I do want to lay out the disclaimer that while these candidates have said one thing or another, implementation and actual execution is a completely different topic. From what Trump has said and what he has rallied his supporters around, is that renewables are inefficient, costly and that he will get rid of any sort of incentives or subsidies that fund deployment of these technologies."
However, this might not be a big a problem as might be initially perceived; as solar PV costs continue to fall, the value proposition for this technology is hard to deny. The momentum renewables as a whole are currently experiencing will be hard for it to be stopped, even by Trump.
"Given the continued decrease in prices for clean energy, it will win on its own merits," writes Sunnova CEO John Berger, in a new post on CNBC. "Regardless of who wins the presidency, clean energy providers will continue to offer the most cost-effective energy options to utilities, businesses and homeowners around the country.
No matter what policies the eventual candidate supports and enacts, the fact remains that clean energy is the most popular and cost effective option for new generation."
"The ambivalence regarding the election can be seen across the energy industry. Oil and gas industry workers in the US have contributed about the same amount to both presidential candidates. The American Gas Association has also declined to endorse a candidate. Why is that? It's because energy markets are, for the most part, open markets that can only be marginally influenced by politicians and their policies.
"Hillary Clinton wants to make the US a 'clean energy superpower'? Great. Donald Trump wants to get rid of regulations for energy companies and try to revive the dying coal industry? No threat.
Regardless of threats to dismantle climate agreements or promises to increase renewables, it might not matter which candidate ultimately takes control of the energy sector, given the significant market dynamics and consumer demand that is driving the industry.