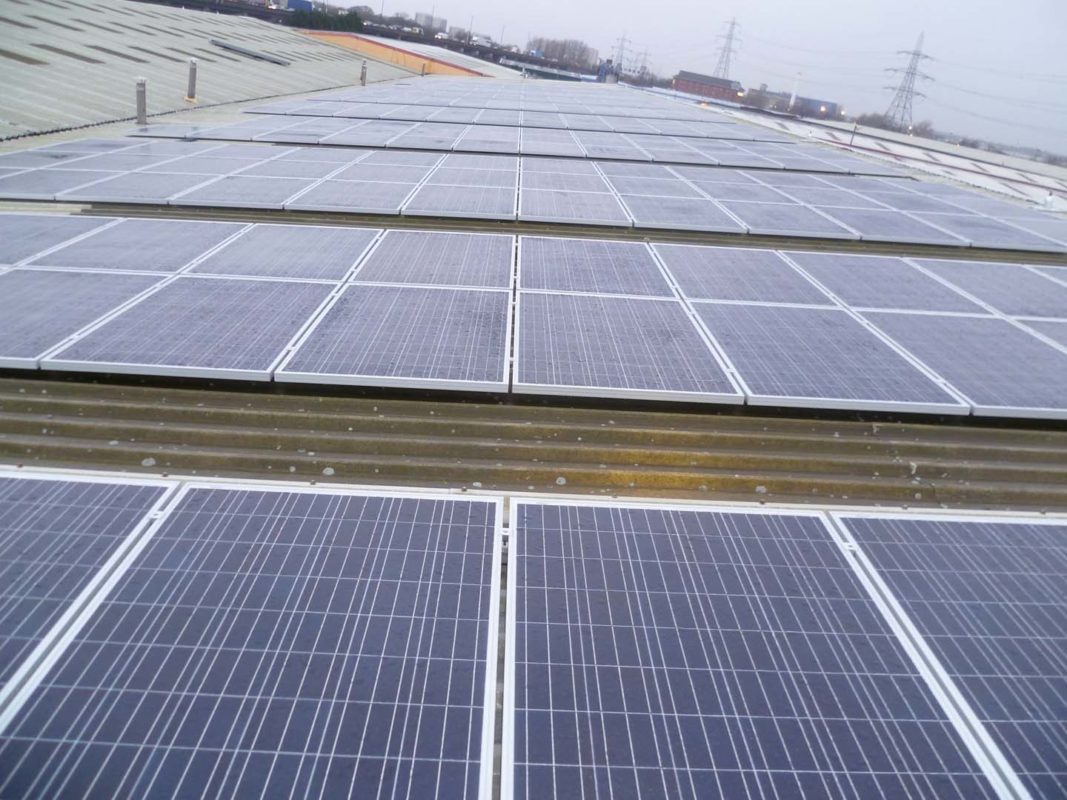 ReneSola reported fourth quarter revenue of US$232.1 million, which was in line with its previous guidance range of US$220 million to US$240 million and around 24% higher than the slump in demand experienced in the previous quarter, due to the slowdown in China demand.
The higher revenue was primarily due to total external wafer shipments of 305.9MW, compared to 290.5MW in the previous quarter and external module shipments of 330.7MW, compared to 191.2MW in the previous quarter. Module shipments to its downstream power plant business were 12.3MW in the fourth quarter, compared to 6.1MW in the third quarter of 2016.
On a regional basis, module shipments significantly increased in China, accounting for 69% of total module shipments in the quarter, up from 56% I the previous quarter.
Module shipments to India accounted for 6% of the total, compared to 21% in the previous quarter. Module ASP in the fourth quarter was claimed to be US$0.44/W.
Gross margin slumped to only 2.1%, compared to 10.1% in the previous quarter and 16.0% in the prior year period. The company had previously guided gross margin in the high-single digits. ASP declines across the industry, due to weak second half demand and overcapacity fears were behind the margin declines.
Net loss was US$25.5 million, compared to net loss of US$20.5 million in the previous quarter and net income of US$6.7 million in the prior year period.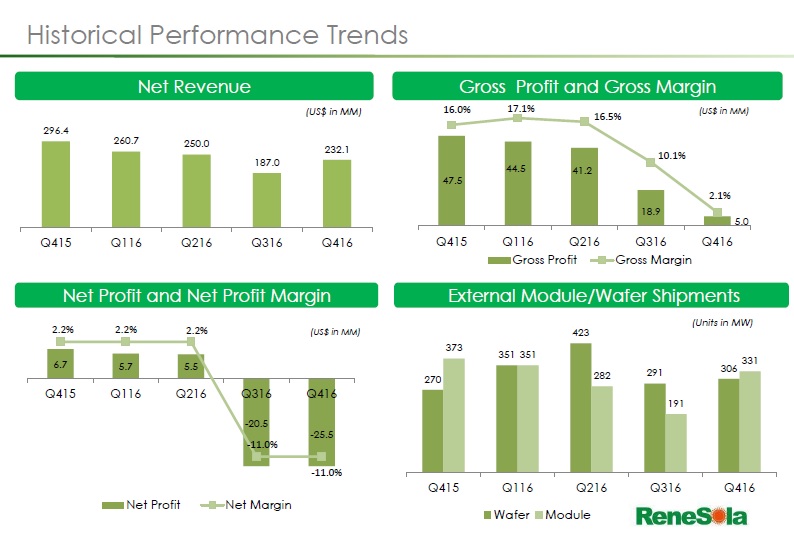 Xianshou Li, ReneSola's Chief Executive Officer, commented, "Overall business conditions in the quarter were mixed, with solid execution in downstream project sales, strong top-line sequential growth in LED distribution business and in-line revenue performance, offset by lower-than-expected gross margin. While the overall market environment was challenging in 2016, we have been executing our strategy to shift our business focus from manufacturing business to downstream project development business since the second half of 2015."
ReneSola recognized revenue from six utility-scale projects (26MW) in the United Kingdom that were sold in the fourth quarter of 2016. Additionally, the company sold rooftop projects of 2MW in China's domestic distributed generation market in the quarter.
2016 financial results
ReneSola reported full-year 2016 revenue to US$929.8 million, down from US$1.28 billion in 2015 as the company changes its business model and focuses on the downstream business.
Total external solar module shipments were 1.2GW in 2016, compared to 1.6GW in 2015. The company had guided module shipments in 2016.
Gross margin decreased to 11.8% in 2016, down from 14.7% in 2015. The company reported an operating loss of US$15.1 million, compared to operating income of US$29.3 million in 2015.
Gross profit was US$109.5 million, down 41.7%, compared with the prior year. Net loss was US$34.7 million, which compares to a net loss of US$5.1 million in 2015.
ReneSola had cash and cash equivalents of US$133.2 million as of December 31, 2016, compared to US$139.4 million at the end of the previous quarter.
Guidance
ReneSola guided revenue in the first quarter of 2017 to be in the range of US$130 to US$150 million, compared to the prior year revenue of $260.7 million.