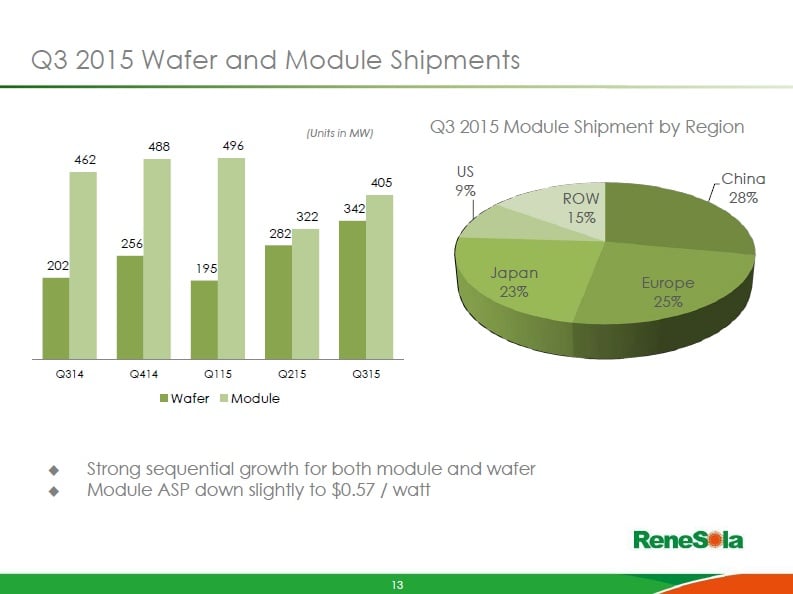 PV module manufacturer and PV project developer ReneSola reported a rebound in shipments and sales in the third quarter of 2014, but shipment levels are unlikely to match nameplate capacity levels.
ReneSola reported third quarter PV module shipments of 405.5MW, up 25.9% from the previous quarter, while solar wafer shipments also increased 21.3% to 341.6MW, said to be due to taking advantage of wafer market conditions of rising ASPs and tight supply.
It should be noted that the company had not provided PV module shipment guidance throughout 2015. However, based on ReneSola's nameplate capacity, PV module shipments in 2015 would have been in the range of 2GW to 2.2GW if the company operated at full capacity.
ReneSola has shipped 1,223.9MW of PV module shipments in the first nine months of 2015 and when taking quarterly run rates and inventory levels into consideration the company could potentially ship in a range of 1.7GW to 1.85GW for the full year.
To reinforce the company's reduced shipments potential for the full-year, management noted its earnings call that it would be holding a higher level of module produced in the fourth quarter to be used later in PV power plant projects planned in 2016.
The knock-on effect would be lower than expected revenue in the fourth quarter of 2015. ReneSola guided revenue in the range of US$275 to US$295million, compared to revenue reported in the third quarter of US$368.2 million.
Xianshou Li, ReneSola's Chief Executive Officer said, "Our strategic shift to project development, which we initiated approximately two years ago, is already starting to show results. Revenue surged sequentially as we monetized our projects in the UK and Japan, resulting in higher gross profit, operating income and earnings per ADS."
Li continued, "We are making an intense effort to build a portfolio of high-quality projects in attractive jurisdictions. Our early success in the UK is indicative of what we can achieve around the world. We are focused on developing projects especially distributed generation projects in Europe, North America and Japan, that should yield attractive returns in the coming year."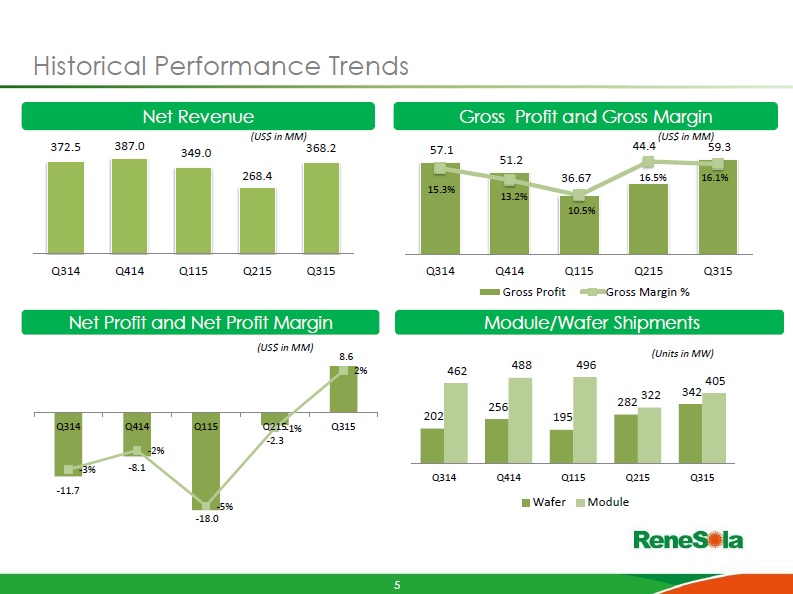 Financial results
ReneSola's sale of several PV power plant projects helped the company return to a quarterly profit.
Gross profit in the third quarter was US$59.3 million was up 33.6% from the previous quarter, while gross margin expanded to 16.1% when compared to the third quarter of 2014, but was down slightly sequentially.
Operating income was US$11.4 million, up 8.9% on the previous quarter, while the company posted an operating income of US$8.6 million, compared to a net loss of US$2.3 million in the previous quarter.
Project focus
ReneSola owned and operated four small-scale solar power-producing projects, which included two in Bulgaria and two in Romania totalling around 27.4MW.
The company said that it had 515MW of projects in various stages of development in the US, UK, Japan, France, Thailand, Poland and Canada.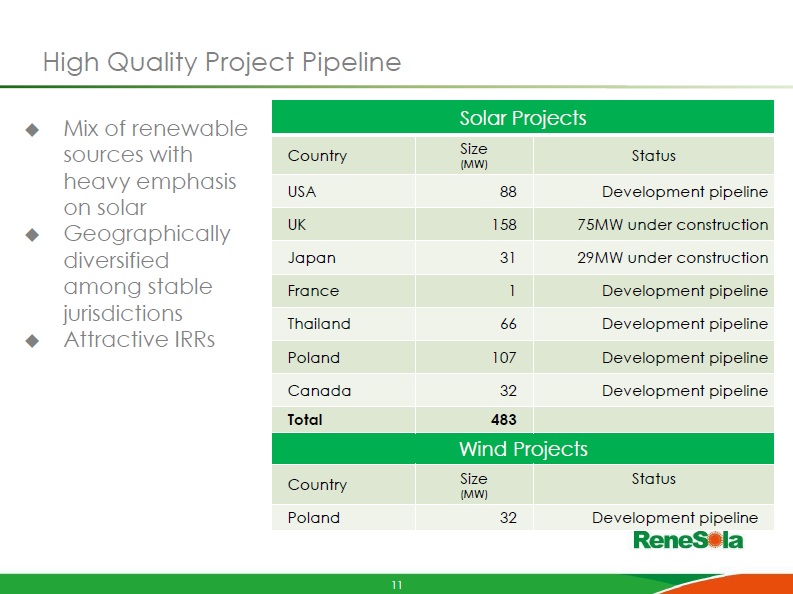 Other business
ReneSola's LED sales and distribution business reached revenue of US$3.6 million and was said to have delivered gross margin of over 30% in the third quarter, the first time the company has declared sales for the venture.
The company also noted that it had been tendering on a small-scale Wind project in Poland totalling around 32MW.
ReneSola may not drop out of the top 10 industry rankings based on shipments in 2015, however its diversification shift is impacting its PV module shipment levels.
The company had 1.97GW of module shipments in 2014, though had initially guided shipments that year in the range of 2.3GW to 2.5GW.