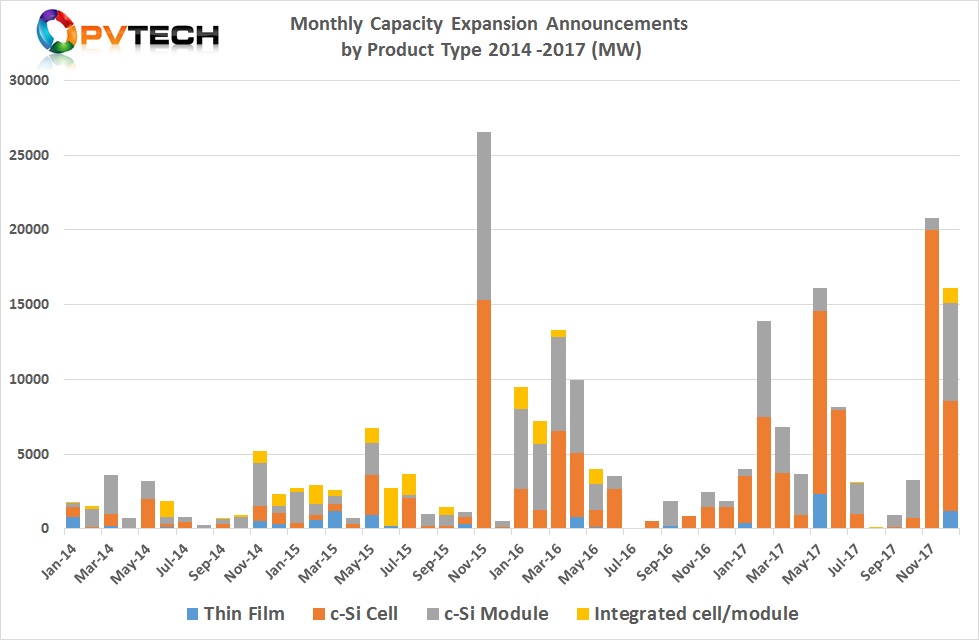 Monthly review
On a monthly basis, 2017 produced some spectacular highs and lows, indicating once again that drawing any clear trends on a monthly basis are flawed.
The year started relatively strong as total combined expansion plans in January topped 4GW, especially after muted activity through the second half of 2016, which managed a combined segment monthly high in November 2016 of 2.5G.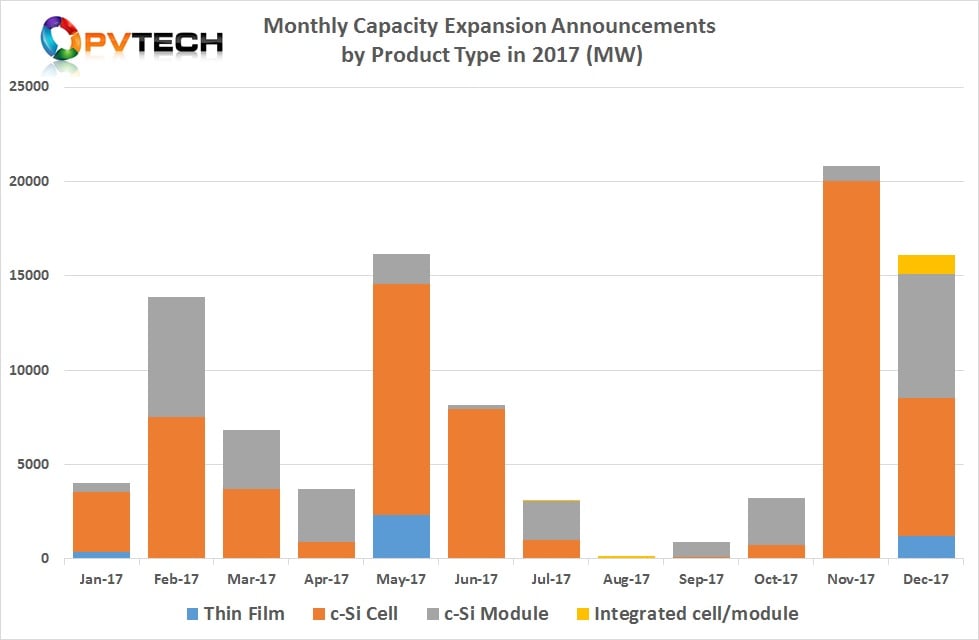 Four (February, March, May and June) out of the six first months of 2017 exceeded total combined expansion plans above 5GW. May (16.15GW) was notable for having the highest activity in the first half of the year, followed by February (13.9GW).
Activity levels declined again through August, which proved to be the low point in the year, although September struggled to reach 900MW of new capacity expansion announcements.
As already detailed, November surprised with 20.8GW but 20GW coming from one company, Tongwei Group. December was another strong month topping 16GW, led by 10GW of new plans from Risen Energy.
Quarterly review
Looking at the quarterly trends in 2017, clearly the first two quarters were strong and produced momentum from the first quarter (24.7GW) to the second quarter (28GW) but then collapsed considerably in the third quarter (4.1GW).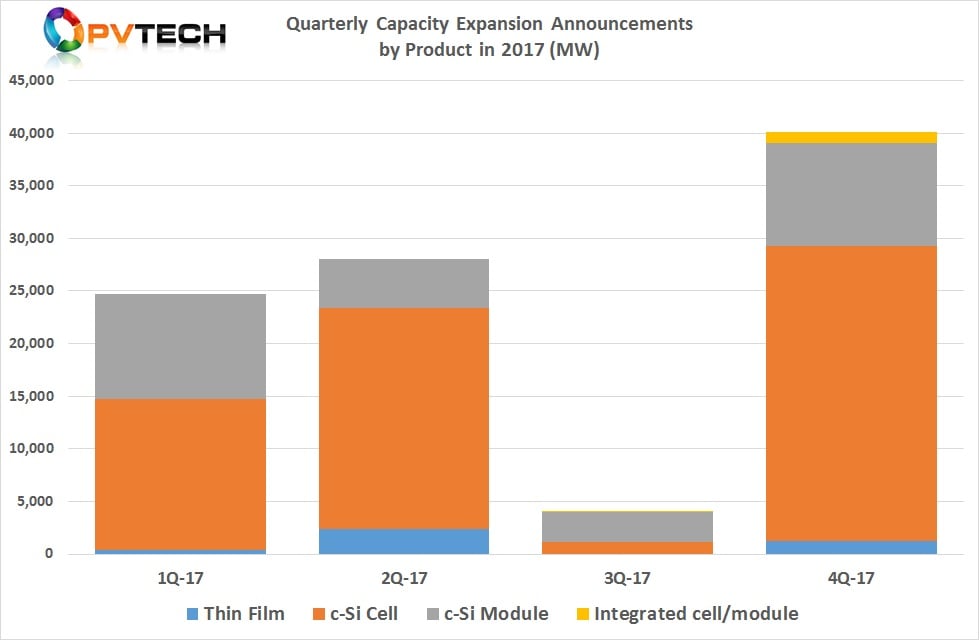 Such was the intensity of activity in the first-half of the year with companies announcing multi-phase, multi-year and multi-gigawatt plans, a breather was highly likely but the degree of the collapse in the third quarter was a still a surprise.
Indeed, with October lacklustre, the magnitude of the rebound in November and December making the fourth quarter (40.1GW), a new quarterly record, was also unexpected.
Segment review
2017 was notable for the revival in thin-film activity and importantly the vast majority of the total is not seen as speculative. Predominantly both CdTe thin-film via First Solar and CIGS via Advancis and MANZ Ag partnership in China led to almost 4GW of thin-film planned expansions announced in 2017.
However, the major trend was the scale of a new wave of c-Si solar cell expansions, which topped 64.6GW, far outpacing c-Si module assembly plans that exceeded 27GW in 2017.
More than 80% of the c-Si plans were related to high-efficiency monocrystalline PERC technology, accounting for around 52GW of the total.
New plans for N-type mono c-Si (IBC) and heterojunction (HJ) technology expansions almost reached 3GW in 2017 with the wild card HJ technology expansion plans being Tesla and its manufacturing partner Panasonic, which has kept a shroud over the actual ramp at its plant in Buffalo NY state.
Technically, this may not be new added HJ capacity as Panasonic consolidated plants in Japan and some of the equipment may have found its way to the US. Should capacity support shipments over 300MW then potentially capacity above that level could be considered as new capacity.
Integrated cell and module plans just topped 1GW in 2017. However, several announcements through the year could actually be classified as integrated once construction and start of operations in 2018 happens and further information becomes available.
Geographical review
The major change from 2016 was the major resurgence of China as the dominant destination for capacity expansion announcements in 2017.
China accounted for over 71GW of total combined expansion plans in 2017, accounting for around 72% of the total, compared to 13GW or 25% of plans in 2016. It should also be noted that on a segment basis, high-efficiency mono c-Si PERC dominated although N-type mono IBC cell expansion plans re-emerged in China.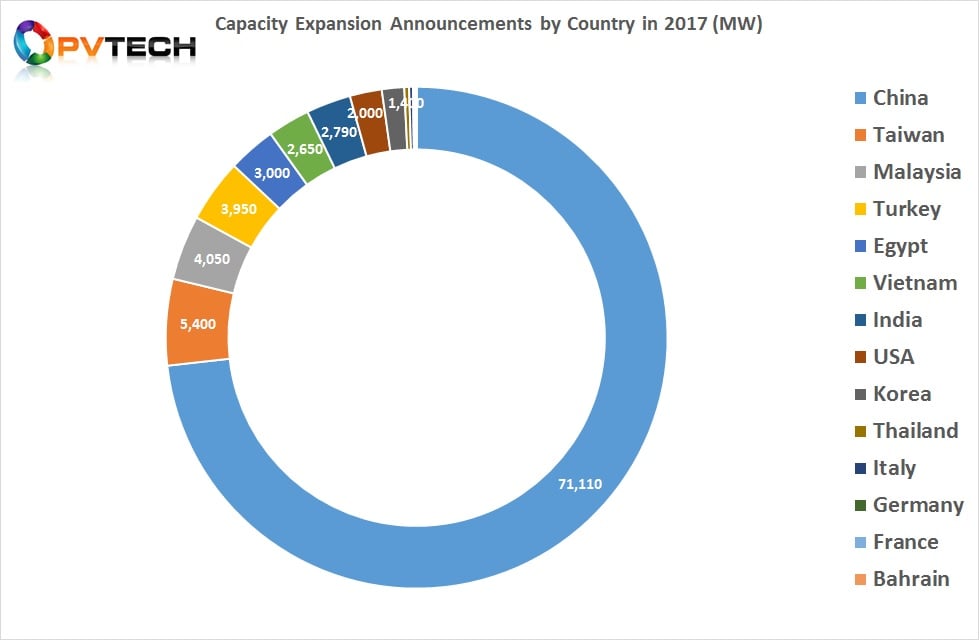 The dominance of China should also be looked at in the context of downstream solar module demand hitting a record of over 53GW in 2017, accounting for around 50% of total global demand.
Although India had surpassed China in 2016 with combined plans totalling over 17GW and accounting for 33% of the total, 2017 was a very different affair. India mustered only around 2.8GW of new plans in 2017, accounting for just 3% of the total and much of this remains speculative.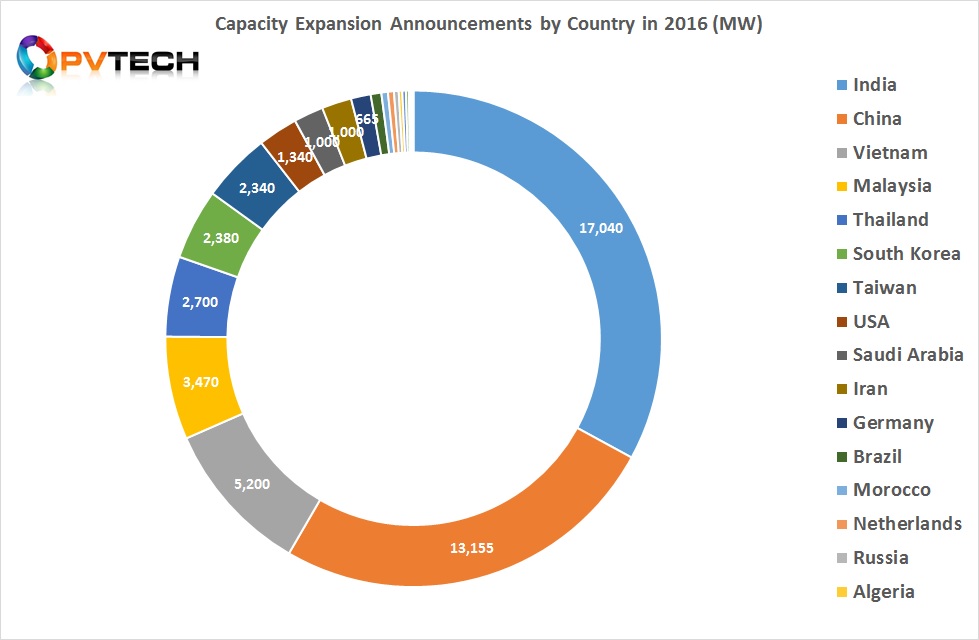 China's resurgence also impacted previously highly attractive destinations for Chinese manufacturers in 2017, such as Thailand, which accounted for only 300MW of new expansions, compared to 2.7GW of new expansion plans in 2016.
Vietnam also experienced a significant decline in 2017, despite First Solar's 1.2GW plans announced in December. Vietnam attracted a combined total of over 2.6GW of planned expansions, compared to 5.2GW in 2016.
However, Malaysia held its own with just over 4GW of new capacity plans, compared to around 3.5GW in 2016. However, no new announcements were made in the second half of the year that were related to Malaysia.
Emerging downstream markets such as Turkey and Egypt also attracted upstream manufacturing attention in 2017. Turkey attracted almost 4GW of new plans throughout the year, up from zero in 2016. Egypt attracted 3GW of manufacturing plans in 2017, up from zero in 2016.
As with many emerging downstream PV markets, speculative upstream manufacturing follows. Egypt currently outweighs Turkey in that respect in 2017.
The European region also suffered from fewer announcements and smaller expansions in 2017, compared to the previous year. Germany, the largest location for cell and module production in Europe only had 100MW of new expansion plans announced in 2017, compared to nearly 700MW in 2016.
Conclusion
The year set a number of new planned expansion announcement records with a global combined total of over 97GW, up from over 55GW in 2016, or nearly an 80% increase year-on-year.
Solar cell expansion plans significantly outpaced module assembly in 2017. Both 2015 and 2016 were characterised by cell and module expansions working in tandem, compared to over 64GW of cell expansions in 2017, compared to module assembly plans totalling over 27GW.
On a geographical basis China returned strongly as the destination of choice with 73% of announced capacity expansions, while South-East Asia was the primary loser in the year-on-year shift.