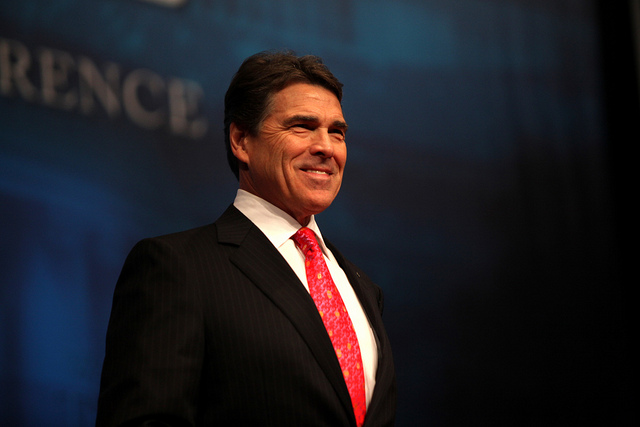 Former Texas governor Rick Perry was confirmed as the new Department of Energy Secretary yesterday in a 62-37 vote by the Senate.
Those who voted in favour, including 11 Democrats and all Republicans in the chamber, were willing to forget Perry's former vow to abolish the Department.
Perry will now run the department that ensures America's security via overseeing its nuclear arsenal and its energy and environmental challenges.
That being said, Perry has been a controversial choice for the job, given his aversion to climate science; once calling it a "contrived phony mess" but later conceding that he does believe in it, although US efforts to mitigate it should not cost American jobs. However, during his confirmation hearing, Perry said he believed that both natural and man-made activity were contributing to climate change. He also told senators that he would seek to preserve energy research funding and climate programmes at the DOE.
"I will be an advocate. I will be in the room advocating for these types of things," Perry said. "I'm not going to tell you I'll be there 1000% successful in that, but I can assure you and the people who know me … know my commitment to making sound science, economic science, connected together."
Perry will head the Department of Energy after serving as governor of Texas – a top oil producing state – from 2000-2015. Whilst he was a significant champion of coal during his tenure, he also played a vital role in producing millions of new energy jobs and lowering electricity prices as well as a boom in wind production.
The main criticism Perry has faced in regards to his appointment aside from his hesitance on anthropogenic climate change, is his lack of experience in nuclear matters in contrast to former energy secretary Ernest Moinz who is a nuclear physicist.
"Perry would join the ranks of other unqualified candidates chosen by this president to lead critically important agencies with very specific and complex functions," said senator Patty Murray, during the vote.
Mixed reception
Kit Kennedy, director of the Energy and Transportation Programme at the Natural Resources Defence Council (NRDC)
"Rick Perry is known for rejecting scientific findings. He'll now head a research agency and control our nuclear stockpile. He'll need to embrace science, or he could put our safety at risk. Perry's known for ties to dirty energy. Now, he has the chance to put clean energy and energy efficiency first. These money-saving, job-creating policies benefit all Americans–just like the wind power that swept through Texas while he was governor."
Mary Boeve, executive director of environmental group 350.org
"Trump just added one more unqualified fossil fuel shill and climate-denier to his cabinet. As governor, Perry doled out millions to oil corporations while silencing the science that tells us our future depends on keeping fossil fuels in the ground. In April, we'll be in the streets with tens of thousands of people defending that science, demanding a just transition to a clean energy economy, and resisting Big Oil's grasp on our government."
Malcolm Woolf, senior vice president for policy and government affairs Advanced Energy Economy
"As governor of Texas, Rick Perry saw first-hand the positive economic impact as the Lone Star state diversified its energy production mix, resulting in more than 143,000 advanced energy jobs, success integrating more wind onto the grid than anywhere else, improving energy efficiency, and now experiencing a solar boom. We look forward to working with DOE Secretary Perry, to continue this significant business opportunity to expand advanced energy that now supports more than 3 million workers across the nation."