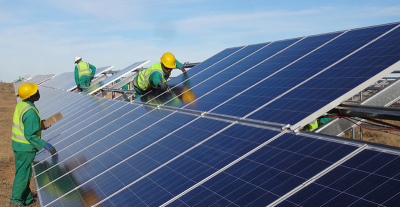 Norwegian integrated independent solar power producer Scatec Solar doubled its power production from last year, according to a Stock Exchange filing.
Power production reached 183GWh – similar to the previous quarter, but up 104% year-on-year. A few key projects contributed to this increase; notably the 10MW Oryx plant in Jordan and the 11MW GLAE plant also in Jordan. According to the notice, seasonally lower production in South Africa in Q2 2016 was offset by higher production in the US and Czech Republic.
Consolidated revenues reached NOK213 million (approximately US$25 million) in Q2 2016, up from NOK215 (approximately US$24 million) in the same period last year, but down from NOK228 million (approximately US$26.8 million) in the previous quarter.
Net income reached NOK6 million (US$0.7 million) down from NOK21 million (US$2.5 million) last year, but up from a loss of NOK23 million (US$2.7 million) in the preceding quarter.
"In the second quarter we are delivering another set of solid financial results, and we are placing new solar plants in commercial operation. The market outlook is positive and we continue to invest in our project backlog and pipeline. While we see some shifts in short term timelines on realisation of new capacity our long-term growth targets remain intact." said Scatec Solar's CEO, Raymond Carlsen.