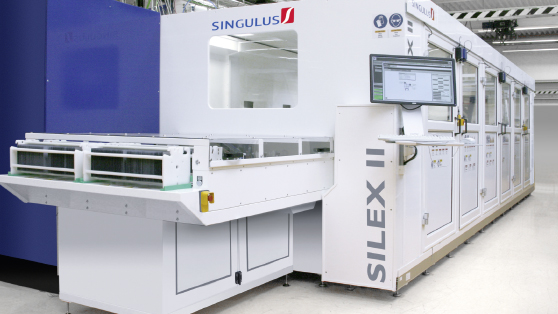 Specialist PV manufacturing equipment supplier Singulus Technologies said it received a Final Acceptance Test (FAT) from Russia-based Hevel Solar for its SILEX II system, used for wet-chemical processing of heterojunction (HJ) solar cells.
Recently, Hevel Solar announced that it had fabricated its first HJ solar cell that had achieved a conversion efficiency of 21.75%. Hevel noted that the cell efficiency was measured under standard testing conditions in-house and not verified by a third party.
Singulus and Meyer Burger had been key HJ equipment suppliers to Hevel Solar as it switched its manufacturing lines from a-Si thin-film solar modules to HJ technology.
"We are very happy that Hevel directly achieved 21.75% cell efficiency after upgrading its a-Si thin-film production line to HJT technology," noted Dr.-Ing. Stefan Rinck, CEO of Singulus Technologies. "Singulus Technologies has invested a huge amount in the further development of the SILEX II, and thanks to its high efficiency and modern engineering, we have successfully convinced a large number of customers to invest in the new heterojunction technology. Particularly when converting existing manufacturing lines for a-Si thin-film solar production to heterojunction solar cells, we can offer effective solutions with our wet processing system SILEX II and our production systems for PVD coating technology."
The SILEX II platform is said to use newly developed ozone-based cleaning steps in shorter process times with low usage of chemicals.
Igor Shakhray, CEO of Hevel, added: "We are focusing on heterojunction technology both for the Russian market and export. That's why we are using new equipment to convert our existing production facility in Russia to produce high-performance solar cells and modules with an annual production output of around 160 megawatts."