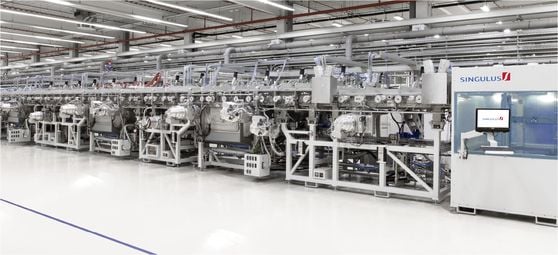 Specialist PV manufacturing equipment supplier Singulus Technologies said it has signed a memorandum of understanding (MOU) with Golden Concord Holdings Limited (GCL) and China Intellectual Electric Power Technology (CIE) to provide production equipment to fabricate heterojunction (HJ) solar cells.
CIE and GCL were said to be collaborating in an effort to migrate CIE's previous R&D work with HJ cell technology and processes in to production, while Singulus would be responsible for 'optimizing, building and supplying the appropriate production systems for the manufacturing of HJT solar cells'.
Recently, Singulus signed an agreement with Russian thin-film manufacturer, Hevel to switch production to HJ technology. The company plans to provide Hevel with its SILEX II, wet-chemical treatment system.
GCL System Integration Technology, the solar cell and module assembly subsidiary of GCL Holding plans a 250MW HJ technology production plant in China.