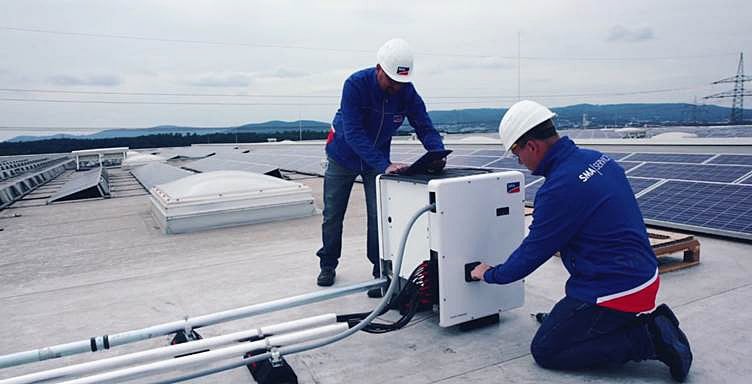 Major PV inverter manufacturer SMA Solar Technology reported a strong rebound in revenue in the second quarter of 2017, while average selling prices (ASP) declines continued, hitting margins with first half year revenue below the prior year period.
The company had recently said that it expected full-year sales to be in the range of €900 million to €950 million, up from €830 million to €900 million previously stated. As a result, EBITDA was expected to improve to a range of €85 million to €100 million, compared to previous guidance of €70 million to €90 million. Greater demand in the APAC region was behind the revised guidance.
SMA Solar reported first half 2017 revenue of €381 million and €208 million in the second quarter, up from €173 million in the previous quarter, a 20% increase.
However, sales were down from €482.3 million in the first half of 2016 and key segment sales (residential, commercial and utility) were all down year-on-year.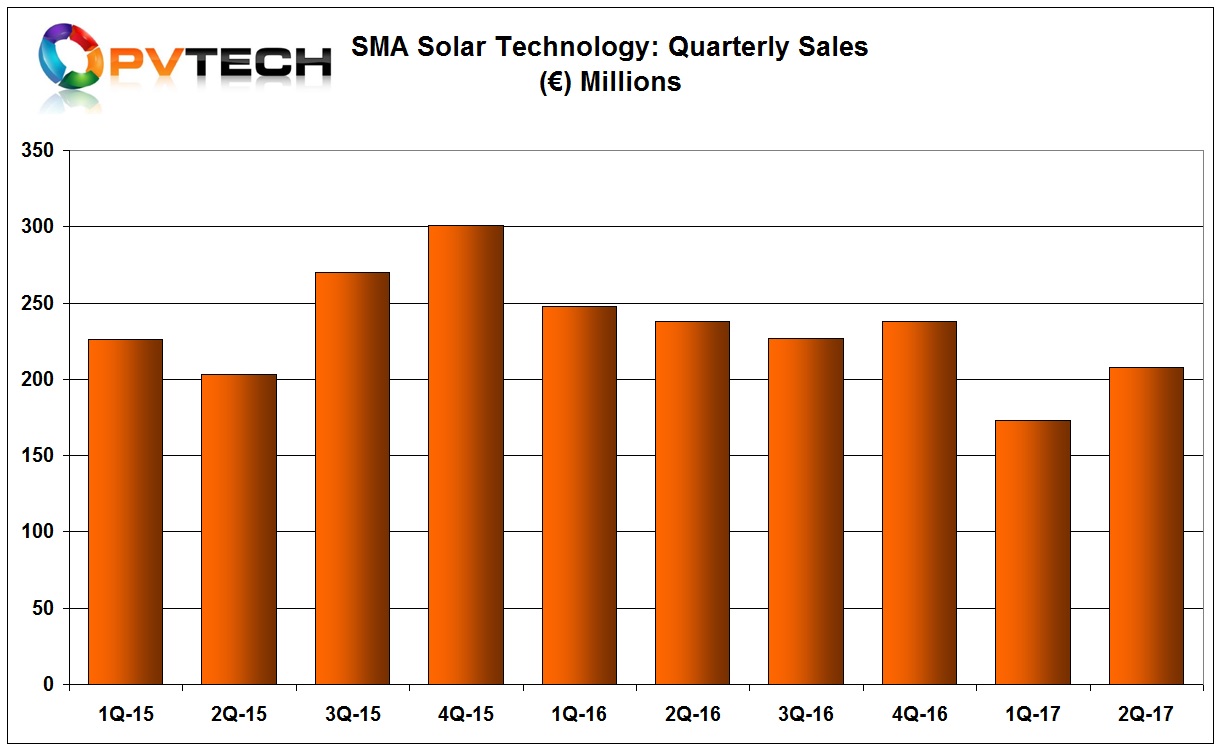 Residential sales in the second quarter were €57 million, up from €37 million in the previous quarter. Commercial sales were €66 million, up from €57 million in the previous quarter and utility sales were €59 million, up from €49 million in the previous quarter.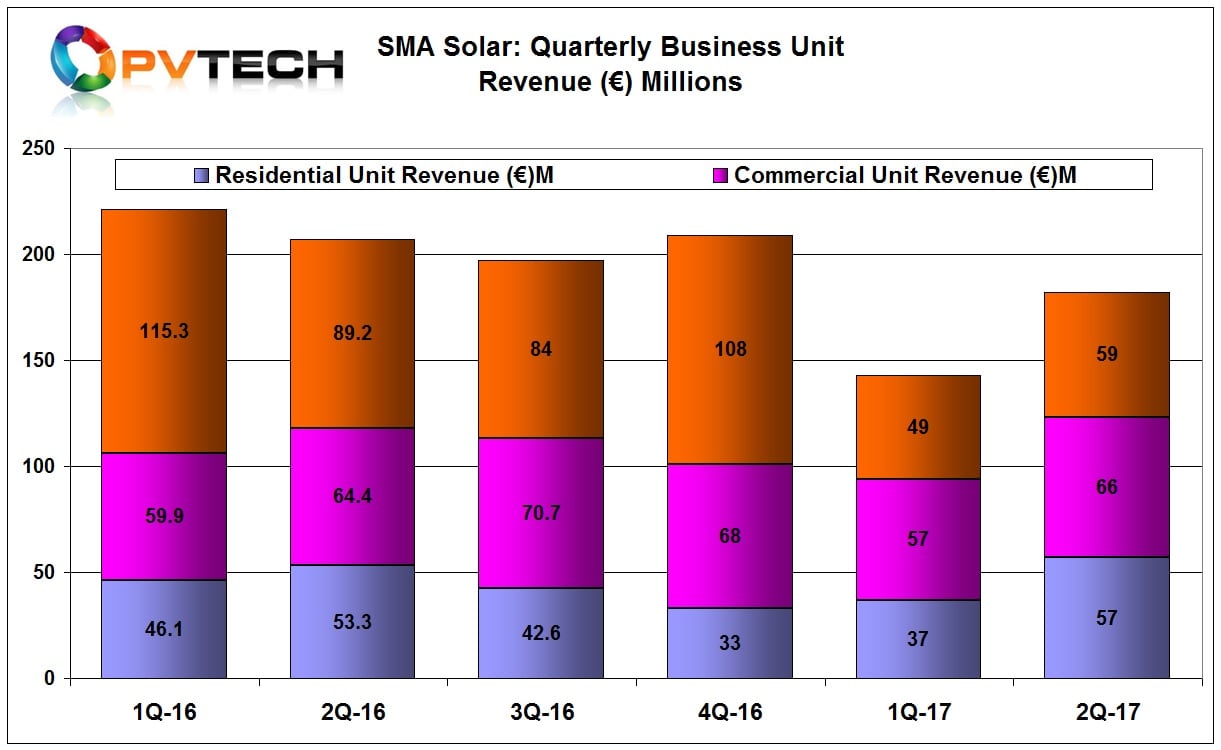 SMA Solar sold PV inverters with a total output of 3.8GW in the first half of 2017, compared to 3.9GW in the prior year period.
On a regional basis, sales to the US declined in the first half of 2017, compared to prior year period, while sales in APAC region were up 57%, year-on-year.
Slower sales and ASP pressures impacted margins. SMA Solar reported a gross margin in the first half of the year of 19%, compared to 25% in the prior year period.
SMA achieved earnings before interest, taxes, depreciation and amortization (EBITDA) of €29.0 million and an EBITDA margin of 7.6%, compared to €71.2 million in the prior year period and EBITDA margin of 14.8%.
Pierre-Pascal Urbon, CEO of SMA Solar Technology said, "After a moderate start to the year, SMA increased its sales by 20% in the second quarter of 2017 as against the first three months of the year. We saw a favorable increase in all key segments, particularly in the Asia-Pacific region (APAC). For the second half of the year, we expect the business to significantly pick up again based on strong incoming orders in all markets. In the medium term, we anticipate exponential growth in the storage application segment. SMA already has system technologies for using large storage solutions to stabilize electricity grids or using batteries to increase self-consumption in private households or companies. Thanks to our intelligent energy management and strategic alliances, we have laid the foundation for new business models. SMA will therefore benefit from the global trend toward decentralized energy and the digitization of the energy industry."
SMA Solar also reported a rebound in its product order backlog, supporting better sales in the second half of the year, although the product backlog is below the prior year level. Product backlog stood at €279.8 million at the end of the second quarter of 2017, up from €231 million in the previous quarter.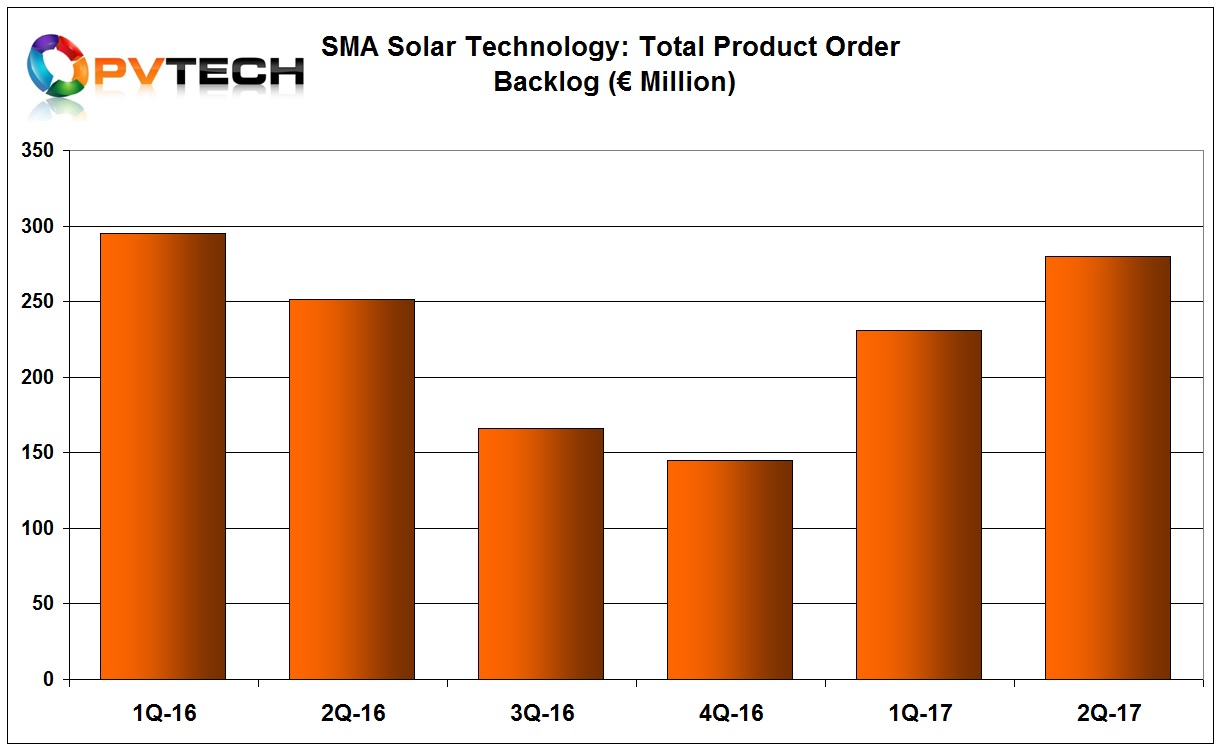 New growth
SMA said storage systems tech and retrofits accounted for a "significant share of sales" in EMEA (Europe, Middle East, Africa) in particular. SMA also said that while the PV market remains strong in many parts of the world, demand for it will become even stronger as energy storage systems improve and fall in price and better communications technology is implemented to connect diverse energy resources, management and control systems.
Furthermore, while aforementioned price pressures across the PV industry would squeeze that segment somewhat, the company said: "The fast-growing segment of storage applications will at best offset the expected decline in investment in traditional photovoltaic applications."
The company cited good interest and demand for energy storage in markets including Germany, Italy, Japan and Australia in particular. SMA is estimating a total energy storage market value globally of between €600 million to €800 million, in what is a "still fairly new market".
Additional reporting by Andy Colthorpe.
Cash back offer
SMA Solar also announced a new rebate program for its Power+ Solution. With the Power+ Payday, residential installers can receive a US$50 pre-paid debit reward card for each Power+ Solution that is installed and registered in Sunny Portal between August 1, 2017 and December 31, 2017. Quantities will not be limited.
"The Power+ Solution is already helping installers save time and money, and now SMA has taken it to the next level by giving installers additional cash in their pockets," said Charles Ellis, vice president of distributed sales for SMA America. "We know that solar installers appreciate fast, cost-effective and high-performing solar solutions. Power+ reduces cost and risk, delivers speed and performance, and now with the Power+ Payday program, it offers even more savings."
Additional reporting by Andy Colthorpe.