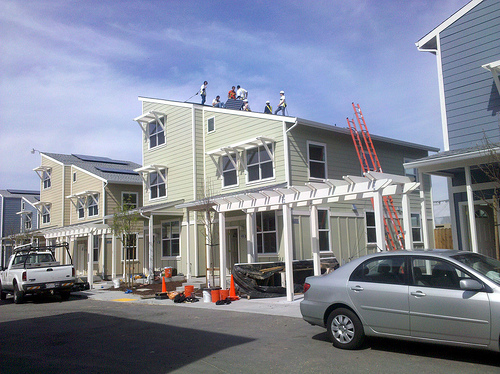 California's utility regulator has ruled that the state's flagship net metering regime will be maintained in broadly its current form beyond 2017, in what is being hailed as a major victory for the pro-solar lobby.
The California Public Utilities Commission (CPUC) yesterday issued its long-awaited decision on what some have dubbed the state's 'net metering 2.0', the replacement to the current regime that is due to expire in 2017.
Utility companies in the state had been pushing for net metering payments to solar customers to be slashed, but the CPUC has ruled that they will continue to be paid at retail rates.
However, net metering customers will be subject to a series of new charges and rules, which solar companies have opposed and which industry advocates vowed to seek to modify in the final version of the new policy.
One of these is an interconnection fee paid by net metering customers ranging from US$75-100 depending on the utility and system size.
NEM customers will also be required to pay so-called non-bypassable charges on a large proportion of the power they generate.
Another change is the shift to compulsory time-of-use rules after 2018, under which tariff rates paid to NEM customers vary according to the time of day.
Aside from the pending step-down of the investment tax credit, the future of California's net metering regime had arguably been the most significant regulatory debate taking place in the US. The state's distributed solar market is by some margin the largest in the US and observers had previously suggested the CPUC's decision would shape the outcome of other net metering battles taking pace in the US.
"[California] Governor Brown's PUC is standing up for clean power and for customers by proposing to reject the utilities' attempts to make solar out of reach for customers," said Bernadette Del Chiaro, executive director of the California Solar Energy Industry Association (CALSEIA).
CALSEIA said it would work with authorise to improve measures outlined in the proposed new regime, such as the new charges and time-of-use rules. For example said the time-of-use rates would make it harder for NEM customers to predict the savings solar makes to their energy bills.
"Although we don't like everything in the proposed decision, it is a fair compromise that will maintain the opportunity for customers to go solar," said the body's policy director, Brad Heavner. "It is consistent with Governor Brown's strong commitment to transforming our energy system into one that is based on clean, local power."
Lyndon Rive, CEO of leading installer SolarCity, welcomed the decision but described the time-of-use charge as "concerning".
"As we saw in 2007 when time-of-use rates were briefly mandated for solar customers, they don't work for everyone who wants to go solar, and would reduce the motivation for installing solar. While these rates can send helpful signals about when to use electricity, we urge the PUC to closely examine the impacts of mandating time-of-use rates."
In a statement, utility San Diego Gas & Electric, one of the utilities that had been pushing for NEM tariffs to be slashed for solar customers, said: "We are disappointed that today's proposed decision on the rooftop solar subsidy does not address the growing cost burden among our customers. Workable solutions must be developed to create a future where all customers can receive benefits.
"Today's decision fails to recognise what consumer advocates and the utilities have already confirmed: we need to continue to support the growth of solar energy AND new rooftop solar rules that don't require non-solar customers to pay over US$160 million additional per year – US$100 per family on their electricity bill. People shouldn't be penalised with higher electric bills just because they are unable to afford or accommodate solar on their rooftops."