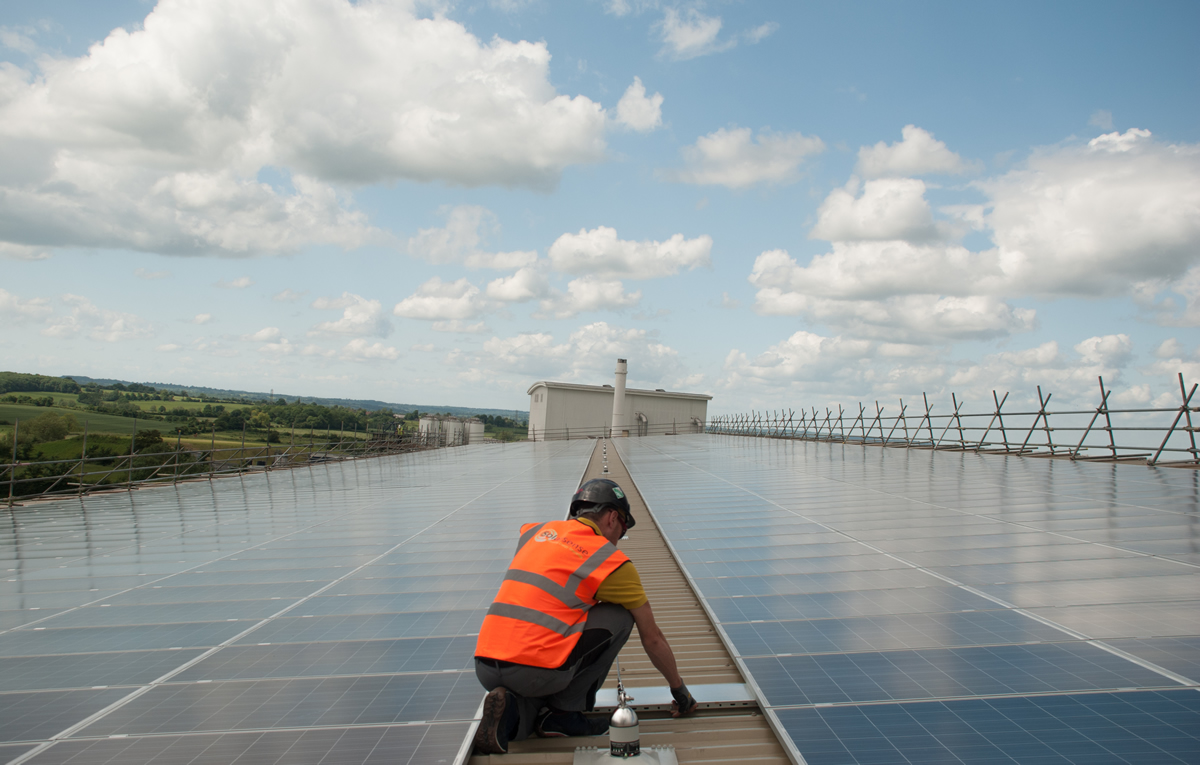 A number of large international solar equipment manufacturers have given the UK market a vote of confidence despite significant reductions to subsidy support frameworks.
During day one of Ecobuild in London yesterday, major solar companies present at the show said although the UK market would shrink as a result of recent government cuts, there will still be ample opportunities to operate.
In recent months the UK government has cut support to both utility-scale and residential solar installations and created a difficult operating environment for developers and installers alike. Energy regulator Ofgem's latest feed-in tariff installation figures currently place the market at deploying around 2MW of residential solar each week, a substantial slide on previous levels.
Speaking to PV Tech's sister website Solar Power Portal yesterday, many exhibitors at Ecobuild said they expected the residential market to be buoyed by other, burgeoning opportunities in areas such as the public sector, local authorities and corporate firms looking to generate their own electricity.
German PV manufacturer SolarWorld was particularly bullish about the UK market, reiterating its commitment to the country ahead of extending its plug-and-play solar-plus-storage product produced alongside compatriot storage manufacturer Sonnen to the UK.
The duo had confirmed they were to release the product in the US market earlier this year, but yesterday announced that the product was to be released for the UK in the coming months.
Vera Mikosch, head of sales at SolarWorld, said: "We're totally committed [to the UK market]. The marketing might have changed and our partners will say that it was perhaps an easy sell before, but we still see opportunities here."
Mikosch added that prospects for installers could even increase as the market adapts to the new regime and the "cowboy operators" that were "only in it for a quick pound" go elsewhere.
Panasonic was another global manufacturer to release new products for the UK market at the show, announcing that its HIT N330 and N325 heterojunction modules are now available to UK installers.
"As UK installers adjust to the latest changes imposed to the country's feed-in tariff, we are striving to support installers to continue accelerating solar deployment across the UK in 2016 and beyond through product flexibility and industry-leading efficiency performance," Daniel Roca, senior business developer at Panasonic, said.
Speaking to Solar Power Portal, Roca said that while the company's highest priorities were in other markets, Panasonic remained committed to the UK and would maintain a strategic presence in the country.
Central to this presence is the company's installer lead generation programme, which is linked to the online system simulation tool it extended to the UK in January.
The tool generates leads by prompting potential consumers to test the earnings of a potential installation. These leads are then distributed to Panasonic's database of regional installers at no cost, unless the consumer then purchases a system comprising components other than Panasonics'.
Roca said that other European nations, particularly Germany and Italy, had seen similar – if not greater – reductions to their support mechanisms and had emerged the other side.
California-based solar manufacturer Enphase also reiterated its commitment to the UK market despite what strategic account manager Tim Jarmy referred to as "difficult circumstances".
"The vast majority of people who wanted to get solar on their roofs would have done it already when the paybacks were there… but we expect that a new set of people that haven't done it yet, and they won't necessarily realise it could've been better [financially] for them a year or two ago, but they'll make the decision based on now and the circumstances that are in place. We think for sure it's going to come back around," Jarmy said.