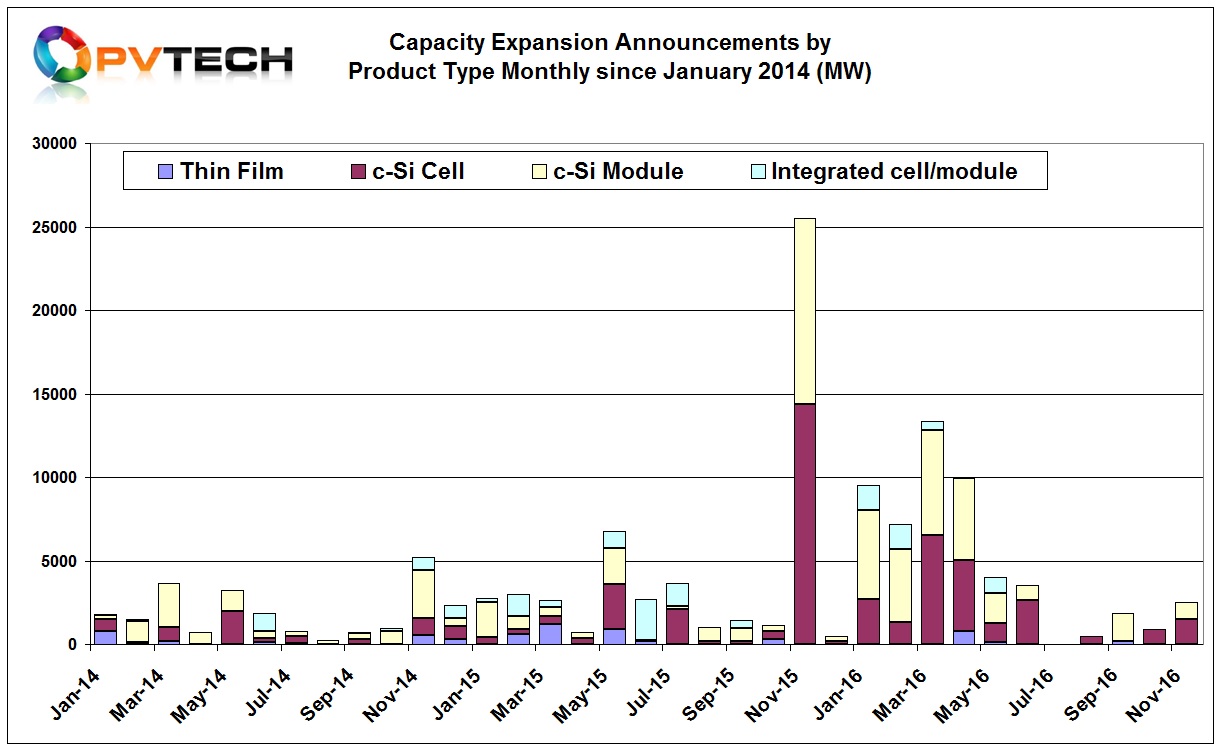 PV Tech's preliminary analysis of global PV manufacturing capacity expansion announcements in November 2016 highlight the continued lack of new plans in China and the overall collapse in plans globally that has continued since May 2016.
As per October, only two companies in November were reported to have announced new capacity expansions, JA Solar and TSEC.
Taiwan-based solar cell and module producer Taiwan Solar Energy Corp (TSEC) was reported to be planning to expand high-efficiency solar cell capacity in Taiwan by 450MW and bringing total solar cell capacity to 1.5GW by the end of 2017.
However, reports also said that it was undertaking site selection analysis for a new module assembly plant in Taiwan with an expected nameplate capacity of 1GW.
One of the challenges for large module assembly plants in Taiwan is the cost of leasing or purchasing of land, due to the scarcity of locations with the right infrastructure and space.
The module assembly plans would seem to be aligned to the potential emergence over the coming years of a major downstream domestic market for PV, after a new government elected earlier in 2016 has bold plans to increase PV adoption across the country.
The challenge with reports over TSEC's solar cell expansions is that the company has talked openly and at several points in time about large expansions, since 2015.
Indeed, PV Tech highlighted these plans back in May 2015 having met with TSEC in Taiwan. Then, the company was planning to expand cell capacity by 500MW sometime in 2017, which would boost cell nameplate capacity to between 1.2GW to 1.5GW.
The company also wanted to reach module capacity of 650MW by the beginning of 2017, a 500MW increase at its existing plant in Taiwan.
Jump forward 11-months to April 2016 and TSEC was reported to be expanding cell production to 1.3GW by the end of 2016. The April reports were later backed-up by TSEC raising around NT$1.9 billion through several fund raising rounds that included new rights issues and a syndicated loan to go ahead with expansions.
According to TSEC, its main solar cell manufacturing facility in Hsinchu Hukou industrial park accommodates Fab 1 with an 860MW nameplate capacity and Fab 2 with the potential to provide 1GW of further nameplate capacity. Technically, the Hukou facility is capable of 2GW of cell capacity at current conversion efficiencies.
Currently, PV Tech is not including TSEC's cell expansion plans as new announcements, while its module assembly plans have been included in the November update.
The major development in November relates to reports from Vietnam that 'Silicon Module Super League' (SMSL) JA Solar plans a 1.5GW solar cell complex in the Saigon-Bac Giang Industrial Park, near Hanoi.
Providing further support to the local news reports were pictures of a ground breaking ceremony with JA Solar and local government officials.
In August, 2016 local news reports appeared in Vietnam, highlighting a potential agreement between JA Solar and local authorities to establish a solar cell plant at the same industrial park with the plan to lease 88 hectares of land. The November reports also highlight the same amount of leased land.
Interestingly, JA Solar has not made any official announcement regarding its plans in Vietnam and declined to comment to PV Tech about both the initial stories in August and those in late November. The stance by JA Solar is unusual, especially considering the company is listed on NASDAQ and the capital expenditures for a large solar cell plant are considerable.
However, expansion plans at JA Solar have started setting a pattern as only in October the company was reported by local news channels in Malaysia to expand solar cell production at its plant in Penang to 1GW, a 600MW expansion.
The plant was initiated in the first quarter of 2015 and started ramping in the fourth quarter of 2015. Once again the company decided to use local press and did not officially announce the expansion.
However, the Malaysia expansion seems plausible as the company has withdrawn from the EU minimum import price (MIP) and has been ramping shipments to the US, a market it had little exposure to since the US imposed anti-dumping duties. JA Solar had doubled module shipments to the US in the second quarter of 2016 to 105MW representing 9% of total shipments in the quarter, while Europe represented 3.7% of shipments.
On a geographical basis, November continues to highlight the lack of any meaningful capacity expansion announcements in China, last reported back in June 2016, while South East Asia remains an attractive destination outside India.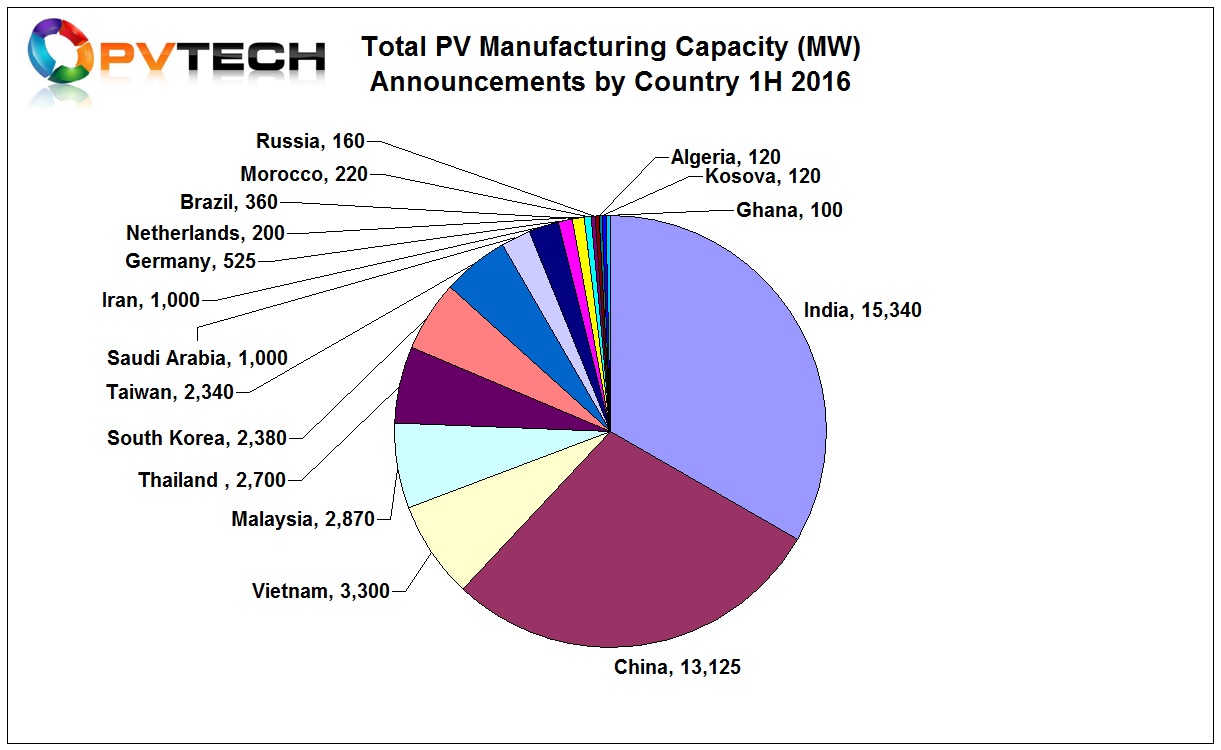 November therefore includes 1.5GW of dedicated solar cell capacity announcements and 1GW of dedicated module assembly plans, bringing the combined total to 2.5GW, the largest combined total since June 2016.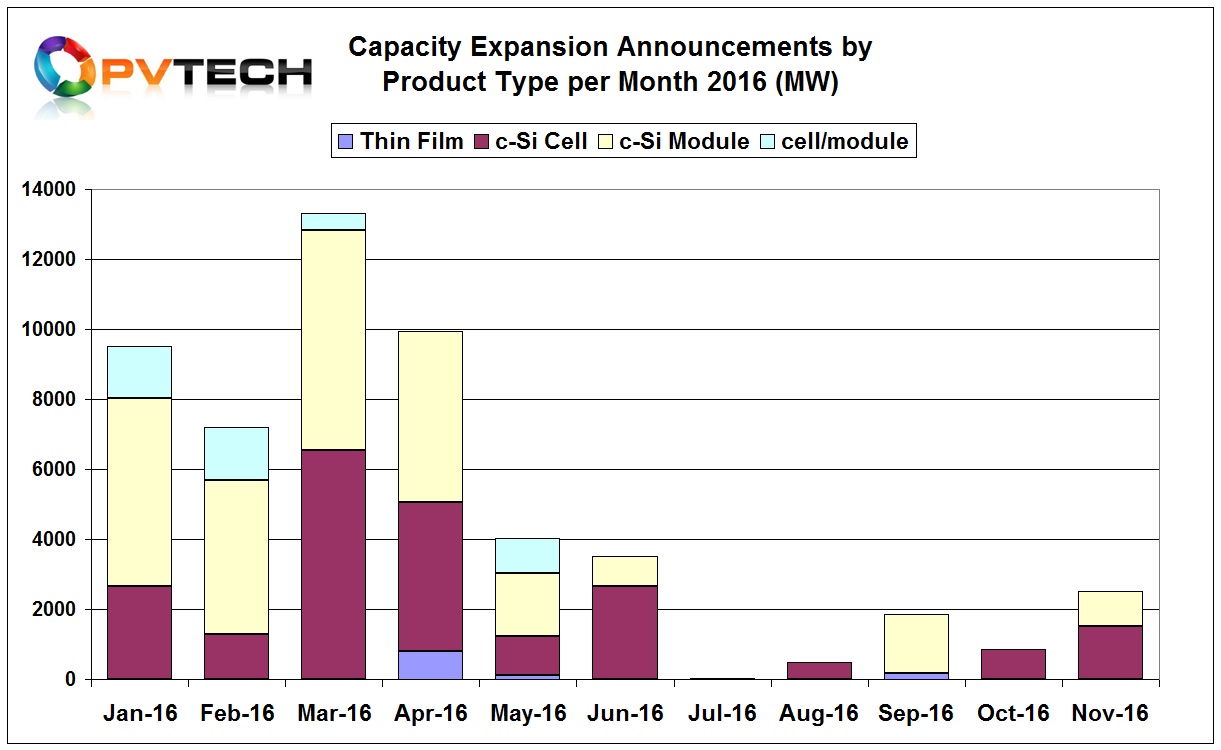 However, the 2.5GW in November contrasts dramatically with the combined announcement total of over 25.5GW in November 2015.
With JA Solar having just broken ground in Vietnam and TSEC still looking for land in Taiwan to possibly build a new plant means that neither plan would result in effective new capacity in 2017. Possible timelines for production ramps are therefore 2018 and beyond.