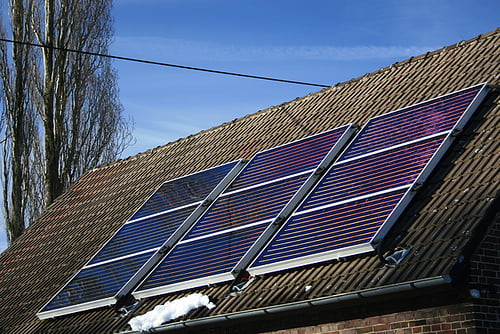 A ceasefire between SolarCity and Arizona's biggest utility, Arizona Public Service Co (APS), has resulted in a new deal announced Thursday that means a proposal for a referendum to ask voters about how to treat solar has been withdrawn. Instead, the two sides agreed to mediate over how solar customers are compensated for the power they produce.
Solar-leasing companies were allegedly seeking to amend the state Constitution to benefit their business model, with lawmakers attempting to force changes that arguably would have harmed the solar companies. Either efforts would have resulted in mitigating the authority of the Arizona Corporation Commission ruling on such matters.
The deal was announced less than an hour after the Arizona Senate took steps to send the electorate measures mandating separate rates for rooftop solar users and regulating solar leasing companies as utilities, in response to SolarCity's initiative that sought to mandate utilities to pay net metering customers with rooftop solar panels to pay the full retail price for power they send back to the grid.
The deal resulted in Senators Debbie Lesko and Don Shooter agreeing to withdraw their bills, which were designed to counter the Arizona Solar Energy Freedom Act – which was itself designed to provide protection to current net metering policies and put a stop to the surplus fees that certain state utilities have been charging solar customers.
Lesko's referendum would have let voters decide if utilities should pay less than retail rates for electricity they take from rooftop PV, with Shooter proposing regulating solar-leasing companies as public utilities, which have rates approved by the Arizona Corporation Commission.
Despite the proposal being withdrawn, some are still viewing the deal as a victory for solar, in that it prevents potentially ugly retaliation between the two ballot measures. Furthermore, the agreement between the two sides creates an opportunity for settlement talks to preserve solar with buy-in from APS and potentially other energy companies.
In exchange, SolarCity withdrew its petition drive to put its own measure on the ballot. It would have specifically barred utilities from charging solar customers based on their peak demand, rather than their overall usage. More importantly, it would have put into the Arizona Constitution the current net metering policies that require utilities to pay customers as much for their excess power as they charge them for delivering what they need.
In the newly-reached compromise, several utilities, including APS are seeking to amend net metering to the extent that customers either pay less than retail credit or raise solar customers' bills.
Now that all attempts to amend the ballot have been dropped, SolarCity and the public service corporations are free to enter a dialogue. Talks have been granted a 10-day window to come up with an agreement that both sides could present to the Corporation Commission. For now, the deal keeps utility regulation with the Corporation Commission.
In any event, APS is scheduled to file for a rate increase with the Commission in June that will seek to change the way solar customers pay for electricity.