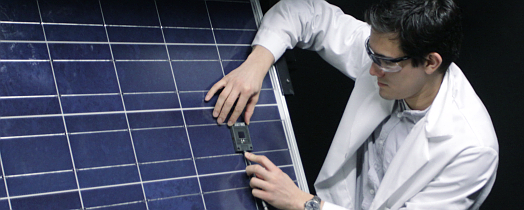 Fraunhofer TechBridge and the SunRISE Partners that include Royal DSM and Greentown Labs have selected a small group of North American solar start-ups to receive further support in developing their technology and shortening time to market.
Under the SunRISE TechBridge Challenge, which had 56 team entries, has been whittled down to just five winners.
ARL-D, which is developing a superhydrophobic technology with anti-reflective, anti-soiling, and anti-icing properties, will work under the DSM Partnership/ Venture Investment Eligibility Award to investigate possible opportunities for collaboration during a time-boxed evaluation project in the second half of 2016.
HEE Solar, a developer of perovskite photovoltaic technology will also be given support under the DSM Partnership.
Canada-based colloidal quantum dot cell developer QD Solar will gain support from Greentown Launch acceleration and DSM Partnership/Investment, which also includes desk and lab space at Greentown Labs in Somerville, MA, as well as networking and coaching to accelerate their business and networking in the cleantech community in the Greater Boston area.
Tessolar, which is developing a novel module design that targets balance of system costs reductions with PV modules will receive a validation project with the Fraunhofer Center for Sustainable Energy Systems CSE in Boston, MA, sponsored by DSM. The start-up will also be able to access the global technical testing services from the Fraunhofer R&D network, potentially accelerating the technology development to commercialisation.
The final winner was WattGlass, a developer of antireflective glass coatings that also have self-cleaning and anti-fogging properties. The start-up will receive Greentown Launch and DSM Partnership/Investment support.