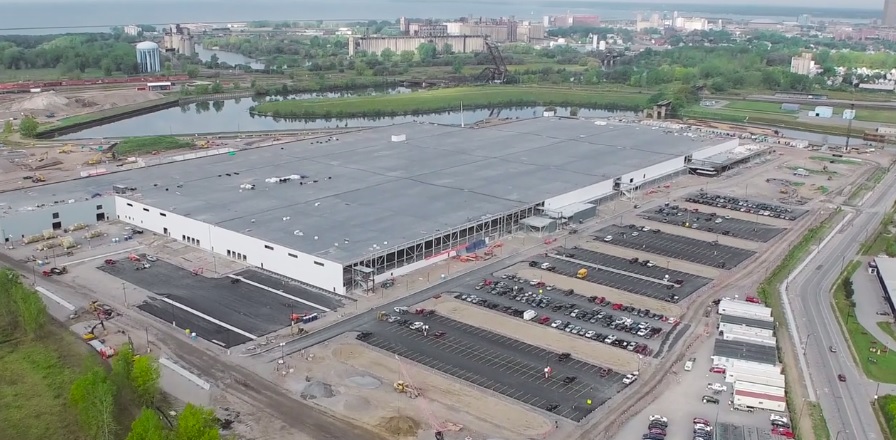 Chapter and verse could be written about companies in the solar industry that had bitten off more than they could chew, when it comes to solar cell or panel manufacturing.
Sadly for the US, this country has fared worse than almost any other, with forays into CIGS volume manufacturing probably the most visible to the outside world.
The events of the past few days, highlighted in detail on PV-Tech a few days ago, may see us having to add SolarCity to this list of aspiring new starts that were forced to abandon or perform a hasty U-turn, once the shear scale of the challenge finally unfolded.
With no direct experience in solar cell or module assembly mass production, SolarCity claimed during its 2015 Analyst Day: "[the] 2017 Goal Is to Produce Modules at a Lower Cost of US$0.55/W at a Higher Module Efficiency of 21-22%".
Well, here is the first problem. P-type mono PERC panels are now widely available with costs nearer US$0.35/W and conversion efficiencies moving north of 20%. And these panels – in no shortage of supply – are likely selling in the US, tariff-free (owing to Southeast Asia manufacturing), at around US$0.40/W (or less) by mid-2017.
Not to mention the fact that US$0.55/W and 21-22% were targets (or aspirations). Aspirations rarely happen on day-one, and often not in year-one of ramp-up by a new-start.
However, it is probably doing p-type mono PERC panels an injustice to compare them with SolarCity's Silevo plans. One is working in multi-GW manufacturing across a range of producers in China and Southeast Asia (p-type): the other does not appear to have been shown to work in mass production (Silevo), with limited information on the Fremont 100MW pilot line operations having been presented.
Just earlier in the week, fresh from a trip to Taiwan, I wrote a blog on PV-Tech, specifically flagging that all n-type manufacturers (HJT, IBC, n-PERT) are now at risk from LONGi Silicon Materials. Individually, this encompassed Silevo/SolarCity and Panasonic had they been going their separate ways. Through any joint development activities in the US, the same conclusion holds.
Why the silence on Silevo?
Having been tracking the development over the years of Silevo in China, the plant activities at Fremont, and the relative silence at Buffalo, the question that came to mind was always: where is the happy ending here for all parties, namely Silevo, SolarCity, the equipment and material suppliers that had been working on the process flow over the past few years, and New York State.
As it happens, the proposed agreement from Tesla (SolarCity), that would see Panasonic brought in to operate production lines at the Riverbend facility in Buffalo, could be an option that effectively gets SolarCity out of an impending hole, and could well be the smartest move they could make at Buffalo.
Smart: not because the supposed synergy between Silevo and Panasonic's technologies would suggest that the choice of technology and plant location is now likely to be a profit-making activity; but smart because SolarCity is proposing a plan that effectively gets them off the hook doing it themselves at Buffalo, before pressing the button on tool purchase orders. Actually, it is more common-sense than being smart.
There is undoubtedly going to be more twists and turns over the next 6-12 months, and for now, we have a proposed tentative agreement being released in the public domain: nothing more than that.
However, once we remove the background noise relating to Silevo and Buffalo, what we are left with is a question more on Panasonic, than on SolarCity.
Where is the motivation for Panasonic?
Having invested heavily in cell/module manufacturing in Malaysia in recent years as its overseas main solar base, does the company have the confidence to move to the US and (likely) have some pretty challenging production targets to meet for its one customer from this site? This sounds like a fairly risky proposition?
Panasonic is likely to be all too aware that solar cell manufacturing is going through a chronic over-supply and over-capacity phase that could last for another couple of years, overlapping exactly with the proposed 2017 ramp at Buffalo. And whenever companies have set cost targets for solar manufacturing in the future for solar, they have always gone too-high, however aggressive their forecasts on global module pricing declines.
The US market too is moving towards a severe over-supply situation, with enough cell and module capacity now in Southeast Asia to supply the entire European and US markets in 2017, without any tariffs to be paid on imports. With a further 5GW+ coming online in Southeast Asia and India for cells in the next 6 months (and much of this mono-PERC), module supply into the US during 2017 is going to be more competitive than ever.
As the US market moves to a module buyer's market (even more than before), and the modules are increasing in panel power rating at one of the fastest rates seen in the PV industry, one can't help thinking that installers in the US are best placed to be calling the shots on module supplier choice, not having to find a means of creating an in-house production hub that potentially detracts from the overall goal of providing customers with the lowest price and highest returns on offer.
Right now, we are in the midst of setting the final agenda for PV CellTech 2017, to be held in Penang, Malaysia during 14-15 March 2017. A large part of this two-day event is to be afforded to n-type cell production, and what needs to happen to avert the threat from low-cost p-mono PERC modules become the industry standard during 2017. Given the events of the past week, this topic is now all the more pertinent and may well provide the underlying targets for all cell producers to remain competitive going into 2018.