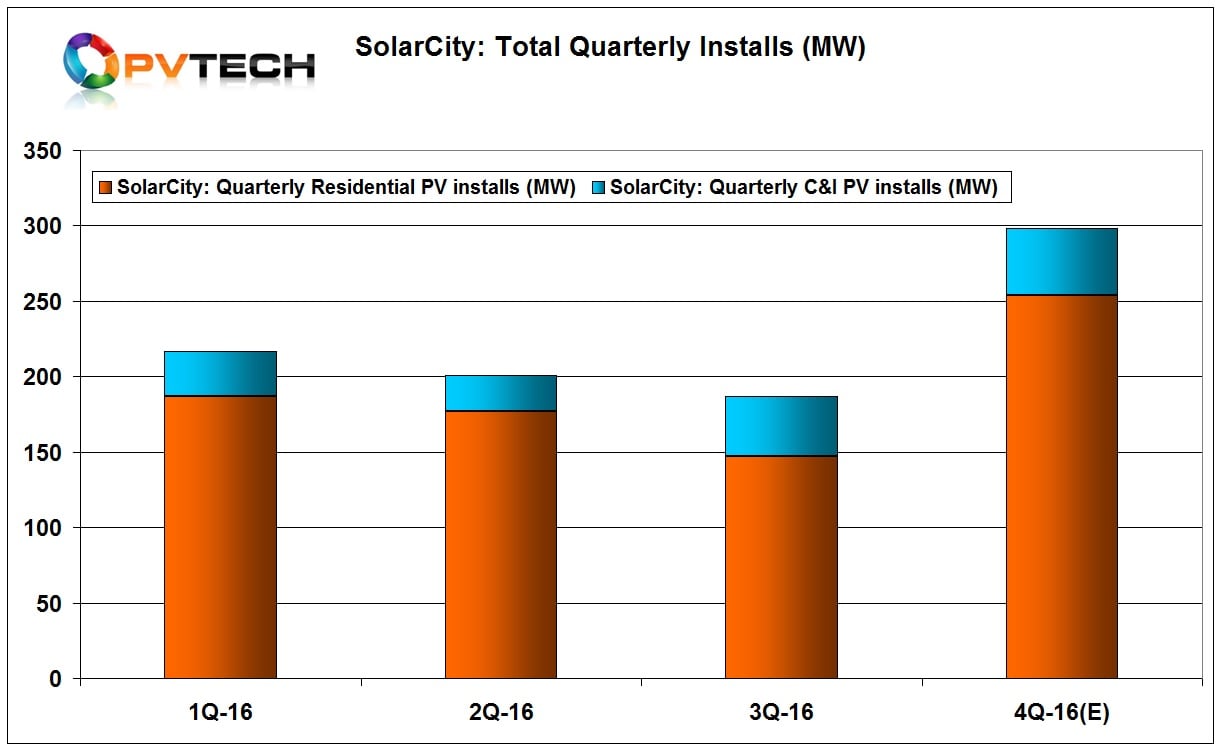 Leading US residential solar installer SolarCity has lowered full-year installation guidance for the third time in 2016, while retaining the possibility of record installs in the fourth quarter of 2016.
The weaker than expected US residential market throughout the year has forced SolarCity to lower full-year installation guidance to 900MW, down from a range of 900MW to 1,000MW. The company had started the year with expectations of installing around 1,200MW, up from total 2015 installations of 860MW.
Installations in the third quarter of 2016 were 187MW, higher than guidance of 170MW. Residential sector installs were 147MW, down from 177MW in the previous quarter and 187MW in the first quarter of 2016.
Commercial and industrial (C&I) installations reached 40MW in the quarter, up from 24MW in the previous quarter and up from 30MW in the first quarter of 2016.
Cumulative installations in the first nine months of 2016 have reached 602MW, indicating that SolarCity is expecting to install a record 298MW in the fourth quarter of 2016, slightly higher than the record 272MW achieved in the prior year period.
Booked MW increased by 15% from the previous quarter to 260MW.
Based on previous third quarter and full-year guidance, SolarCity was expecting to achieve installations in the fourth quarter of 2016 of 315MW to 415MW.
With a third round of lowered installation expectations, SolarCity would seem to be in a more realistic position to meet guidance. However, this would equate to year-on-year growth of only around 5% and in stark contrast to its initial growth expectation of 40%.
Financial results
Due to the increase in installations in the quarter SolarCity reported GAAP revenue higher than guidance of US$201 million. The revenue increase was also supported by the shift to up-front cash install business, compared to traditional lease deals.
Cash deals accounted for around 22MW of installations in the quarter, almost 50% higher than in the previous quarter. Revenue from 'Solar Energy Systems and Components Sales' segment was US$58 million.
However, the increase in C&I installs, which carry less overall margin would have tempered profitability. However gross margin was 35.7% and gross profit was US$72 million in the third quarter of 2016.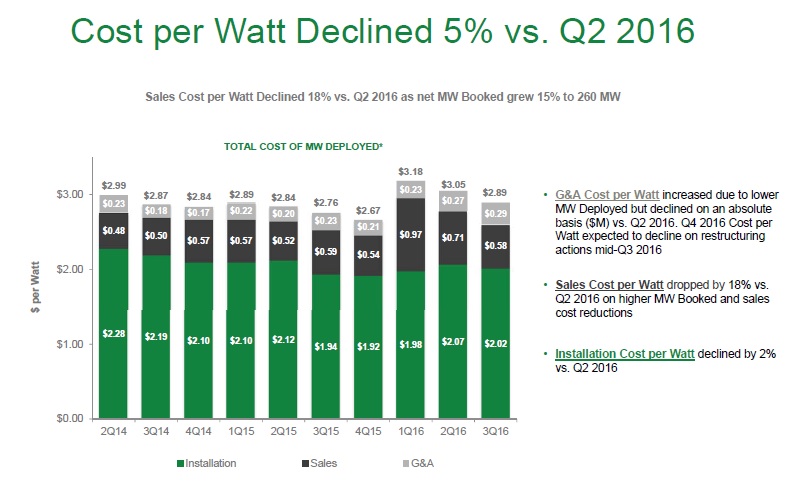 Restructuring and cost reduction strategies on the back of lower shipments helped reduce overall cost per watt by 5% to US$2.89/W installed. Sales cost also declined by 18% on higher bookings and sales cost reductions.