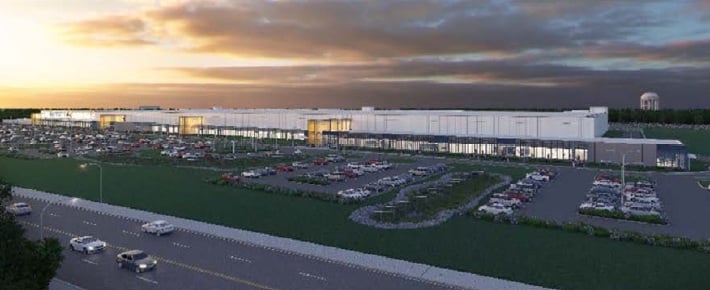 The largest US residential PV installer SolarCity is to launch and produce a complete BIPV (Building Integrated Photovoltaic) residential roofing system for the new home building sector at its 1GW Buffalo fab in New York state when the facilities comes on stream.
Responding to financial analyst questions in its second quarter earnings call, regarding updates on the progress of the 1GW Buffalo fab management, Elon Musk let slip that one of the two new products to be fabricated at the facility including a BIPV product.
"I think, this is really a fundamental part of achieving a differentiated product strategy where you have a – it's not a beautiful roof, that it is a solar roof, it's not a thing on a roof, it is the roof. That's – which is quite a difficult engineering challenge, and not something that is available really anywhere else that is at all good. I think this will be something that's quite a standout and so one of the things I'm really very excited about the future," noted SolarCity's chairman.
Peter Rive, co-founder & CTO added: "So we're actually going to be able to start making modules a lot faster than we had anticipated. Right now, we're actually expecting to ramp the module lines by Q2 of 2017. So – and we're going to be making a pretty interesting product and I'm excited to kind of reveal to you all at some point, but it is not just your typical module, it is both very efficient and it looks really, really good.
Management noted that there were 5 million new roofs installed every year in the US and they wanted to provide a product specifically for that market.
The BIPV system would be custom-made to the individual customer and come in a kit form that would be delivered and installed by SolarCity.
"And the cool thing is that it doesn't cannibalize the existing business, because you got two classes of customers – like, customers that where their roof is nearing end-of-life and customers where they've just put in a new roof. And so, you actually get to – this is a great situation where you get to introduce new product without cannibalizing the existing product," added Musk.
Buffalo expansion plans?
According to management, design work was already underway on the next expansion phase of the Buffalo fab, primarily from possible manufacturing line upgrades and layout optimisation.
"So we're going to take the time to make the equipment modifications as you get the layouts exactly right. We don't have to rush to actually initiate some of the equipment installation for the cell line and then have that be a regretful layoffs only months later," added CTO, Rive.
Regrettably, ROTH Capital analyst, Philip Shen's questions on when the fab would hit its 1GW production target and what the PV module cost structures would look like at that time, were lost in the maze of BIPV.