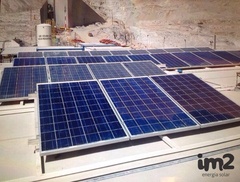 American-headquartered PV development company SolarMax Technology has made major strides in China — with the group expected to deliver 250MW of PV capacity in the country in 2018.
SolarMax noted that it is now the largest American-based private company developing solar in China, with the company opening 2018 with 150MW of PV capacity in the country — with another 100MW set to go online in June.
SolarMax started its expansion into Asia in 2015, with the company securing the rights to develop and provide ongoing maintenance and operations for several utility-scale projects in the inland province of Guizhou.
The company's strategy for China was spearheaded by CEO David Hsu — who formed subsidiary SolarMax China by acquiring five formerly independent Chinese-based firms.
Hsu noted: "We see tremendous opportunities in China. To capitalize on them, however, you not only need to know market dynamics, but a deep understanding of the unique cultural and political dimensions to doing business there. I think you can see that in the partnerships we've formed as well as the way we've structured our operations."