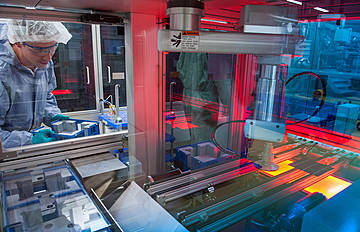 Bankrupt integrated PV module manufacturer SolarWorld AG is planning to announce further reductions in its workforce, according to the provisional insolvency administrator, Horst Piepenburg.
To maintain a certain level of manufacturing operations was deemed to be a key aspect in attracting new investors. However, due to the complexities of the insolvency proceedings interested parties were said to need months to make a decision, resulting in further cost cutting, notably with the manufacturing workforce, which is expected to be announced before July 31, 2017.
Currently, around 1,850 employees continue to be employed in SolarWorld Group companies, primarily in Germany, compared to around 2,200 employees at the time of the application for insolvency on May 11, 2017.
Production had been kept going until now on a three shift basis. The company had entered insolvency proceedings with over €80 million in cash and cash equivalents.
However, SolarWorld AG noted that the first eight weeks of its provisional insolvency had resulted in insufficient liquidity to meet the wages of all of 1,850 employees that had been retained.
SolarWorld Americas, which operates manufacturing in Hillsboro, Oregon has not been embroiled in the German parent's insolvency proceedings and recently highlighted it expected an infusion of cash to keep operating from SolarWorld AG's existing investors.
Potential new investors that had been in dialogue with SolarWorld AG and the insolvency firm were said to need more time that would have also signalled a further financial audit of the company within a four month period after the start of insolvency proceedings.
Contract manufacturing opportunities amongst other revenue generating ideas were also being considered to support existing operations and secure new investors.