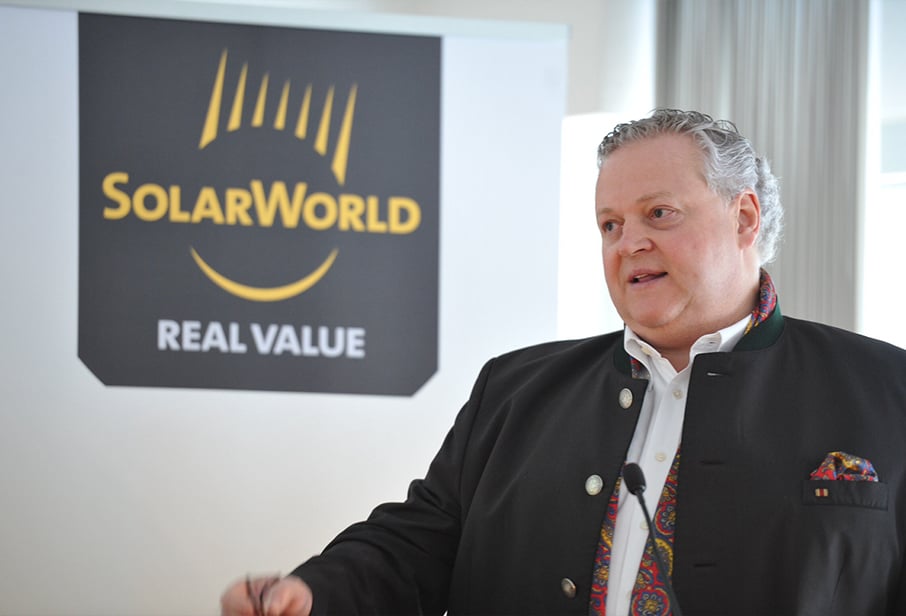 Updated: Bankrupt integrated PV module manufacturer SolarWorld AG has appointed Macquarie Capital to undertake a worldwide search for a major new investor in the entire group to avoid complete closure of the company.
According to insolvency administration law firm, Horst Piepenburg, the business operations of SolarWorld AG and its German manufacturing subsidiaries had been stabilized and modules were being shipped to customers again.
The administrator also noted that wages and salaries for May 2017 had been paid 'punctually' as insolvency money to nearly 2,200 employees. SolarWorld worldwide had around 3,034 full-time employees at the end of 2016, according to its 2016 annual report.
"Employees in their individual areas of responsibility and tasks are working with concentration and motivation to further stabilize and continue business operations," stated law firm, Horst Piepenburg.
However, since posting this report, PV Tech has been informed that an unspecified number of employees of SolarWorld AG under contract in several European countries have yet to receive any payments for the month of May.
So far, PV Tech has been informed that an unspecified number of employees under contract in Italy, Switzerland, Austria and in German have not been paid.
Additionally, Horst Piepenburg noted that a delegation of the Indian Ministry of Energy, which had an appointment in Leipzig, Germany as part of the recent visit of the Indian Prime Minister to Berlin had 'spontaneously' visited SolarWorld to obtain information concerning the importance of innovative high-quality solar modules.
Horst Piepenburg stressed that India and Germany wanted to strengthen cooperation in the field of renewable energies and the solar industry in particular.
"We see the interest of the delegation from India as a further positive signal," added Horst Piepenburg.
SolarWorld AG and its German subsidiaries entered insolvency proceedings on May 10, 2017.
Before the bankruptcy was announced, SolarWorld reported preliminary first quarter 2017 results, which included revenue of €186 million, but losses of €18 million, compared to losses of €41 million in the previous quarter and had had cash and cash equivalents of €84 million.
Separately, SolarWorld AG also announced that Dr. Georg Gansen, Member and Chairman of the Supervisory Board of SolarWorld AG had resigned from his positions and any duties with the company, effective from June 30, 2017.