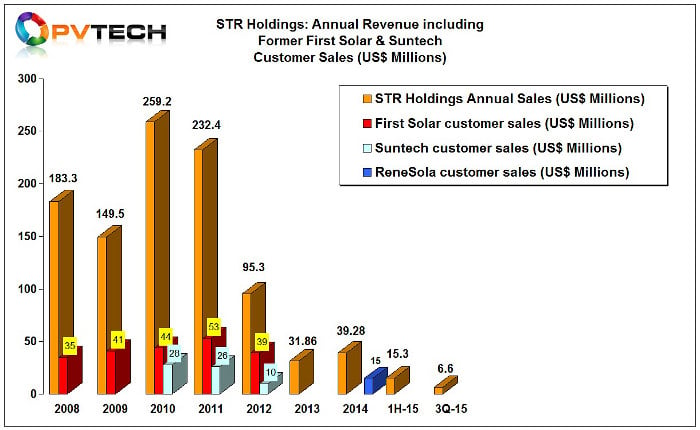 PV encapsulant producer STR Holdings reported another quarter of disappointing financial results, while the corner may have been turned after secure major supply deals Trina Solar & Talesun.
STR reported third quarter sales of US$6.6 million, down 23% from the previous quarter and 31% down from the prior year period. Encapsulant volumes declined 20% quarter-on-quarter and ASPs fell 4%.
The majority of revenue was received from majority owner, China-based PV project developer Zhenfa via US$3.2 million of cash from Zhenfa as an installment payment the highly unusual solar modules-for-encapsulant swap deal with former customer ReneSola.
STR noted that it had received US$5.4 million of cash from Zhenfa related to this transaction and was waiting for a further US$2.1 million due from Zhenfa.
The company noted that after successful material qualification by Trina Solar and Talesun it had started shipments in China and was currently in the process of adding approximately 2GW of material capacity to meet demand.
Robert S. Yorgensen, Chairman, President and Chief Executive Officer, stated; "We have been successful recently in configuring our products for the Chinese module manufacturing market and as a result, have seen a significant increase in demand early in the fourth quarter. Our primary challenge has therefore shifted from a lack of sales volume to a shortage of capacity within China and we are actively addressing that challenge together with Zhenfa's assistance."