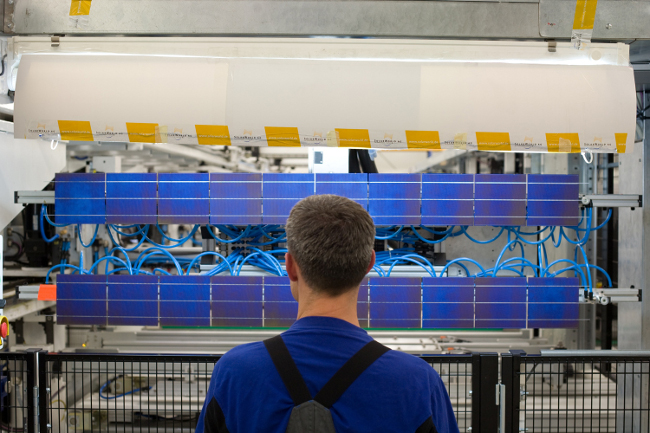 The imposition of "effective remedies" in the Section 201 trade case could create 115,000 new jobs in the US solar supply chain according to a report commissioned by the petitioners, Suniva and SolarWorld Americas.
The new report, released a week before the first hearing with the US International Trade Commission (US ITC), claims to use the same model developed by GTM and the Department of Commerce. By accounting for lost domestic manufacturing jobs using a 2015 baseline, Suniva and SolarWorld Americas have presented a very different outcome to that presented by opponents to the measures. The US Solar Energy Industries Association (SEIA) has suggested 88,000 jobs would be at risk if punitive levies were placed on global solar imports.
"We need to ensure that the next generation of solar technology is developed here in the United States," said Juergen Stein, CEO, SolarWorld Americas. "In order to have a strong solar industry, America needs to have a strong solar manufacturing industry. With growth in manufacturing will come investment, R&D, and many thousands of additional solar industry jobs here in America."
Unlike previous anti-dumping cases, the 201 case proposes tariffs on all non-American cells and modules imported into the country. The petition to the ITC requests a tariff of US$0.40/W on cells and US$0.78/W on modules, including the US$0.40/W portion from the cells.
"This is about bringing investment back to the US solar manufacturing sector. A healthy industry should create jobs in the entire value chain, including manufacturing," said Matt Card, executive VP of commercial operations, Suniva. "This conservative analysis, using well-established US Department of Commerce formulas, shows that this safeguard action can create huge impact in the manufacturing sector, even as we continue to see tremendous growth in solar installations."
The petitioners' report uses the above tariffs as the basis for the "effective remedies" in its modelling.
The US Solar Energy Industries Association (SEIA) questioned the findings of the study.
"The notion that doubling the price of solar panels would somehow increase demand and create jobs is preposterous," said Abigail Ross Hopper, president and CEO. "Careful and thoughtful analysis, not only by the SEIA, but also Bloomberg New Energy Finance, Clearview Energy Partners, Goldman Sachs and GTM, bears this out.
"Additionally, SEIA has spoken with dozens of manufacturers in the supply chain who ardently oppose this petition because the projected decline in demand will force them to lay off workers. SEIA's members know what impact this will have on their ability to produce jobs; companies working in the solar industry today have been clear that Suniva's sought-after remedy will be devastating to the American solar industry," she added.
The latest jobs report also cites an additional 2GW of US solar manufacturing capacity with the implication of the trade tariffs. In 2016, US ITC data shows that US$8.3 billion of cells and modules were imported to the US. Imports from China represent less than 20% of this total.
The report was criticsed by the Energy Trade Action Coalition (ETAC).
"The Suniva/SolarWorld "study" is actually a five-page memo (including graphs and footnotes and several typos) prepared by Suniva's law firm who filed the company's trade petition," said ETAC spokesman Paul Nathanson. "It contains no economic analysis and posits a theory that turns supply and demand basics on its head by claiming that raising the price of a product somehow creates more demand for that product.
"Of course, the opposite is true. Imposing the proposed remedies in the Solar Section 201 case that would double the price of solar panels would reduce demand, devastate the solar industry and result in the loss of thousands of manufacturing jobs. This is confirmed by analyses of this trade case conducted by numerous third parties," he added.
The ITC must make a decision by September 22 and if it finds relief is in order it will make a recommendation to President Trump by November 13.
Key differences in a 'Section 201' case
The Section 201, or Global Safeguard case has different procedures, thresholds and decision making processes to the anti-dumping cases the solar industry is more familiar with.
Unlike in some jurisdictions for anti-dumping cases where the complaint must be shown to come from a body that is representative of a majority or at least large collective of that country's domestic industry, a 201 complaint can come from one company typical of that industry, one trade body, a union or even a more informal group of workers. In addition, several House Committees, the US International Trade Commission (US ITC), the US Trade Representative or just President Trump himself can initiate an investigation.
Unlike an anti-dumping or anti-subsidy case, there is no evidence of unfair practices required, merely large volumes of imports that can be shown to be the major contributing factor to the detriment of the domestic industry.
Whereas the US Commerce Department uses a quantitative and evidence based approach to determine how it will act on affirmation that damage is being done by anti-dumping, an affirmation from the US ITC of a Section 201 complaint is sent to the President along with some suggested actions. Suddenly the whole process becomes heavily politicised. In this instance, a President elected on a promise to protect US manufacturing jobs, is handed a gilt-edged opportunity to be seen to be doing just that. Even if the more nebulous project management, engineering, design, maintenance and financial jobs related to solar deployment are jeopardised as a result.
This story has been amended to correct the timeline of the case.