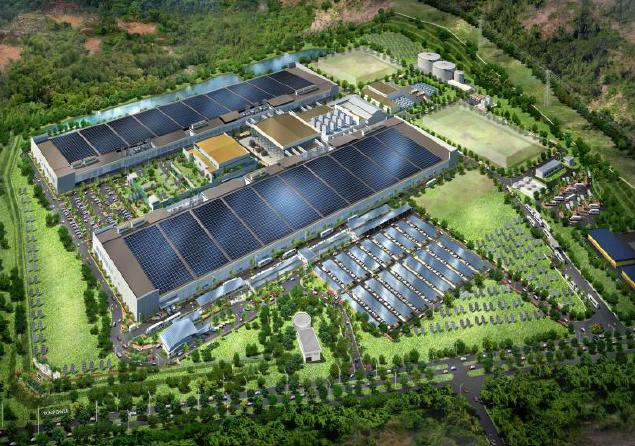 SunPower had previously guided a net GAAP loss for the second quarter to be in the range of US$125 million to US$100 million. Instead, SunPower decided to announce an impairment charge of approximately US$369.2 million related to all of its 800MW of E Series cell capacity at Fab 3 in Malaysia as it referred to it as its 'legacy manufacturing assets'.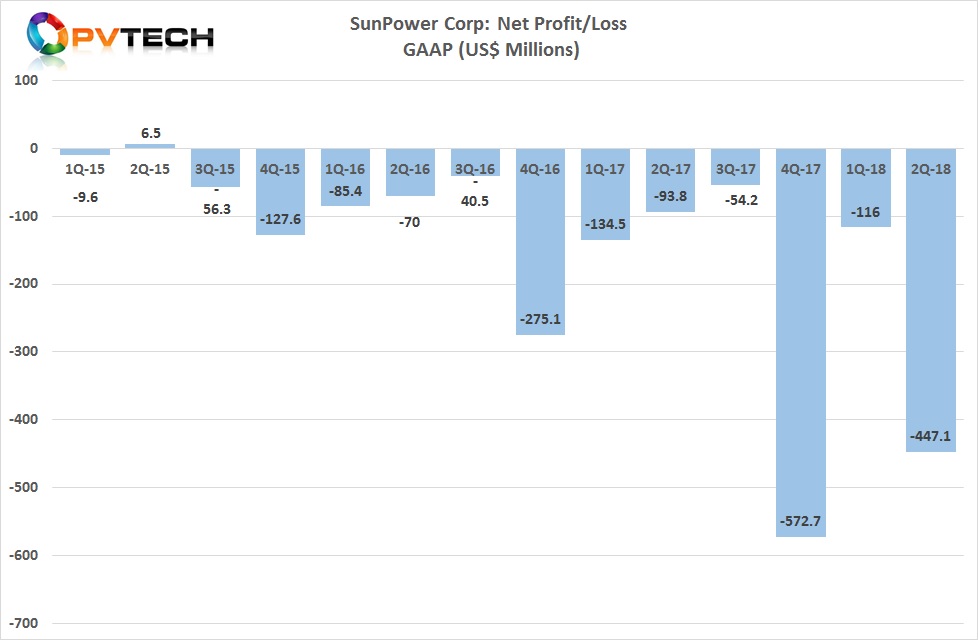 The company didn't actually explain why it took the legacy manufacturing asset impairment charge in the second quarter of 2018, when a migration to the NGT cells in Malaysia was not expected to occur in 2019.
However, the Fab 3 in Malaysia will eventually be converted to its NGT (Next Generation Technology) IBC solar cell technology, which currently has a 100MW line installed and is expected to ramp sometime in the first quarter of 2019.
The company also took a gross margin hit, deciding to record US$355.1 million of the impairment charge in GAAP gross margin, resulting in a negative gross margin of 69.1%, compared to previous guidance of 2.5% to 4.5%.
SunPower said that its full-year net GAAP loss for 2018 would be in the range of US$830 million to US$860 million, compared to a US$851 million loss posted in 2017.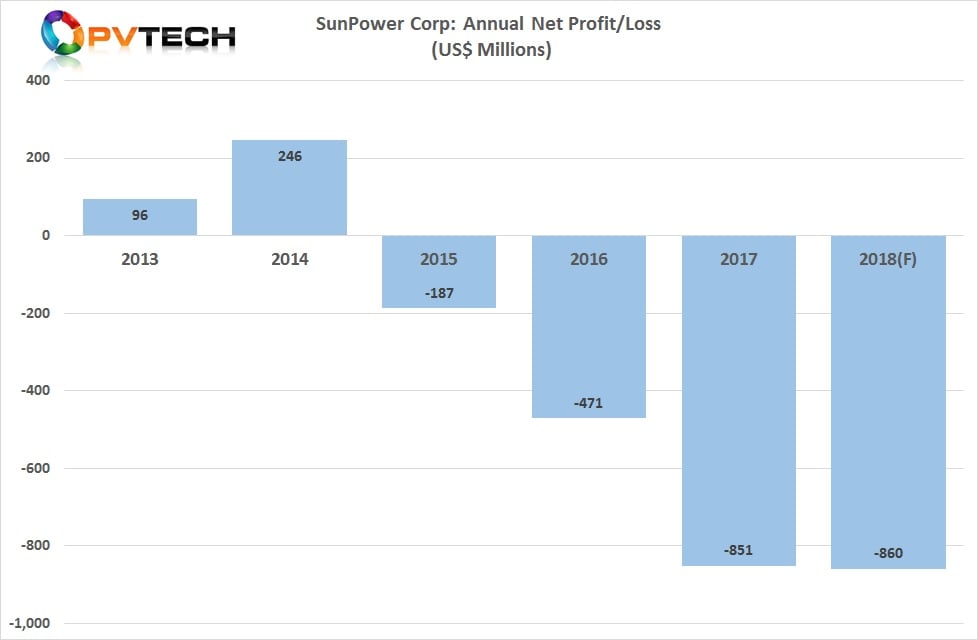 Revenue and deployment growth
SunPower reported better than expected revenue and deployments in the second quarter, as well as guiding further improvements in the third quarter of 2018. However, full-year revenue guidance remained unchanged at US$1.6 billion to US$2.0 billion on unchanged total deployments of 1.5GW to 1.9GW in 2018. SunPower had reported 2017 annual revenue of US$1.872 billion.
Missing from revenue and deployment guidance is the potential positive impact of its planned acquisition of SolarWorld Americas, which is not insignificant with a p-type mono PERC (Passivated Emitter Rear Cell) capacity of 400MW and 600MW of module capacity.
Also missing from guidance was any positive revenue gains from a range of assets being sold-off.
Second quarter GAAP revenue was US$449.1 million, compared to guidance range of US$360 million to US$410 million, and up from US$391.9 million reported in the previous quarter, which benefited from PV power plant project asset sales.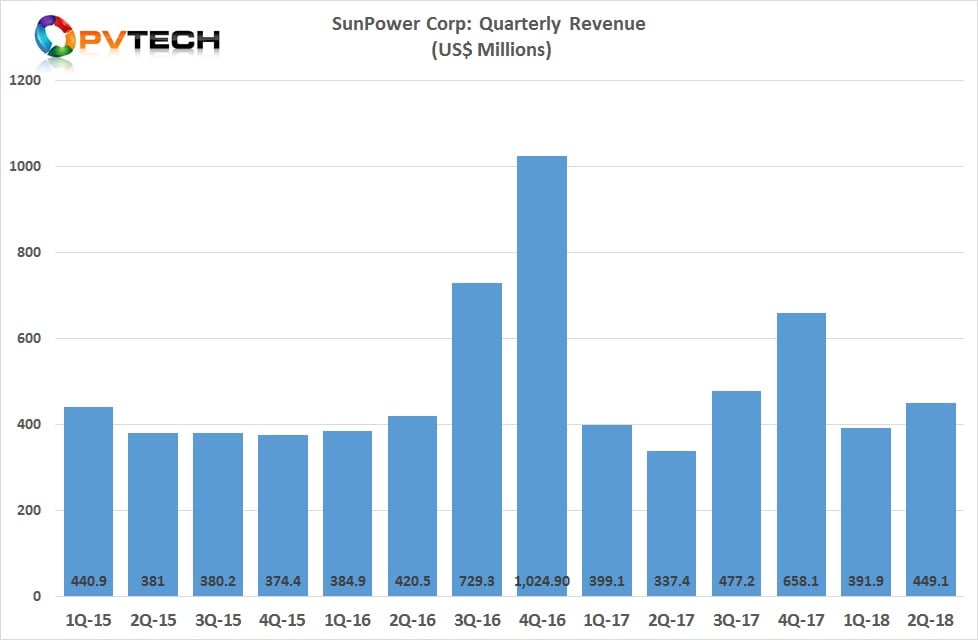 Deployments topped 385MW and revenue recognition was 328MW, compared to previous guidance of deployments in the range of 350MW to 380MW.
"Strong customer demand in our global DG [Distributed Generation] business, combined with our continuing cost control initiatives, enabled us to exceed our forecasts for the quarter," said Tom Werner, SunPower CEO and chairman of the board.
Global DG volume growth was reported to have been 45% higher, year-on-year and US residential growth up 15%.
In the reporting quarter, cash and cash equivalents remained relatively unchanged at US$256.7 million, compared to US$260.6 million in the previous quarter.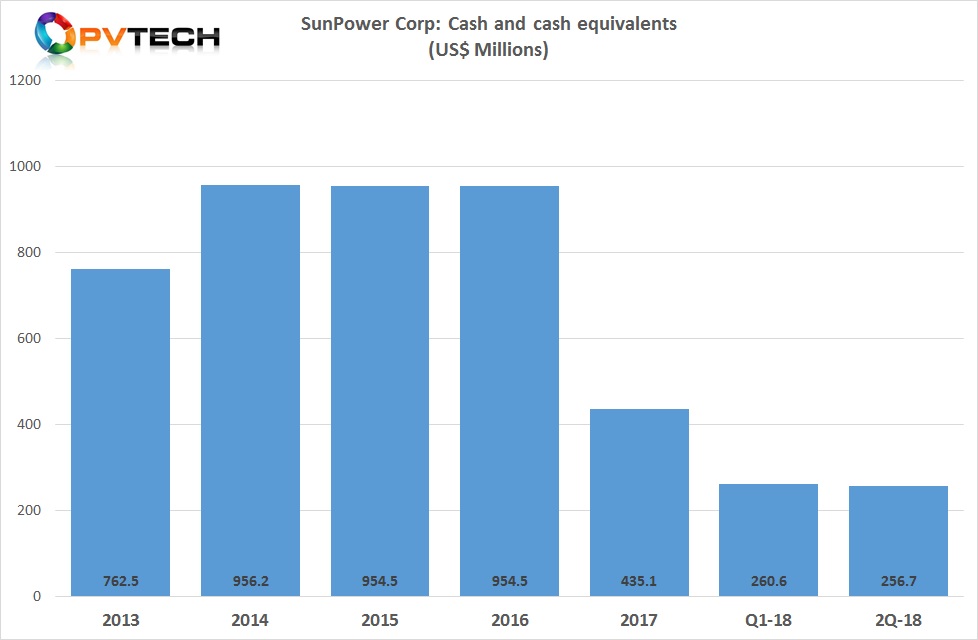 Guidance
Sunpower expects GAAP revenue guidance to be in the range of US$425 million to US$475 million, while GAAP gross margin rebalances after the Fab 3 impairment charges are expected to be in the range of negative 1.0 % to positive 1.0%.
Third quarter 2018 GAAP guidance includes the impact of revenue and timing deferrals due to sale leaseback transactions as well as charges related to the company's restructuring initiatives and US Section 201 trade tariffs.