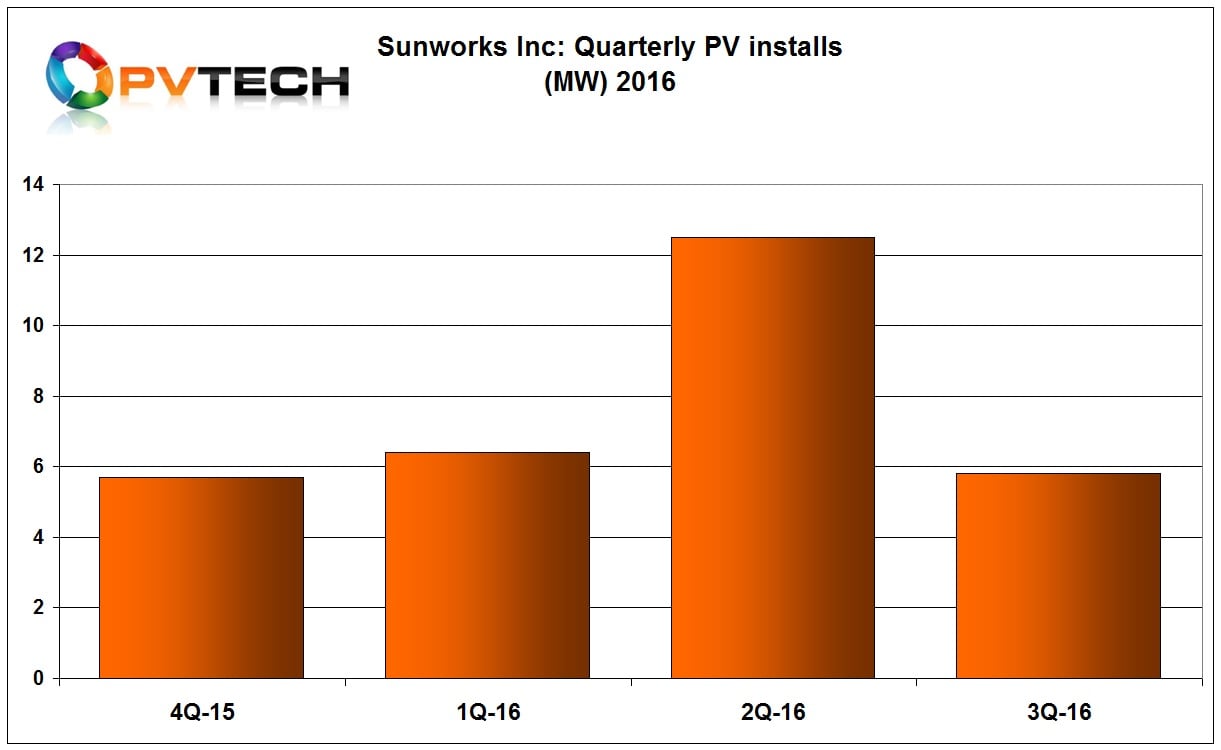 US-based PV installer Sunworks said that its third quarter financial results were impacted by the push-out of certain projects from the quarter that would translate into sales in the fourth quarter and in 2017.
Sunworks reported third quarter total installations of 5.8MW, down from a record 12.5MW in the previous quarter, a 55% decline. The push-outs were primarily due to utility interconnection and customer project financing issues, according to the company.
As a result, revenue dropped to US$17.6 million in the quarter after record revenue of US$31.5 million in the previous quarter. Management noted in its earnings call that that Commercial & Industrial (C&I) sector revenue accounted for around 57% of third quarter revenue and the residential sector accounted for around 43% of revenue.
The company reported gross profit was US$4.7 million, or 27% gross margin and a net loss of US$6.1 million.
Jim Nelson, Sunworks Chief Executive Officer said, "The fundamentals of our business remain strong, and we are well positioned to capitalize on a growing number of residential and commercial opportunities in the fourth quarter, including the commercial sales that slipped out of the third quarter. These orders remain in our backlog, and we are confident that they will benefit revenues in future quarters. This timing issue also impacted our expenses, as we incurred materials costs and other implementation related expenses of these projects in the third quarter."
However, Sunworks backlog stood at US$42.7 million, down slightly from US$43.5 million in the second quarter of 2016. Management noted that investments in growing business for 2017 are in place and include partnerships and the recruitment of an experienced 10 person sales team in the C&I sector, primarily from a rival company.
Guidance
The delay in project completions and revenue acknowledgement meant the company was forced to lower full-year revenue guidance. The company guided full year revenue in the range of US$95 million to US$105 million, compared to previous guidance of US$110 million to US$115 million.