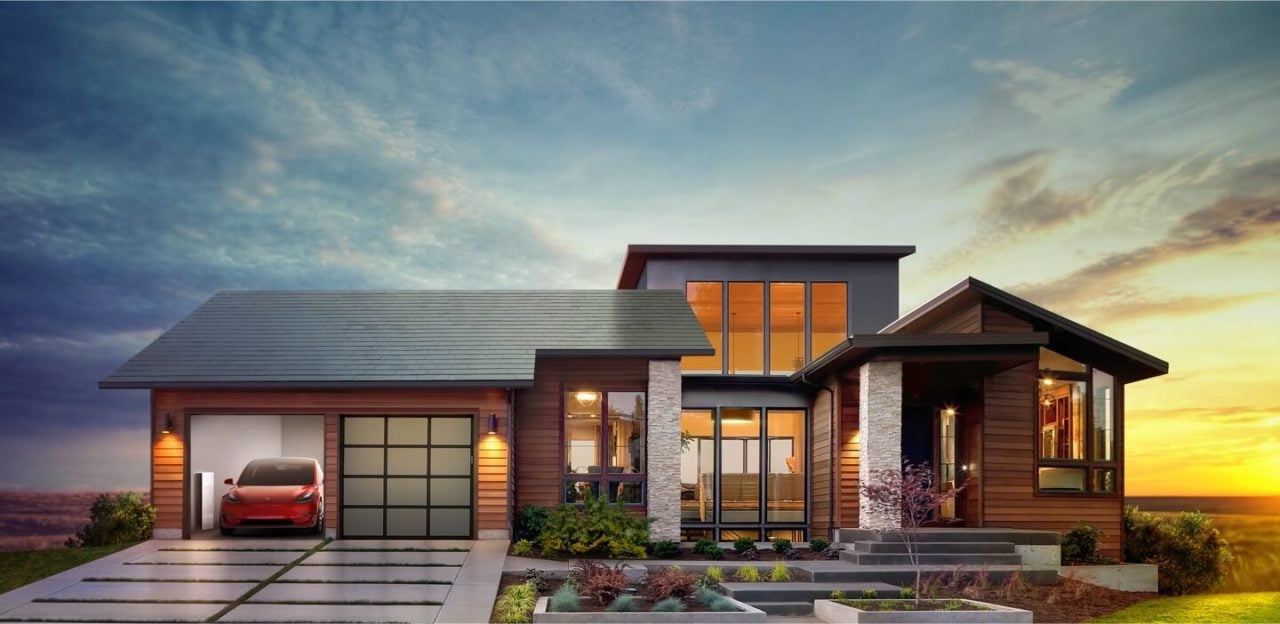 Tesla reported a bounce back in solar installations in the third quarter of 2019, while energy storage installs reached a new record high. The company is also launching a third-generation residential roof system ahead of a volume production ramp.
Tesla reported total residential and commercial PV deployments of 43MW in the third quarter of 2019, up 48% higher than the previous quarter, which marked the lowest install rates for the company at only 29MW.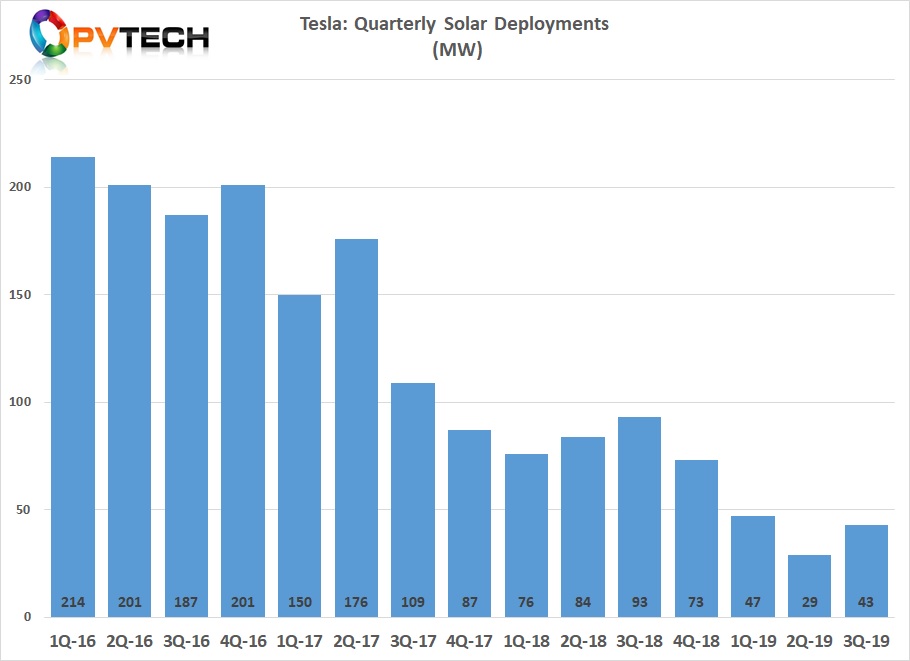 Tesla touted that the rebound in PV installs was partially down to the launch of 'Tesla Solar' in North America by simplifying its online only retrofit rooftop ordering system that was intended to simplify the order process, with three sizes (small, medium and large) of systems being made available.
The company also launched a similar online purchasing configurator platform for the small and medium sized commercial market. Tesla does not breakout PV installation segments.
Energy storage deployments continued to increase, quarter-on-quarter, setting a new deployment record in the third quarter of 2019 of 477MWh, a 15% increase from the previous quarter and a 99% increase year-on-year.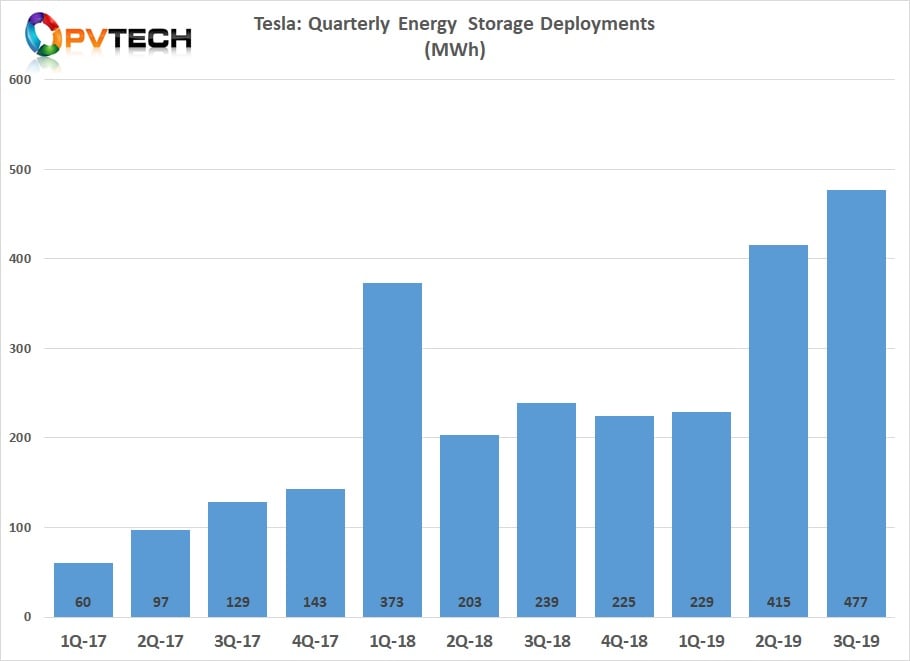 The key reason the continued increase in energy storage deployments has been the re-allocation of production at Gigafactory 1 to energy storage after redirecting production and assembly to the initial ramp of the Model 3 EV.
Intended to support further energy storage growth, Tesla noted its recent launch of the Tesla 'Megapack', which is a modular 3MWh battery pack that is preassembled at Gigafactory 1 that is claimed to offer lower overall installation costs. The first deliveries of the Tesla Megapack were said to begin in the fourth quarter of 2019.
Tesla's Energy division reported revenue of US$402 million, up from US$368.2 million in the second quarter of 2019, slightly higher than the US$399.3 million in the prior year period.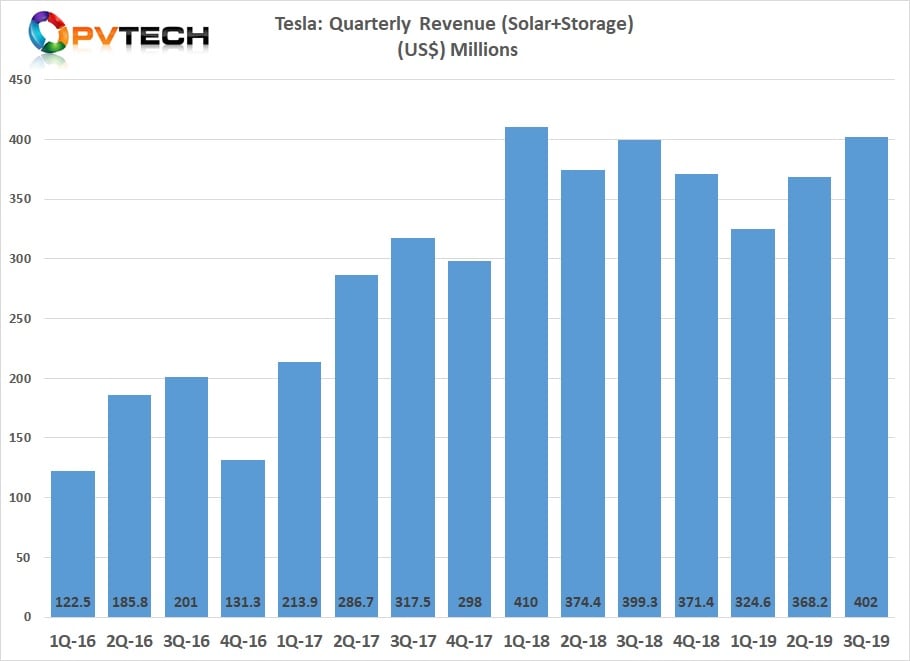 No sales force
The switch to online sales of both solar and storage will be watched by leading US residential installers as Tesla touted its low-cost product offering, due to a major reduction in customer acquisition costs.
Zachary Kirkhorn, Chief Financial Officer of Tesla said in the earnings call, "I think to your point of buying Tesla Solar is easy because we have one of the lowest prices in the nation now, in the country, and just a little bit of story there. We were able to lower our prices because our cost of acquisition is now less than a quarter of any typical solar company."
"On solar, we've also simplified the fulfilment process with a goal of really fast order to install timelines. We've done many residential installs with a single related to a customers' home because of the reduced complexity. We've also been working with cities and counties to submit generic permits that follow a template rather than customizing for every situation," added Kirkhorn.
Management also noted that as the online platform develops, purchase orders to installation could be only a few days, rather than weeks and even months in the past.
"We're taking it from where the solar industry would often be three visits before the solar was installed and would often take a lot of time to do the installation," noted Elon Musk, in the earnings call. "But we've streamlined all of that to the point where in many cases it's a single visit to do everything, and it's fast, minimized disruption to the homeowner. And ordering solar is literally one click. You can order solar for you house in less than one minute."
Tesla roof tile system new launch
PV Tech previously highlighted a completely new redesign of the roof tile system that was intended to significantly reduce installation times and therefore overall system costs. Tesla said in the earnings call that it would be officially launching Version 3 of the system later today.