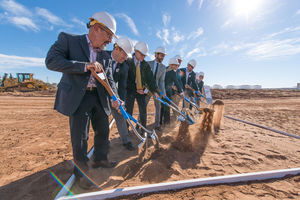 Texas utility El Paso Electric is now accepting subscriptions for its first ever community solar programme, in a first of its kind pilot in the state.
Customers in the El Paso Electric service territory can subscribe to solar generation in 1kW blocks at a fixed rate of US$20.96/kWh. According to the utility, this rate will not increase as long as the customer is part of the programme.
"El Paso Electric is excited to offer this new option that makes solar power more widely available to all of our Texas customers," said Mary Kipp, El Paso Electric CEO. "Community Solar really expands on our commitment to invest in renewable technology for the benefit of our community and environment."
The solar for the programme will be generated from a new 3MW solar facility located in the Montana Power station complex in east El Paso. Construction on the plant started in November 2016 and is set to be completed this spring. Once the facility is complete, homeowners, renters and businesses will be able to subscribe for savings on their monthly electric bill via solar credits.
In related news, last month El Paso Electric filed a request with regulators to approve a 8.7% increase for electric customers and a mandatory demand charge for solar customers.
This article has been ammended to clarify that it is El Paso Electric's first ever community solar programme – not the first in the state of Texas.