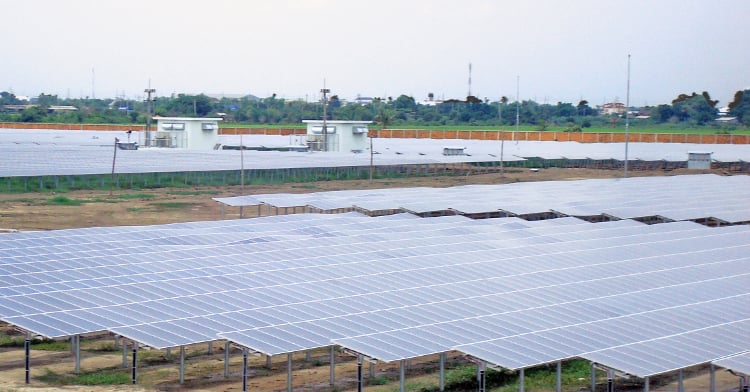 PTT, a state-owned Thai oil and gas company has invested in developer Conergy's largest project in Japan to date, a 25.88MWp ground mounted PV plant.
The project in Ichinoseki, Iwate Prefecture in the north-east of the country marks the latest involvement of Thailand's major power sector companies in the Japanese PV market.
Conergy said yesterday that it had reached an agreement with PTT subsidiary Global Power Synergy Public Company Ltd (GPSC) and the owner of investment group GA ECO to build the plant, with Conergy to act as lead EPC. The German developer has taken an interest in Japan for a while but its local subsidiary only received its construction license for PV plants in December.
The project is expected to be completed by the end of 2017, producing 28,639MWh of electricity annually. Built on a 35 hectare former cattle ranching site, Conergy Japan is partnering with Sumitomo Mitsui Construction, formed by the Sumitomo and Mitsui Group companies, among Japan's major industrial and trading groups.
Conergy said it had developed the plant ahead of winning the EPC contract, including permitting processes and community consultations which can take time in Japan and providing development capital, before selling the Ichinoseki Solar Power 1 to GPSC in 2015. Conergy will be O&M services provider when the project is completed.
Thai power majors invest in Japan and domestic PV markets
GPSC president DR Toemchai Bunnag said 32% of the preparation work has already been done on the project. Bunnag hailed Ichinoseki Solar Power 1 as marking the first investment for GPSC, which he called PTT's "power and utility flagship", outside Thailand and the AEC (ASEAN Economic Community) countries.
Other big power companies from Thailand have taken steps into Japan's PV market in 2015 and so far this year. One reason for this could be that Japan still has a multiple-gigawatt backlog of projects approved for high feed-in tariffs in the past four years that have not yet been built, with many changing hands from their original developers.
Bankruptcy-threatened developer SunEdison offloaded its Japanese PV project business to Bangchak Petroleum, a Thai oil company, in February for US$80 million, while in April PV Tech reported that Thai coal mining company Banpu was considering a US$170 million investment in Japanese PV. Within Thailand's own market, domestic utility Superblock was said to be mulling the acquisition of five solar energy companies worth around US$400 million.