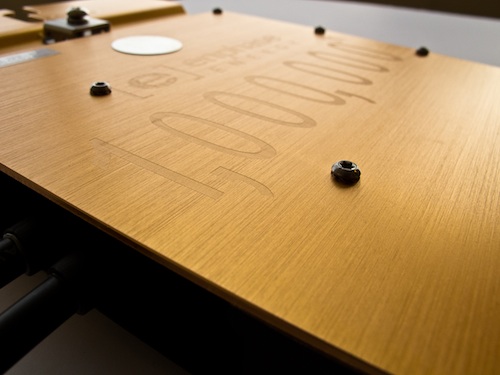 Ahead of Intersolar North America the rare chance to visit microinverter pioneer Enphase Energy, based about an hour's drive north of San Francisco in Petaluma, California was not something to turn down, despite a 7am start and a 10-hour plus flight the day before.
Having tracked the company pre-IPO (March 2012) this was the first available chance to see their operations, notably the testing centre that spans two buildings, multiple dedicated QA facilities as well as the company's headquarters.
Although I am not supposed to talk too much about the technical operations that dominate the facilities, the words that spring immediately to mind are; comprehensive, advanced, second to none, and wow!
To put that in some context having toured a number of R&D facilities, testing and QA facilities at many top PV module manufacturers over many years, this industry observer has yet to see any other facilities to this scale and intensity of testing to this degree.
The comparison is simply not close to this observer's experience of the PV industry over the last 10 plus years but does resemble leading-edge semiconductor testing practices, notably related to the automotive sector requirements, but more rigorous, if that helps the description without given much away.
New products
A lot of activity at Enphase's testing facility is being dedicated to future next generation microinverter products and notably its Gen6 series. Gen5 was launched in 2015, but the Gen6 is expected to be a step function change in all key parameters.
Having the chance to see the heart of the Gen6 microinverter was both a surprise and a highlight of the visit and the ability to see the evolution over the last 10 years was something special. Again, we are not supposed to go into details here but simply put, the Gen6 product is impressive on all fronts and marks a point in the PV industry when performance, reliability and functionality of inverters needs to support energy data requirements and emerging grid-tied storage needs.
Although we didn't get to see the planned AC module based integrated microinverter, the word was that was going through its paces and still on track for launch in 2017.
Another product roll-out this year from Enphase is its integrated storage solution, a key market segment for the company in the coming years.
Luckily the company has just produced a new video highlighting the simplicity and fast installation times with its plug and play approach that demonstrates some of the key features (see below).
First mover advantage
At the end of the first quarter of 2016, Enphase had over 460,000 systems deployed in over 100 countries and had shipped approximately 11 million microinventers, the equivalent of around 2.8GW of installed generating capacity with the production of over 5TW hours of clean energy, according to comments by Paul Nahi, president and CEO of Enphase during its last earnings call.
Behind these figures are 69 issued US patents, 74 issued foreign patents, 90 pending US patent applications and 126 pending foreign counterpart patent applications, according to the company's 2016 annual report.
Indeed, that level of IP would not be possible with a small R&D team and Enphase had 229 research and development staff at the end of 2015, with annual R&D expenditure of US$50.8 million.
Both staffing levels and annual R&D spending are far greater than several top 10 PV module manufacturers, according to PV Tech's own annual analysis of R&D spending. Not surprisingly, Enphase beats many rivals in the PV inverter market in this respect.
The point of this is that Enphase was the pioneer of microinverter technology and adoption and therefore had the first mover advantage. R&D staffing and expenditure has increased year-on-year to expand its product offerings and grow its business, a key requirement when looking at a company's ability to remain competitive in a highly competitive sector.
During the week of Intersolar NA, Enphase announced via a SEC financial filing that it had arranged a US$25.0 million secured term loan with Tennenbaum Special Situations Fund IX to use for general corporate purposes.
Due to the Tennenbaum fund's specialty in aiding 'companies undergoing operational, financial or industry change,' concern was raised that the company was struggling and that loan underlined the company was in financial trouble.
However, I looked at this as a fund raising exercise ahead of several key new product roll outs and a way to prevent investor stock dilution should the company have raised funds by issuing new shares, especially in a period when all solar (energy) stocks have taken a massive hit on the NYSE and NASDAQ exchanges in the last year, primarily due to the malaise in the oil industry.
There is no question that the company has had a difficult time as the competitive landscape has intensified. Enphase will be reporting second quarter results later today and the earnings call with management should address the funding issue, one way or the other.
That said, this observer will be looking for updates on the new product roll outs and new market expectations that support the next phase of Enphase in the solar and energy storage sector.