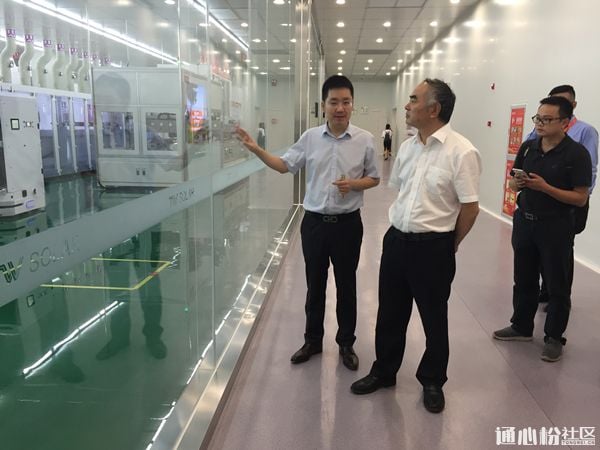 China-based integrated polysilicon and merchant cell manufacturer Tongwei Group expects to begin pilot production of heterojunction (HJ) solar cells by the end of 2018, while the success of its 200MW Industry 4.0 fully-automated solar cell production line will lead to a longer-term migration of all cell production to intelligent manufacturing.
Tongwei said that ongoing R&D activities as part of an advanced collaboration effort on next-generation HJ soar cells would lead to pilot volume production evaluations by the end of 2018.
The company said that many PV manufacturers considered HJ cell technology to be the most promising next-generation high-efficiency cell.
HJ cell production requires higher cleanroom contamination requirements and automated handling and processing, in-line with Industry 4.0 objectives. Contamination of a HJ cell before the deposition of the a-Si layer, degrades the conversion efficiency of the cell.

The company has been ramping R&D spending for several years and spent almost US$55million on solar (polysilicon, cell and module) related R&D in 2017. Group R&D spending in 2017 was over US$80 million.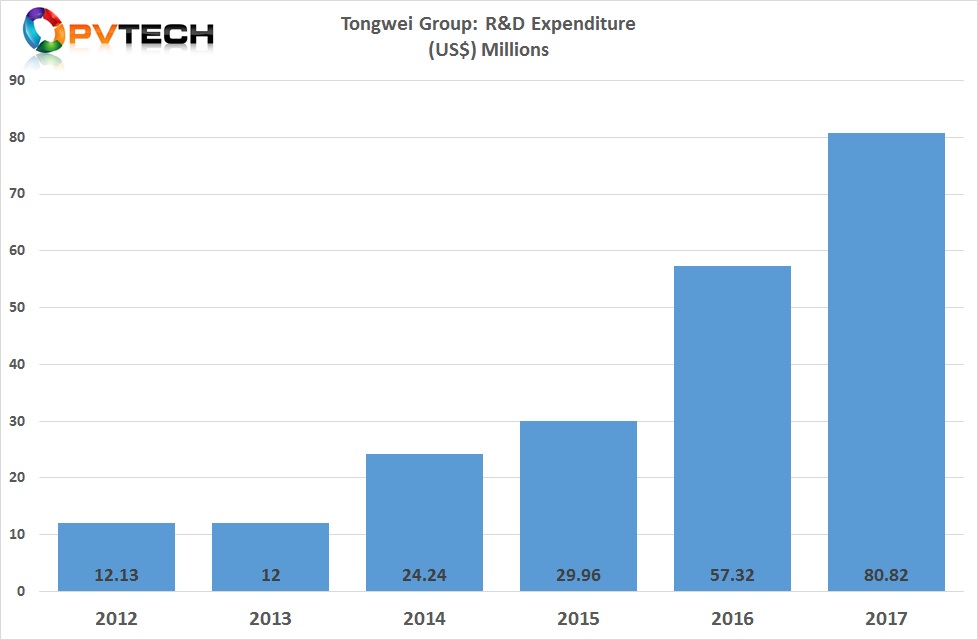 Tongwei also noted that during the first half of 2018, independent tests by Chengdu National Photovoltaic Product Quality Supervision and Inspection Center on PV modules (72-cell) using its passivated emitter rear cells had maximum power of 421.9Wp and a conversion efficiency of 20.7%.
N-type mono HJ cells were tested in modules (glass/glass) reaching maximum power of 442Wp, with conversion efficiencies reaching 21.7%. Potentially new records.
Industry 4.0 manufacturing update
Tongwei has been at the forefront of fully-automated manufacturing of solar cells with its 200MW Industry 4.0 intelligent production line, which became operational in September, 2017 at its new 2GW Chengdu cell plant.
Tongwei said that with current data analysis, the line had operated in a stable condition, while improving cell product quality and overall productivity, compared to non-fully automated lines.
The company indicated that overall in-house cell production in the first half of 2018 was as much as 60% better that the Chinese industry benchmark average when conversion efficiency, yield, and CTM (Cell to Module) criteria were used, leading to the company claiming it was at the leading level within the industry.
The operating stability of the line, coupled to the ability to reduce production costs that were said to be in the range of 0.2-0.3 yuan/W (US$ 0.029/W) were significantly below benchmarked Chinese cell producers cost of above 0.45 yuan/W, according to data released in January, 2018 from the China Photovoltaic Association.
As a result, Tongwei said it would extend the Industry 4.0 model to existing and new capacity, as it also steps to further consolidate its competitive advantage. The company did not say what the time lines for the migration would be.
Tongwei has become a leading cell supplier to key China-based 'Silicon Module Super League (SMSL) members such as JinkoSolar Trina Solar, Canadian Solar and LONGi Solar.
Manufacturing capacity update
Tongwei also noted that its planned expansion of P-type monocrystalline PERC (Passivated Emitter Rear Cell) production would start ramping by the end of 2018 as the company operated at 100% utilisation rates in the first half of 2018.
Tongwei's total solar cell production capacity was 5.4GW in the first half of the year, which included 2.4GW of P-type multicrystalline cell capacity at its Hefei plant and 3GW of P-type monocrystalline PERC cell capacity at its facility in Chengdu. Production continued to be fully utilized in the first half of the year.

The 3.2GW of new high-efficiency mono cell capacity at a new facility in Hefei is nearing completion and is expected to start production by end of 2018. The same is expected of a 3.2GW expansion at its new facilities in Chengdu.
A total of 5.5GW of new mono solar cell capacity is expected to start ramping before the end of the year, bring nameplate cell capacity to around 10.9GW, consolidating Tongwei's rapid accession to becoming the largest solar cell producer in the world.
Tongwei's polysilicon production capacity remained static at 20,000MT in the first half of the year but two 25,000MT plants with a combined capacity of 50,000MT per annum are also expected to be completed and put into production within 2018.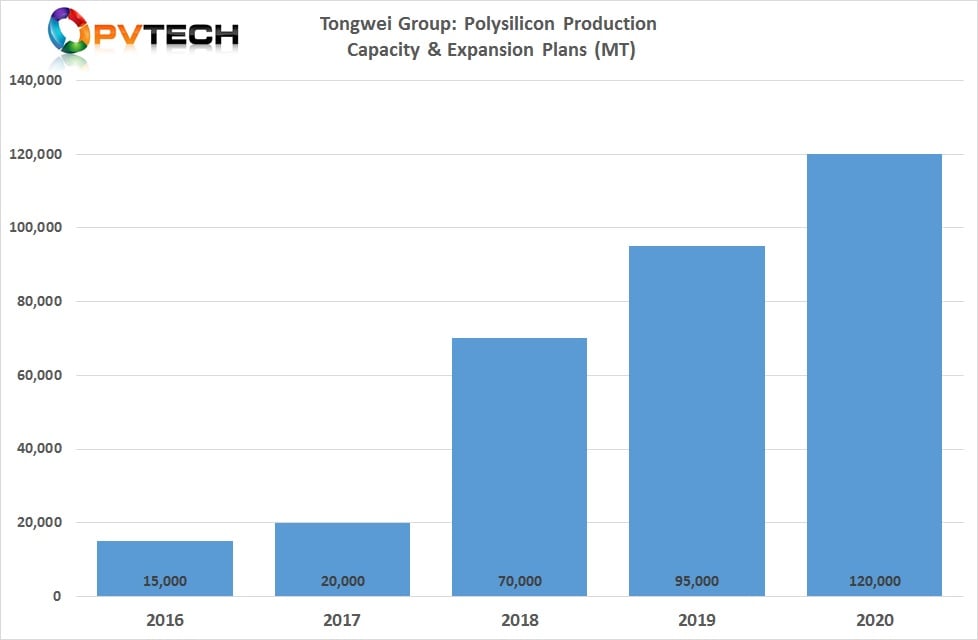 By the end of 2018, Tongwei will become one of the largest polysilicon producers in the world.