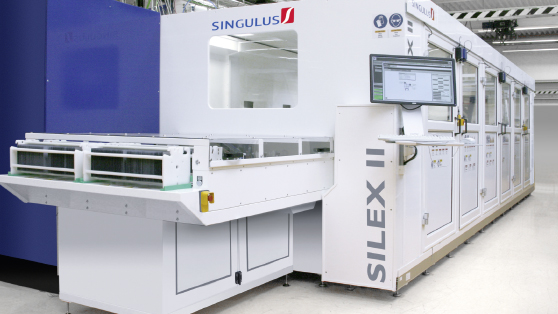 Specialist PV manufacturing equipment supplier Singulus Technologies has secured new tool orders from China and the US for its 'SILEX II' wet cleaning batch system, primarily used for high-efficiency heterojunction (HJ) solar cells.
Singulus said it had received new orders for a total of four SILEX II processing systems for manufacturing of high-efficiency solar cells, while further deals for its vacuum coating technology as complementary to its wet processing system were being negotiated.
Dr.- Ing. Stefan Rinck, CEO of SINGULUS TECHNOLOGIES AG, commented: "We have now already sold over 30 SILEX II and supplied the systems to customers in the USA, China and Europe. In our SILEX II, we offer the solar market a machine with high modularity, enabling us to respond flexibly to a range of process requirements specifically in the production of high-performance solar cells. This system has secured us a leading market position that we have consistently extended."
HJ cell performance in fabrication is more susceptible to contamination than conventional BSF (Backside Field) and PERC (Passivated Emitter Rear Cell) technologies, requiring greater attention to cleanroom and processing induced contamination and wafer cleaning.