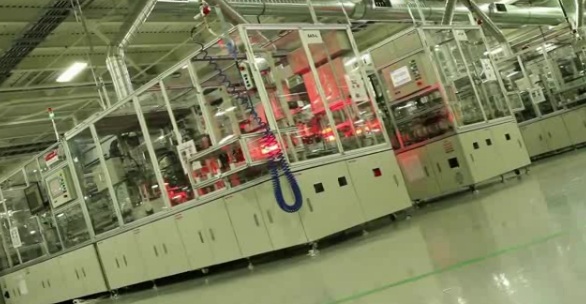 'Silicon Module Super League' (SMSL) member Canadian Solar has confirmed that a tornado had severely damaged its joint venture solar cell manufacturing plant with GCL in Funing County, Jiangsu Province, China.
The severe tornado hit the facility in the afternoon of June 23, 2016 and caused property damage and injuries to employees.
PV Tech has been told by our sister website editors in China that there were many casualties, though figures have yet to be released and that almost 40 thousand square meters of factory buildings actually collapsed due to the impact of the tornado, a rare occurrence in the region, apparently.
Dr. Shawn Qu, Chairman and Chief Executive Officer of Canadian Solar said, "Our thoughts are with the families of Canadian Solar employees and the local residents impacted by the severe weather. We have immediately dispatched our internal emergence response team from our other facilities in China to help our employees in Funing and people in the local communities. We are assessing the situation but do not expect it to have a material impact on our business."
PV Tech China has been told that GCL Group Chairman, Zhu Gongshan has already donated 10 million yuan (US$1.5 million) to Funing, for disaster relief and post disaster reconstruction.
Impact on Canadian Solar
The JV solar cell plant in Funing was first announced in May 2014, with a planned 1.2GW of crystalline silicon solar cell production. GCL has been the long-term major wafer supplier to Canadian Solar.
However, the facility had not been fully ramped. Canadian Solar said that production had only reached around 267MW in the third quarter of 2016, representing 15-20% of its solar cell requirements for the quarter.
The company said that it would increase cell production at its plant in Suzhou as well as at its new facility in Thailand to compensate for the shortfall.
Importantly, Canadian Solar is not a fully integrated producer, with around a 50% greater in-house PV module capacity to solar cells, relying heavily on third party solar cell suppliers, primarily in Taiwan. The company said that Taiwan suppliers had already agreed to supply higher quantities of solar cells to meet Canadian Solar's requirements.
As a result, Canadian Solar said that it expected to meet all its module delivery commitments and maintain its module shipment guidance for 2016, which has remained unchanged since the beginning of the year at 5.4GW to 5.5GW.